Slumberjack Wheeler Lake 20 Sleeping Bag | Eyes On
I like to be outside, away from people.  I groove better with nature and animals. I used to sleep in tents and even just on the ground in a sleeping bag, but a long time ago, in a galaxy far, far away I was introduced to van camping, and have been hooked ever since.
I still use sleeping bags though, inside my van and outside, and always have one with me. So I got myself one from Slumberjack, the Wheeler Lake 20 degree bag.
Upon first look I'm impressed with a few of the features, like the 2 in 1 hood, can use it as a platform to take your favorite pillow from home or zip it up like a hood tight around your head.
I also like the large area at the bottom, this gives you the ability to keep your toes up.  The zippers are a bright color to help you find them quick, but I'll be honest, I got my zipper stuck on the fabric a few times and had to back my way down to get "unstuck."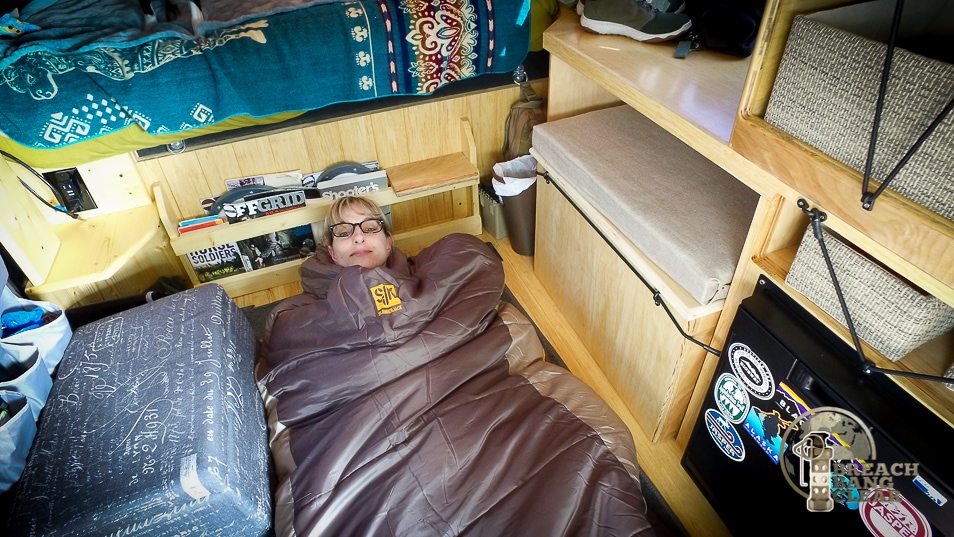 I have problems zipping my jacket on, so I really can't say if this is a flaw on their end, or I'm just zipper challenged (pretty sure it's me …). It does come rolled up inside a stuff sack, making it easy to grab.
I'll be heading to the mountains soon and I can put it through the works than to see how she holds up.   As you can see, when I tested it out in my van, my pup likes the bag, he always finds his way to the comfy spots …
Here are some specs from their website:
Fill Weight: 4 lbs

Carry Weight: 5 lbs 3 oz

Fits to: 6 ft 4 in

Dimensions: 84 x 34 in
MATERIALS
Insulation: Slumberloft™ Synthetic Insulation

Shell Fabric: 190T Polyester Taffeta

Liner Fabric: 190T Polyester Taffeta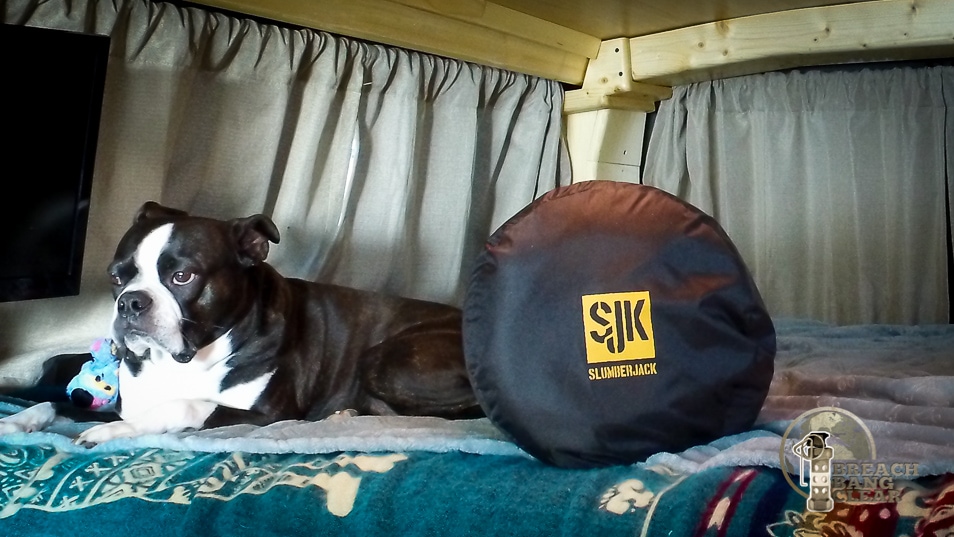 Slumberjack is online at Slumberjack.com. They also have an extensive lineup on Amazon Prime and Cabela's.
Be sure to check out the story of Sara's most recent van build the "Battlevan" aka "Van Solo" right here on Breach Bang Clear.