EDC of the Everyman: Megan Holly
One quick search for "#EDC" on Instragram or other social media yields all sorts of results–and not all of them incredibly practical. Sometimes you're left wondering if items are included solely to impress their friends (like inclusions of beard combs, mustache wax, and beard oil). Others have an "EDC" so large that you suspect this might be the reason JNCO jeans are once again in production. Well this new series has none of that. We're only going to feature what the actual Everyman carries. Or in this first case at least, the Everywoman. Even if it's not listed, a phone and wallet are probably considered gimmies (though they certainly can be listed). We're going to kick off with our good friend Megan Holly, who works in a permissive environment. Always remember to compare your own context to the context of whoever is featured. Mad Duo
[Today's post is made possible by JTF Awesome Team Member Grey Ghost Gear]

EDC of the Everyman
Megan Holly
Lip gloss, mascara, wallet, keys, My Little Pony (ten points if you can name the character!), knife, hair tie, gum, emergency tampon, pen and my EDC. Nope – I'm not some overly conspiratorial female, prepping for the apocalypse. Nor have I been on a Netflixing binge of MacGyver and Angelina Jolie movies. If one were brave enough to enter the world of "my purse," these are some of the most important items he or she would find on a daily basis:
Lip Gloss
Who doesn't like to feel fancy? For fanciness I carry Smith's Rosebud Salve, a free gift from an ULTA purchase about six months ago. It's by far the BEST lip gloss/de-chapper I have EVER used. My only concern is that because it was a free gift, it's going to be more difficult to find again once it runs out. Maybe I should consider buying in bulk…
Mascara
Because no, I did not wake up looking like this. And on certain occasions, I need a retouch halfway through the day so as to not resemble Alex de Large, or that horrible trend of "Guy-Liner" from the early 2000's.
Wallet
Albeit generally lacking the paper green stuff, this necessary evil is home to the little plastic works of the devil (also known as credit cards) plus pennies – lots of pennies.
Keys
Without them, I'd be walking everywhere. And in the deep south of Florida, where it's 90 degrees in December, that's not my first choice.
My Little Pony
I'm a mom to a five-year-old little girl. Princess Celestia was given to me upon leaving for a business trip, to "keep me safe." Need I say more.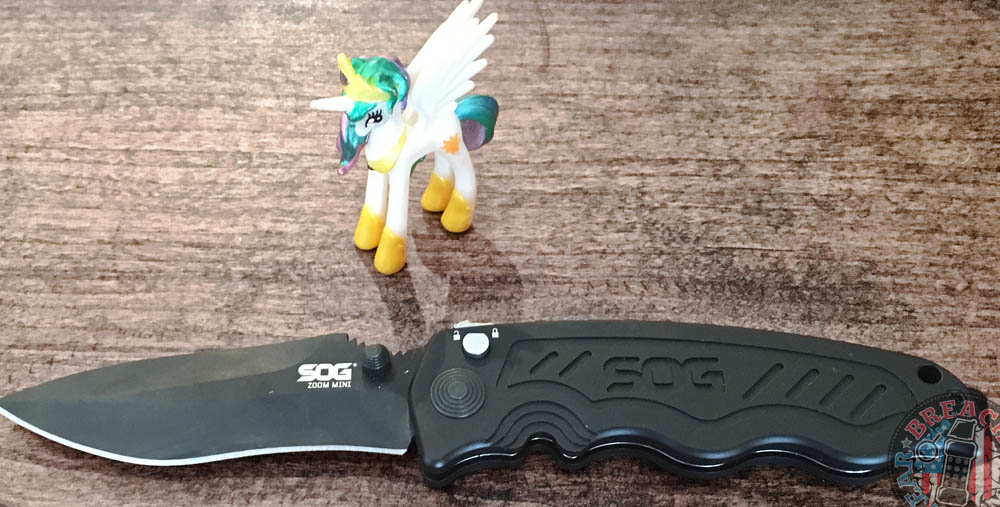 Knife
A SOG Zoom Mini, with a black TiNi finish on the blade. This perfect little folder is compact, light weight and sleek with it's all black aesthetic. The spring assisted opening makes it perfect to use in any situation, yet doesn't feel like I'm carrying a sword!
Hair Tie
Because once again – no, I didn't wake up like this. And if you ask anyone with curly hair, there are days where I can easily rival Diana Ross's mane. Hair ties are essential.
Gum
A convenient yet fun way to combat the Dragon Breath that can sneak up on you half way through the day….or after coffee.

Emergency Tampon
Because I'm a chick and shit happens.
Pen
Always on the go, thoughts are constantly running through my brain. Having a pen to write them down is virtually a requirement. They're also handy when you need to pull your hair up and that aforementioned hair tie breaks mid-twist!
Glock 43
My daily carry. Holstered in a Grey Ghost Gear Universal Holster Insert, this little pistol's slimness, size and light weight make it extremely well suited for concealed carry. The skinny 1.02" width doesn't offer much bulk, regardless of where or how I'm carrying.
-Megan
---
Full Loadout [not including the cellphone, which she no doubt took this photo with]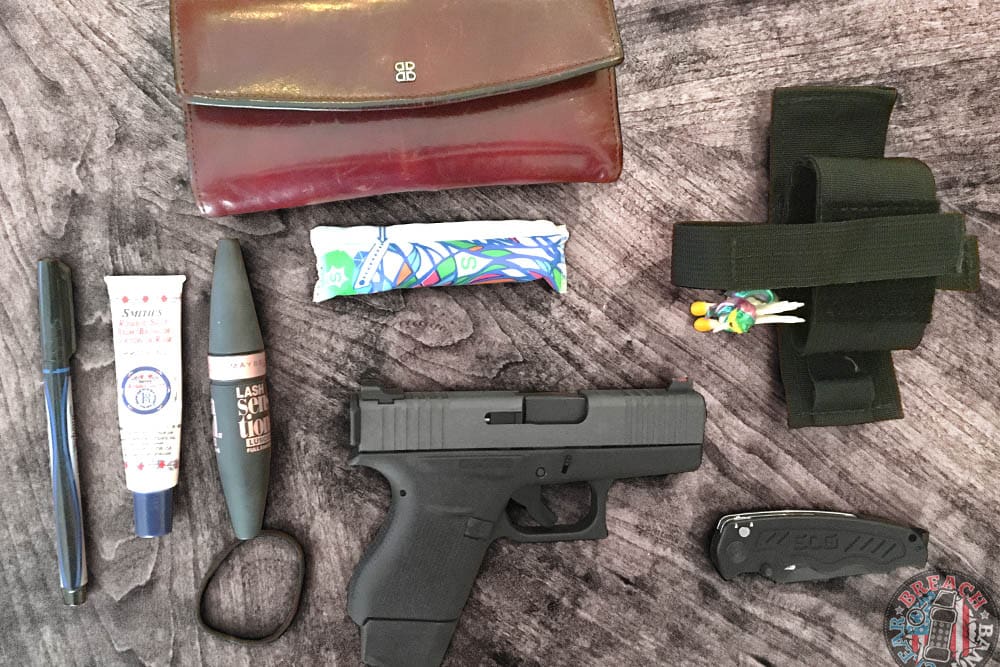 ---
---
Mad Duo, Breach-Bang& CLEAR!
Comms Plan
Primary: Subscribe to our newsletter here, get the RSS feed and support us on Patreon right here.
Alternate: Join us on Facebook here or check us out on Instagram here.
Contingency: Exercise your inner perv with us on Tumblr here, follow us on Twitter here or connect on Google + here.
Emergency: Activate firefly, deploy green (or brown) star cluster, get your wank sock out of your ruck and stand by 'til we come get you.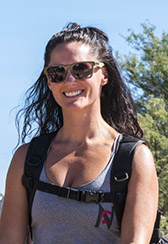 About the Author: Megan Holly is an anomaly; especially when it comes to her knowledge on guns, gear and other oddities in the industry. She's a certified NRA pistol instructor, an entrepreneur and a mom. The owner of a Public Relations and Marketing agency, she's seen her fair share of just about everything and everyone. A sailor from her early years, outdoor fanatic, professional debater to an overly-confident toddler and is a kipping-pullups CrossFit fiend, she's certainly not someone who anyone wants to see angry (it doesn't happen often – but when it does, no one stands a chance). In short, she can be a handful of hot coals or jelly beans. You pick your poison.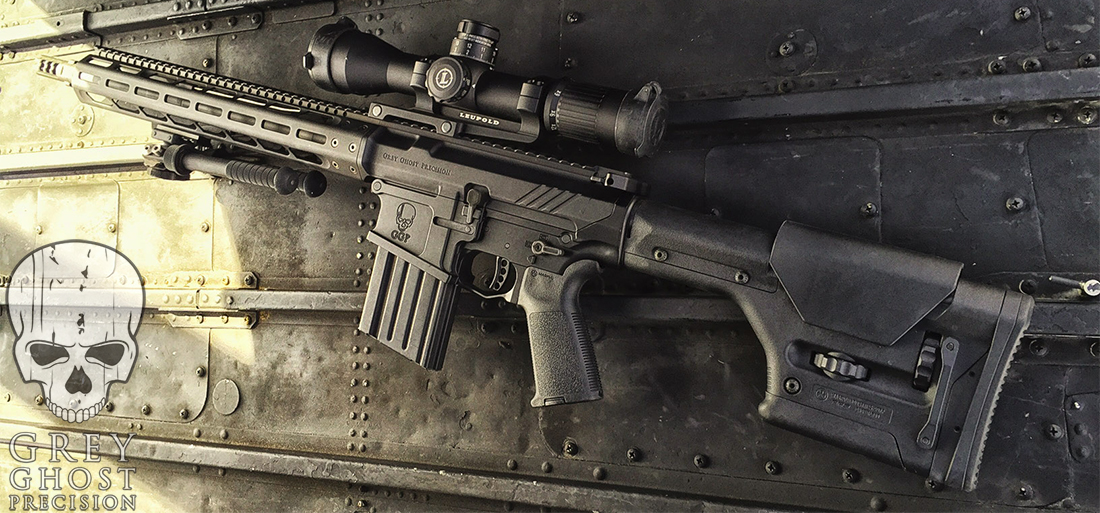 More about Grey Ghost Gear: This Pacific Northwest Powerhouse has been putting out badass gear from the word 'Go'. Most companies would be more than satisfied with that–but no, no they didn't stop there. They launched a lethal armament branch and named it Grey Ghost Precision. Some of the finest examples of both 5.56 and 7.62N AR's can be found there, and they're even bringing some new stuff into the mix (read more about our SHOT Shot adventures with them here). You can find Grey Ghost online here and on Facebook here. You can follow them on Instagram (@greyghostgear). And if you prefer Twitter, you can locate them here.