Combat Flip Flops – A Summer Spent Not Running
Today's guest post comes to us from some guy we met in a homeless shelter while we were looking for lube. Turns out he too belongs on Reeder's Island of Misfit Toys. Here's Matt "Stags" Stagliano on his Combat Flip Flops. Mad Duo

Combat Flip Flops – A Summer Spent Not Running
Matt Stagliano
Back in June, I was hanging around
88 Tactical
 doing a little filming but mainly playing fanboy to
Brad Walker
. His Southern drawl is dreamy. After a week of celebri-gazing, he gave me a pair of unused Combat Flip Flops he said were a tad too small for his massive earth crushers.
They were the AR-15 variant – all black, all bad, and leathery sweet.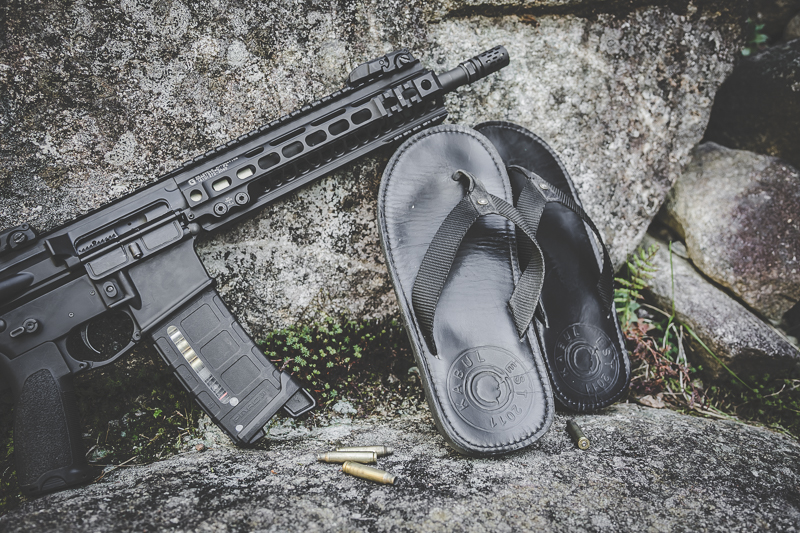 Combat Flip Flops are the brainchild of two Army Rangers who sought to make products in places more dangerous than Detroit during a heatwave, but with the end goal of creating sustainable workforces. Hell, their tagline is "UNAPOLOGETICALLY, WE MAKE COOL SHIT IN DANGEROUS PLACES." Since we were just entering the summer, I figured it was time to let my hippie-kickers air out and put my flip flops to the test. Living in the foothills of Western Maine, there is no shortage of rocky terrain, hiking trails, natural waterfalls, swimming holes, and dive bars full of tooth-averse locals to serve as my laboratory. I wore them as often and in as many unpropitious conditions as I could find.
Wearing them daily was NOT a chore. I'd put them on in the morning to take the dogs out, wear them all day, and then dump them at night. These things were incredibly comfortable from day one. The footbed padding was firm, but not hard (kinda like this 42 year-old civilian). Of course, with any flip flop, there was a toe-webbing break-in period while the straps softened up and my feet came out of hibernation, but it was normal discomfort. This disappeared in a day or two.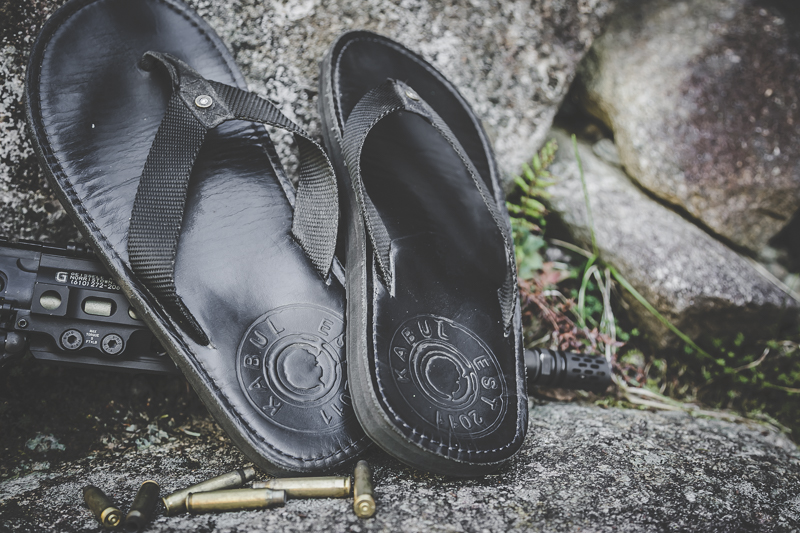 The leather and the footbed continued to soften, forming to the contours of my feet and creating a very comfortable platform.
The only wear I have noticed is that the on the front of each flip flop, the sole has begun to separate from the body. Not enough where it catches on anything significant, but I noticed it occurring on both flip flops. I cannot speak to whether or not that was operator error, or a design flaw, or maybe it was just bad glue. I'm still wearing them daily and that minor flaw doesn't take away from the product.
Getting towards the extreme end of nitpickery, there was also a bit of stitching fray around the cool 5.56 primer rivet that holds the straps in place. I burned that down with a lighter (yes, while they were still on) and haven't had a problem since.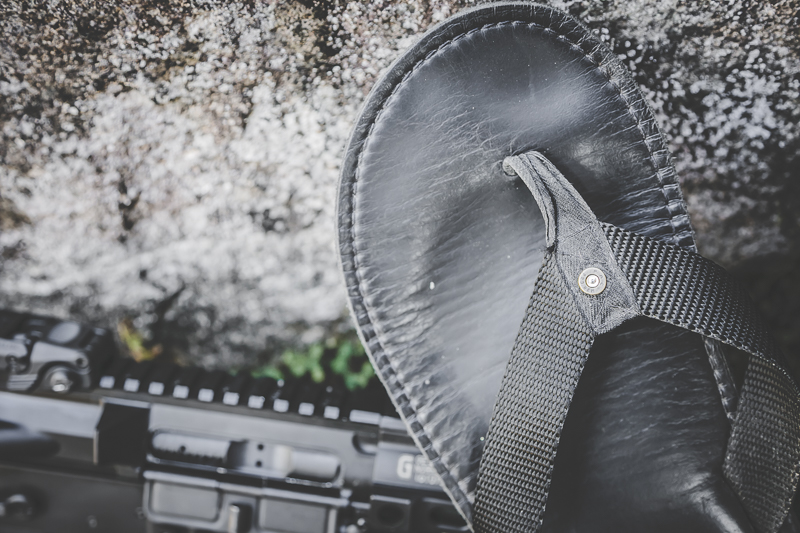 I wore these to the range, went wading in the Androscoggin river, and to one or two events where my girlfriend questioned my choice in footwear. "I'm working," I said. Debate over.
On to the important stuff. The only time I noticed any funk coming from the AR-15s is when they were wet, or if my feet were particularly perspiration prone. They are also slightly slippery when wet, but that goes for any flipflop made. Once dry (which happened surprisingly quickly) they were no different than any pair of sneakers in the closet in terms of smell.
The marketing from CFF is absolutely correct that these are not good for running. I've chased after my dogs, run in the middle of rainstorms, sprinted on the range, and double timed it to Nancy's Squat 'n Gobble in a drunken haze. This footwear is no replacement for true shoes. I didn't slip out of them, but I wasn't going to set any land speed records either. That said, the grip on the sole is noticeably better than other sandals I have worn.
At the time of this writing it is late October and I've worn the AR-15s every day since June 11. They are absolutely worth every penny, and I'm looking forward to someday actually fighting in them…in the name of testing, of course.
Before next summer rolls around, read about Combat Flip Flops 
here
, or watch Griff's TedX talk
here
. Want to skip the fluff and just order a pair? Stop by their website. You can also find them on Facebook or on Instagram.


Comms Plan
Primary: Subscribe to our newsletter here, get the RSS feed and support us on Patreon right here.
Alternate: Join us on Facebook here or check us out on Instagram here.
Contingency: Exercise your inner perv with us on Tumblr here, follow us on Twitter here or connect on Google + here.
Emergency: Activate firefly, deploy green (or brown) star cluster, get your wank sock out of your ruck and stand by 'til we come get you.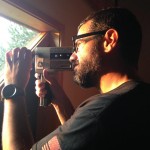 About the Author: When Matt Stagliano is not busy scoring with legions of Japanese girls who think he's Chris Costa or character acting a bit part in cheap Westerns (he usually plays a syphilis-ridden cowpuncher or similar saddletramp) he can be found shooting some of the best photos and video in the tactical/firearms industry. A former Fortune 50 consultant who is (no shit) a former DJ with a degree in Physics he never uses, Matt is not only brilliant behind the lens he's a helluva nice guy with great taste in booze. Oh, and a dog with a fierce, unnatural love for porcupines.  Learn more about Firelance online or follow them on Instagram (@firelancemedia). On Facebook here.