Bring it in, take a knee — we're about to do you a solid. Also, if you're not hungry after reading this you're either a vegan or un-American. Yes, we're aware those two words are synonyms. 

Biker Jim's Revisited
Richard Kilgore and Jake Call – this article was originally published on Tuesday, March 8th, 2016
Know what this is? This is one of the greatest-tasting hot dogs in. the. world.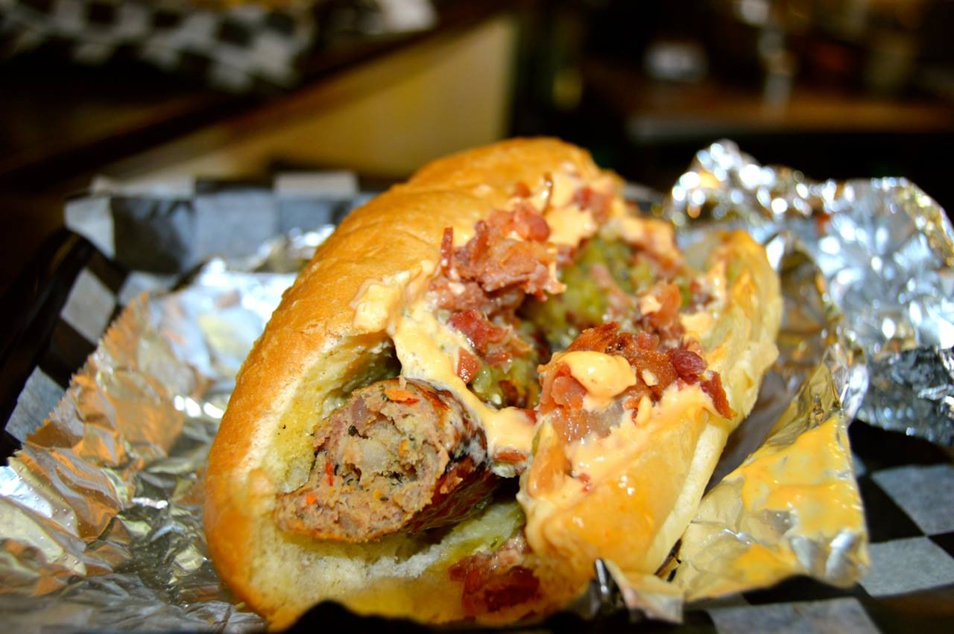 Know what this is?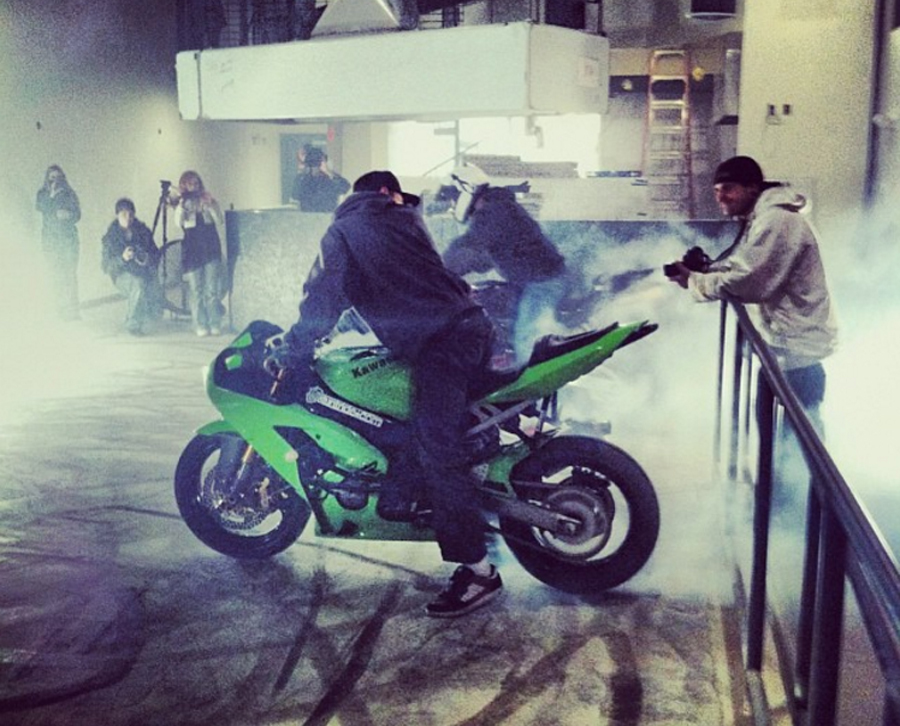 That's Biker Jim and his friends at the inaugural "Burn Out Party," riding motorcycles all over the restaurant before sealing the floor and walls and moving all the tables and kitchen stuff in. He wanted it to have tire tread all over the place.
Seems legit. These are definitely the kind of people we want prepping our chow! They have all sorts of unusual (and wondrous) things on the menu. Why, just a couple days ago they announced the "Frito Bandito," a Buffalo Bratwurst (the same one in their "Buffalo Wild Weiner") topped with spicy Texas style chili, with pickled red onions, tomatoes, cheddar cheese, cilantro, sour cream, and crushed Fritos.
In the spirit of the season, they've also announced Reindeer Dogs.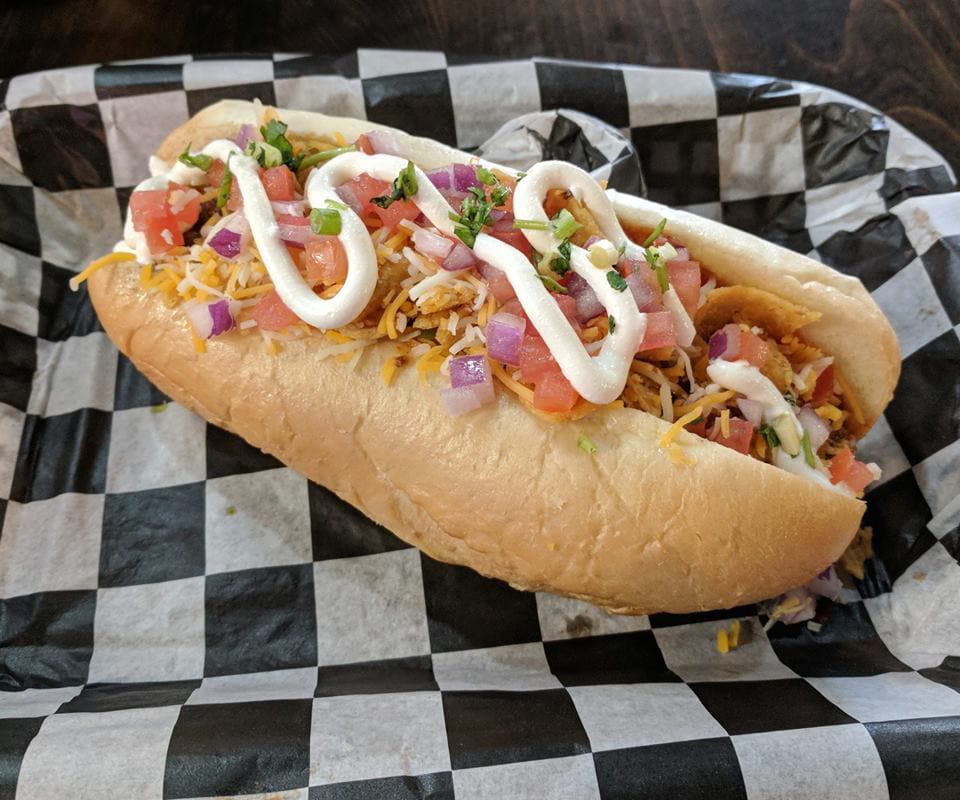 Going to Denver? Live in Denver? Driving through Denver? Ever heard of Denver, and thought about visiting? Get one of Biker Jim's dogs while you're there.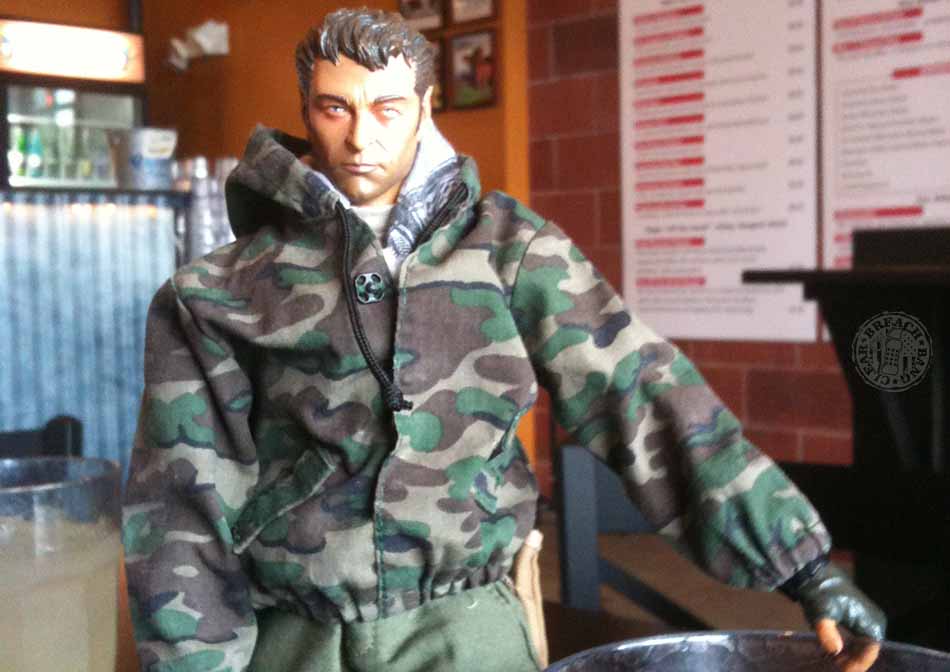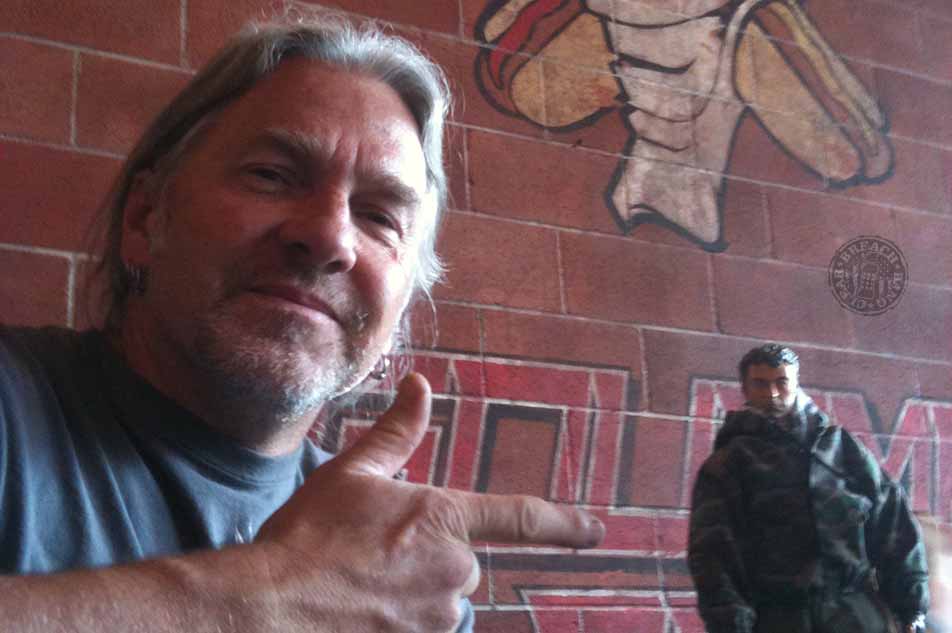 Biker Jim's began as a stainless steel hot dog stand in downtown Denver a few years back. Within days of its appearance it became a popular go-to spot for lunch and routinely had long lines stretching from the awning. The man behind the food cart on the sidewalk was Jim Pittenger, aka "Biker Jim." Six years later he opened a not-so-traditional brick and mortar restaurant, and in 2014 followed it up with another one in the 'burbs of Highland Ranch. As you can imagine (since we're taking the trouble to write about it), this is some fucking good chow, with the grill right up front so you don't lose what Jim calls the "street food experience."
Pittenger's degree is in journalism, though he says he never did much with it. He spent several years as a repo man, stealing back people's cars, then (thankfully for lots of fast bastards like us) he opened up that first sidewalk food cart. Though nominally a frankenfurter restaurant, Biker Jim's is no ordinary hot dog joint. For one thing, he offers a wide array of exotic meats — you can get hot dogs made of rattlesnake (which is really good), wild boar (also good), Alaskan reindeer (we didn't try it because after the holy-shit level awesome fried macaroni and cheese we were swoll up like ticks and about to puke). There's also pheasant, duck and — hell, just look for yourself. You're going to love Jim's gourmet sausages (that's what she said).
The dogs are served on freshly baked rolls, are from (mostly) non-commercially raised meats, and you can "accessorize" them with all kinds of condiments and toppings like wasabi, cream cheese, roasted cactus, sriracha, lime, and of course bacon in a number of its divine forms. If you really want to you can get a burger, but we're not sure why you would.
It's a hot dog place, jackass.
There are lots of sodas available, but we recommend the Root Beer. It stands head and shoulders above most lesser, mere mortal root beers.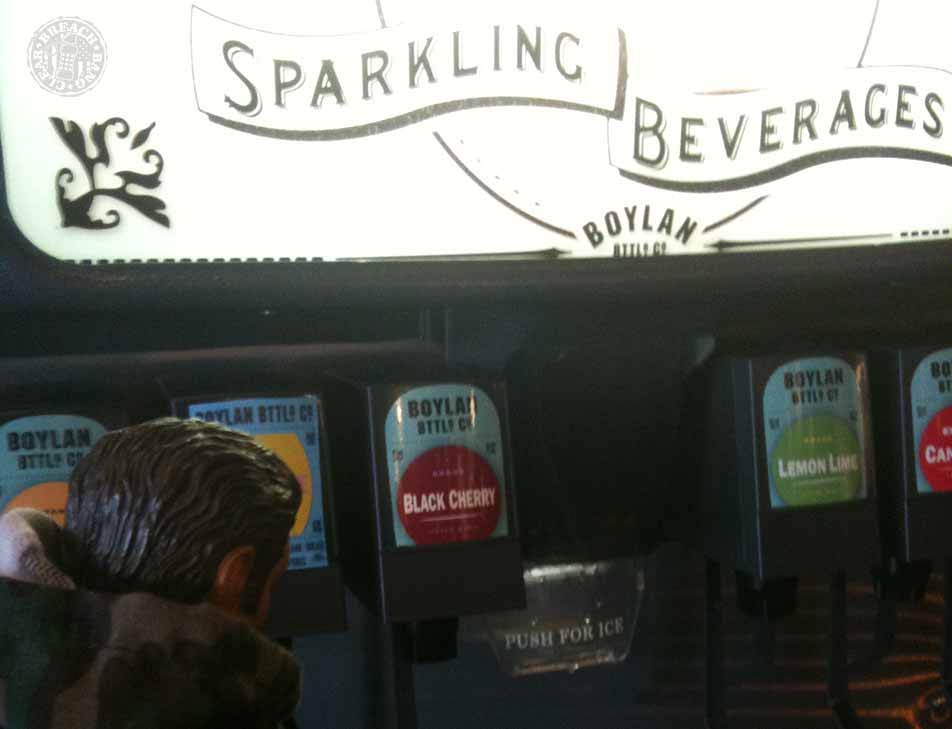 Interestingly, Jim comes from a military background. His old man was a Korea and Vietnam combat veteran Air Force pilot and member of the "Lucky Bastard Club," surviving over fifty missions. His dad was actually the last commander of Wildwood AFS in Alaska before it was closed.
"Going to Alaska sound cool," Biker Jim told us, "but being twelve years old at Wildwood…not so good. There were more people in that apartment complex than we had on the whole base."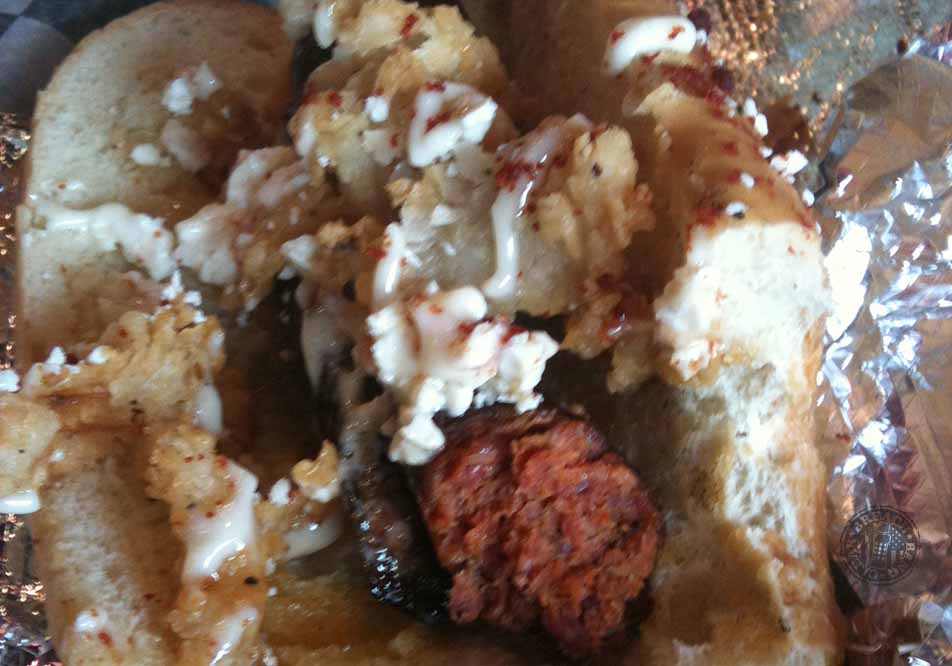 Problem Solving
Let's talk tactical considerations. If you think you might get jumped by Harry Heck or some of Milos Kirchoff's goons while enjoying your lunch, be aware there's a big damn glass wall on the street side, with a ginormous garage door over it. If the weather's nice they open it up. There's not much in the way of cover inside, just the tables and the grill.
At least there's room to maneuver if you wind up going mano a mano George Nada vs. Frank Armitage Style — which seems unnecessarily labor intensive. You'd be better off getting into the tunnel-like corridor at the back (unless they've got a whole team after you and are set up to catch squirters — then you're just fucked).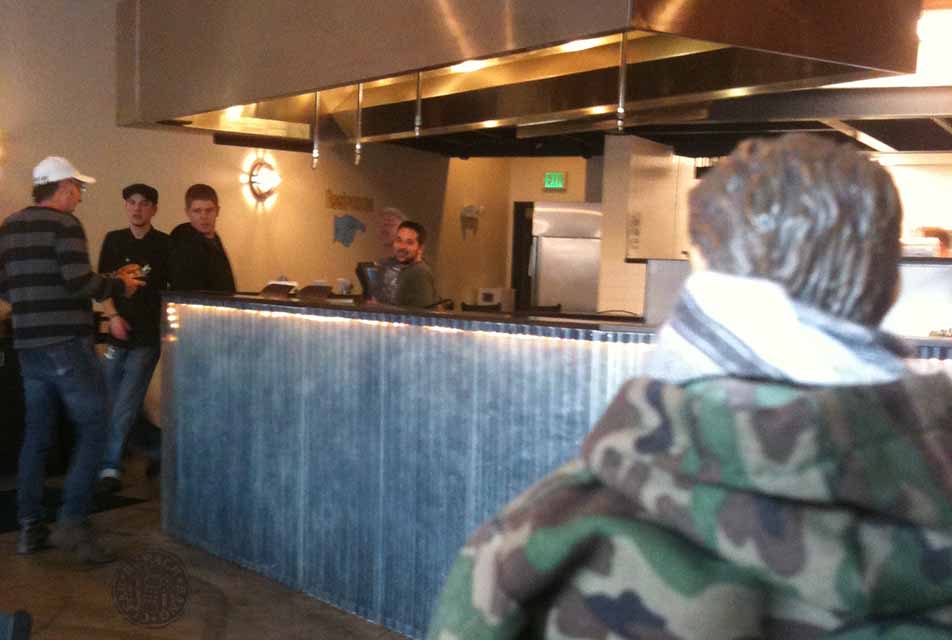 There is very little cover inside, though it's not completely open. Watch those great big glass doors in the front though — someone could roll an entire assault team through there. Though, on the good side, if someone is rolling up to hit the joint while you're in there masticating, you'll likely see them approach.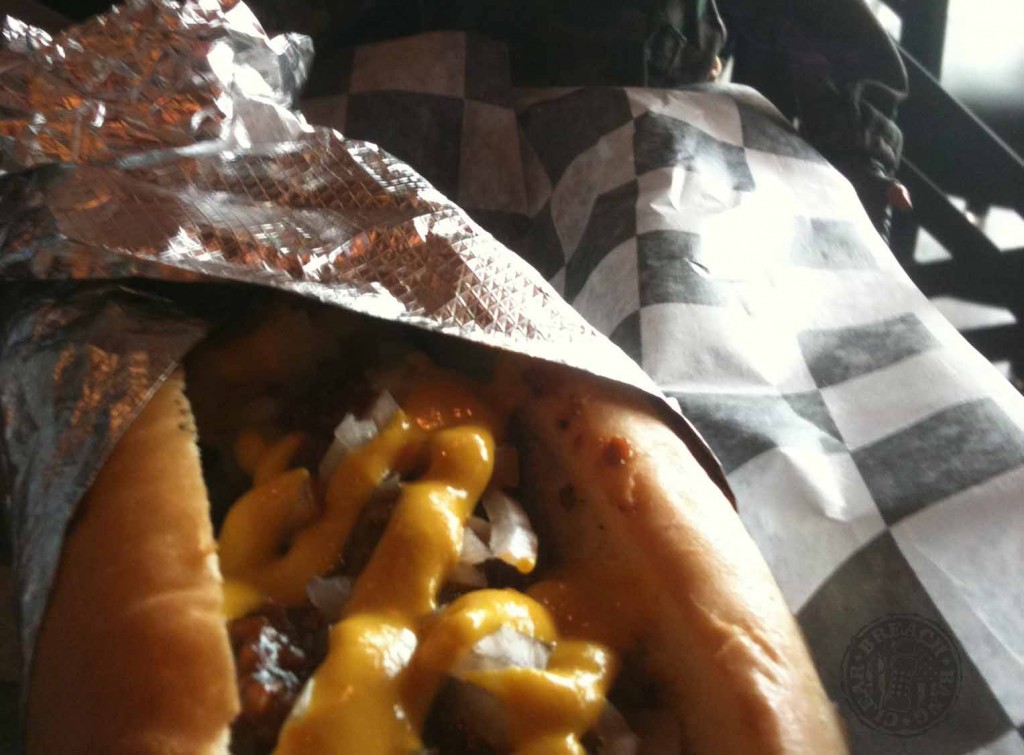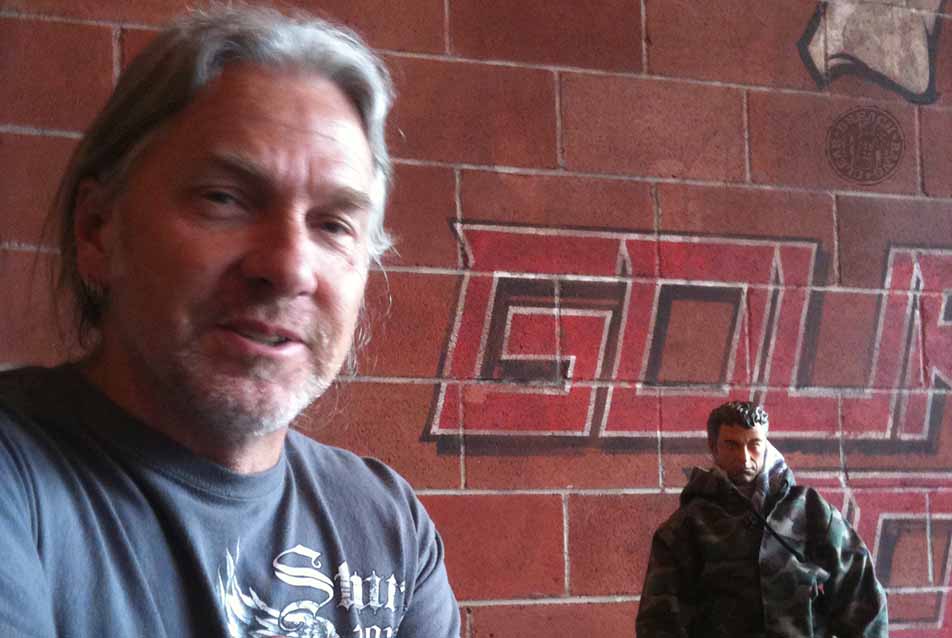 Biker Jims's is good to go. If you get a chance to grab something to eat there, do it.
More here on their website. You can also find them on Facebook.
Now, watch this: http://www.cookingchanneltv.com/videos/hot-dogs-at-biker-jims-0180482.
It's a new 1911 for "Cobra" Cobretti.