Aussie Steel: a combat knife for serious use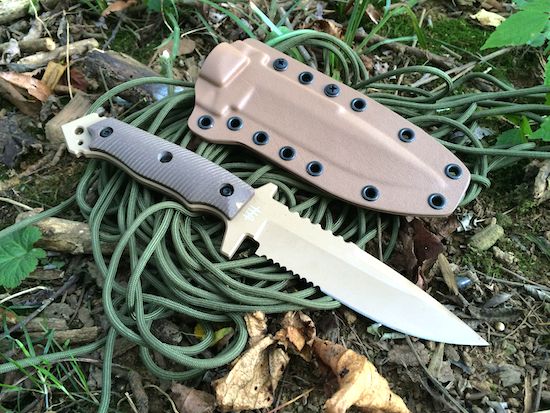 It's hard not to want to hack down a tree or kill some boy-buggering muj in a man-dress with the Hardcore Hardware Australia MFK04-GEN II.
Hardcore Hardware Australia offers a range of hard-use knives, specifically developed with the military and emergency services in mind. We all know that Americans are generally pretty open about supporting the armed forces, and we in the course of our travels and deployment discovered many Australians who are proud to do the same for their own. It's no surprise then that this company is proud to serve the brave men and women of the Australian & New Zealand Defense Forces. Hardcore Hardware Australia also provides development services for government agencies looking for custom tools tailored to user specific requirements. So If you're an Aussie or Kiwi reading this, understand that they are here to help you design, develop and construct custom tools for your organization.
Now that we have the background stuff out of the way, let take a look at a badass knife they were happy to send all the way over the pond for us to test.
That's not a knife….this is a knife!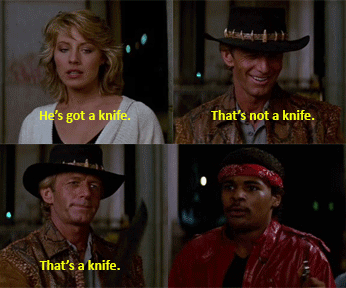 You know we had to do that.
We recently received the Hardcore Hardware Australia MFK04-GEN II mid-sized utility knife and immediately put it to work in a variety of bushcraft and utility tasks. The first think you'll notice when receiving this knife is the presentation. The company put some thought in the packaging. Each knife comes with a data card featuring the knife's specs, a certificate of authenticity, and a professional looking box. The goal of the MFK04-GEN II was to offer a well-rounded combat knife, with optimum balance between weight, strength and cutting power.
The MFK04-GEN II features a full length tang, and a thick 6mm D2 tool steel blade. The versatile design of the knife lends itself to a large selection of tasks and uses, making it an attractive blade for both professional warriors as woodsmen. The knife is sheathed in a nicely formed and finished Kydex sheath, giving a satisfying "pop" or "click" when removing or replacing the blade. The liberal use of rivets down the sheath's side allows the user to custom fit hardware, such as the popular Tek-loc which comes in the package. This, of course allows for other mounting option such as soft loops, MOLLE attachments, etc. 
The MFK04-GEN II's has a classical styled modified spear point for penetration, and is a preferred shape for skinning game. The 5.11" blade is coated in Teflon, which we were surprised to see held up extremely well to a broad range of use and abuse we put the knife through. Since the knife is sized and styled to serve well as both a battlefield and bush craft tool, we headed out to the woods to see how it fared.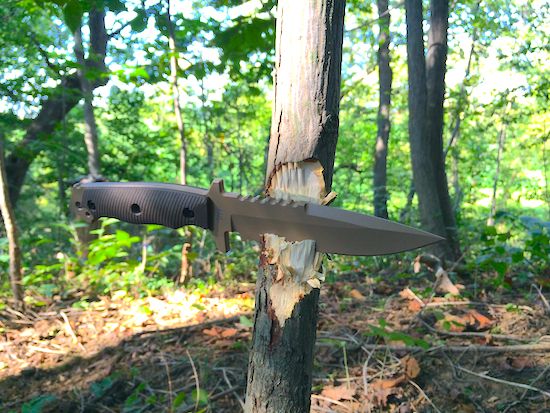 The MFK04-GEN II draws easily from the sheath, without excessive force. This has been a common problem we have seen on many custom knives where the sheath can seem as a bit of an after thought. The overly tight fit of some results in an exaggerated and potentially dangerous draw of the blade. Not so with this Aussie steel; the Teflon blade slides easily out and its textured G10 scales keep it in hand. With or without gloves, the knife has a good feel and balance in the hand, and the texturing of the scales feels aggressive while not being overly sharp. The bottom third of the blade has deep serration for rope and webbing, and the knife comes from the factory razor sharp its entire length.
We immediately set to hacking down a small hardwood sapling to use as a center pole for a shelter, and the knife made short work of it. The hefty blade weighs in at a little over half a pound, which meant using a baton to beat the blade through the wood was unnecessary. A minute later, the tree was down and we moved on to other tasks. The knife has jimping forward of the hand guard, which was nice touch. This texturing aids natural thumb pressure for more delicate cutting tasks, and hand placement when choking up on the blade for more control.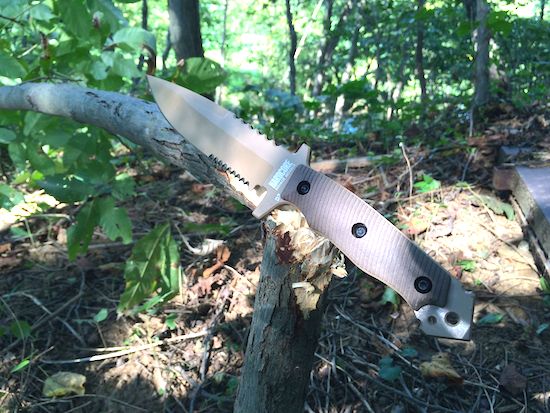 We cut a lot of wood before moving on to cordage, namely 550 paracord. The knife still had an impressively sharp edge, and sliced through the cordage without any need for resharpening. 
Overall, we like the MFK04-GEN II and feel it's a great blade for the money. It's a robust, sturdy knife that will likely hold up to years of use, and even military abuse. The company claims the knife is "Engineered to outlast and outperform any available competitor in its class", which can mean a lot of different things. We don't have any experience with any other Australian knife makers, but by the American standard, this blade would rank pretty damn high.
Despite being made "down under", the knives are available here in the states from a selection of dealers easily found online. They are available in the desert tan color seen here, as well as classic ninja black. The down side? By picking one up you aren't buying American, and you know how we feel about that. Also, they aren't cheap, but then again most good things in life aren't. However, if you are in the market for a stout blade for war or the field give these dudes a long, hard look. You can read more here about these tools (so beloved of Diggers and Kiwis) on the Hardcore Hardware Australia's Website. Subscribe to their YouTube channel here. Follow 'em on Instagram right here (@hardcorehardwareaustralia).
Mad Duo, Breach-Bang& CLEAR!
Comms Plan
Primary: Subscribe to our newsletter here, get the RSS feed and support us on Patreon right here.
Alternate: Join us on Facebook here or check us out on Instagram here.
Contingency: Exercise your inner perv with us on Tumblr here, follow us on Twitter here or connect on Google + here.
Emergency: Activate firefly, deploy green (or brown) star cluster, get your wank sock out of your ruck and stand by 'til we come get you.