America Grip | Onboard Tools for your AR
News flash: screws come loose, and water is wet. Here's a tool set that stays on your rifle–so you have tools to tighten those screws when you need them. Mad Duo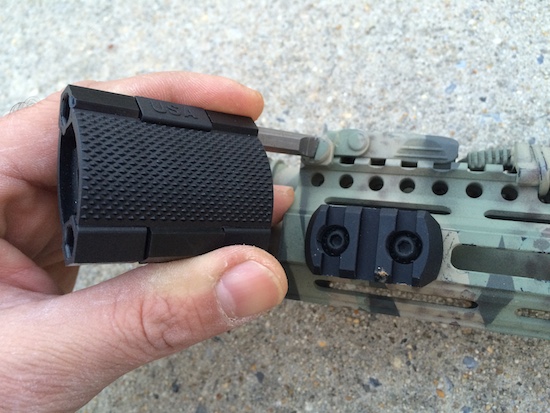 America Grip : Onboard Tools for your AR
We recently caught wind of a new product coming out, called the America Grip. As the name suggests, it is indeed an American made product. The company is based in Austin ,Texas, and has set out to create an easy, convenient means of maintaining your weapon in the field. 
Experienced shooters know that just about every nut and screw on your weapon can work itself loose from recoil, vibration and heavy use. On a long enough timeline, your pistol grip screw will back out, your rear sight will come loose or your sling attachment will fall off. The obvious answer is to put thread locker on all of your accessories, add witness marks with a sharpie, and check each screw while doing routine maintenance. Obviously this is a hell of a lot easier to do if you actually have the right tools with you, should Mr. Murphy show up while you're out in the field or on the range.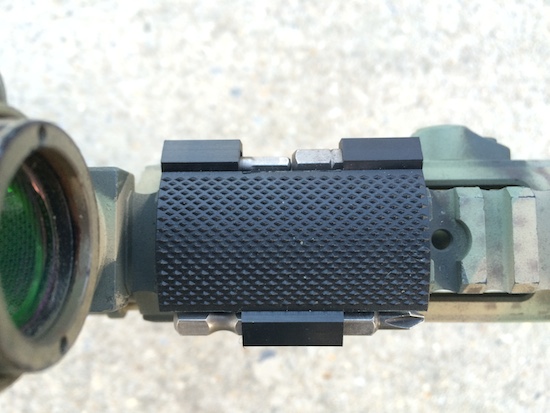 There are many great products on the market to help you keep your blaster in tip-top shape and mission ready, but few offer a truly easy mode of carriage. The America Grip is set to change that for us, using a unique design that functions as a picatinny rail cover, and tool grip.  Each rail cover section is 2" long and is molded out of high strength polymer. The profile is close to the issue KAC rail cover, but has a nice, grippy fine-diamond texture pattern along the top. 
Each section snaps securely to your pic rail, and we could not detect any play on any of the rails we tried the America Grip on. The main feature that sets this product apart from being " just another polymer rail cover" is its ability to carry 2" long 1/4" standard tool bits. Each side carries one of these bits, allowing you to choose which sizes are common to your particular gun. Because there really is no standard for screws when we look at all the many accessories on the market, you will encounter phillips, flat tip, Allen/ Hex, and Torx, in a variety of sizes.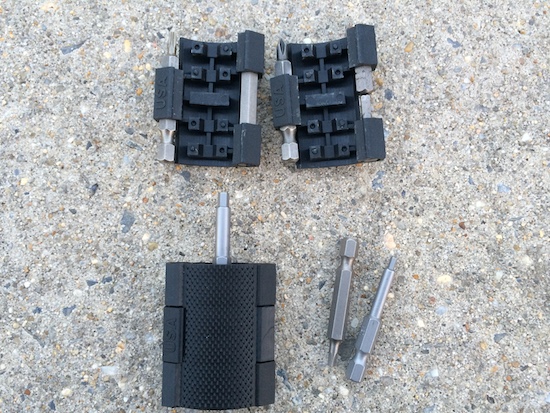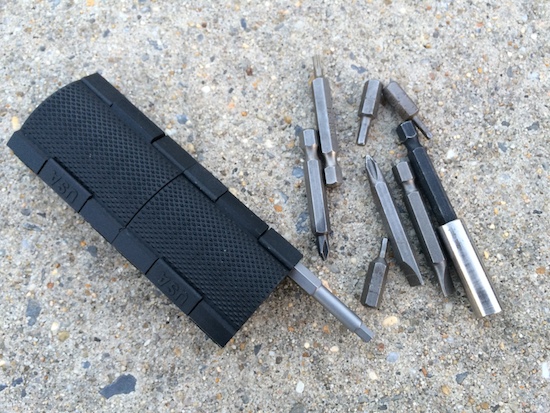 By removing the bits from the rail cover, and the rail cover from the gun, you are now ready to assemble your tool. Simply snap two of the covers together, and Bam! You have a handle to hold the driver bits. By stacking another 2-cover set to the first set, you can create a long, nonslip handle in the matter of seconds. We found this extremely handy for adjusting optics such as the EOtech and traditional scopes, as well as a means of punching out stubborn AR take down pins.  Previously, we have often stored L shaped Allen keys in the trapdoor of our pistol grips, along with a single use packet of lube, thread locker and foam ear plugs. This little field kit works well, but there was no room for a phillips or flathead driver, and you are limited with the size/length of the Allen keys that will fit. You are also SOL if you don't have a secure trapdoor, such is the case with the A1 and A2 issued pistol grips, as well as many commercial offerings.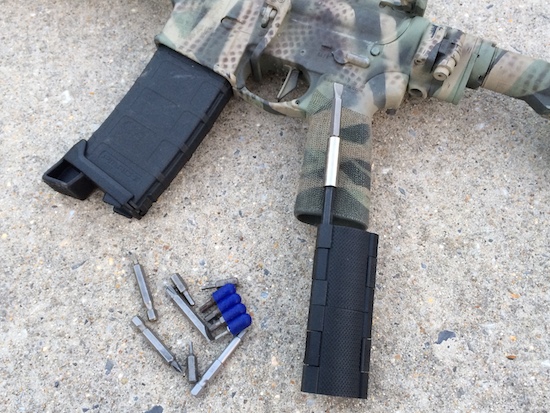 This is a pretty straight forward accessory,  without a lot of thrills to it, but it serves an important role nonetheless. Check out their webpage here. You can check out their Facebook page for videos and updates as they increase the product line. As it stands, they will sell the kits in Black, Coyote and classic Olive drab with plans to release additional colors each month. It's pretty cool, and promises to be a great field tool for many shooters out there. Keep your eyes peeled for the America Grip, and let us know what you think. 
Mad Duo, Breach-Bang& CLEAR!
Comms Plan
Primary: Subscribe to our newsletter here or get the RSS feed.
Alternate: Join us on Facebook here or check us out on Instagram here.
Contingency: Exercise your inner perv with us on Tumblr here, follow us on Twitter here or connect on Google + here.
Emergency: Activate firefly, deploy green (or brown) star cluster, get your wank sock out of your ruck and stand by 'til we come get you.