Snake Hound's new AK: the VEPR in .308
Snake Hound Machine has a new AK in .308. Here's some background before you read it anywhere else; as you may have read, we led an eeee-light blogging team to the wilds of New Hampshire last weekend. There were six of us total; the Mad Duo, three of our handlers and one out of work single dancing mom. Our minions evaluated some new equipment and camouflage. The stripper (a coryphee she was not) mostly sat around and ate leftovers...which might be why she's out of work. (Grunts: coryphee.) In any case once all lackeys were back home we divvied up assignments. Our boy Brad was assigned the job of talking about the "Wild Boar" in .308, SHM's new VEPR. MD
Snake Hound Machine's New AK Variant, the VEPR in .308
By: Brad "Mad Duo Brad" Walker
Last weekend I attended a closed event hosted by Snake Hound Machine for a series of weapon announcements, camouflage evaluations and gear reviews. Owen from SHM set the main stage, which was a 450+ shooting range in the wilds of New Hampshire, and introduced his new AK platform, the VEPR or "Wild Boar".
Snake Hound Machine's VEPR is manufactured by Molot in Russia and is chambered in .308 (7.62x51). It was designed to be a slightly shorter version of traditional VEPRs. The idea was to utilize it as a multi-role rifle for use in close quarters and still have the ability to reach out and paint the landscape if needed. This is why Owen and his crew chose a 16.5" barrel length (muzzle device not included) for this endeavor - more on that coming up.
SHM will offer their VEPR in a few different variations for enthusiasts of different levels. The standard version will arrive with an SGM Tactical Tri Rail Handguard and factory receiver cover, but can be upgraded to a Krebs Custom UFM Keymod Rail System and Texas Weapon Systems Dog Leg Scope Rail. Each rifle will come with equipped with an Ares Armor Effin-A compensator, a Rifle Dynamics AK to M-4 Stock Adapter, a B5 Systems stock, US Palm grip and an enhanced safety selector, as well. Both packages seem well thought out and are very modular. The version shipped will depend on how much or how little you might need to fit your requirements.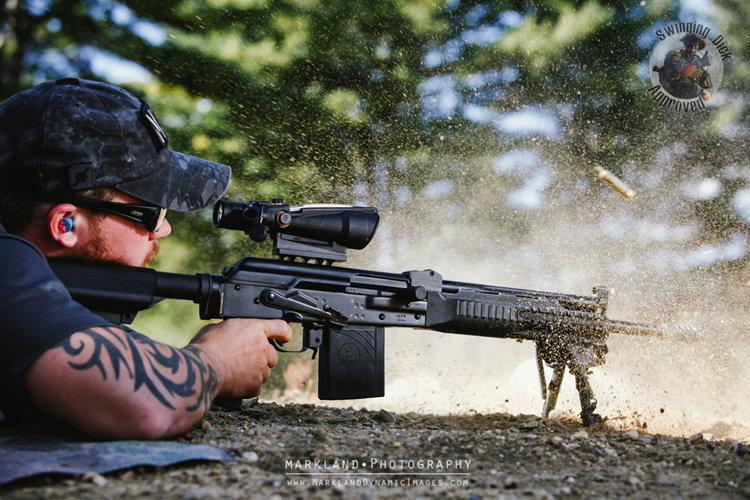 The following are a few specs on the rifle:
· VEPR standard version weight: 8 lbs, 1 oz
· VEPR with TWS and Krebs additions: 8 lbs, 9 oz
· 1/12.6 Barrel Twist
· 168 gr Boat-tail (suggested round type)
This bullet weight was found to perform best in this twist rate by the team at SHM to perform the best across most .308 ammo types.
I was able to get behind both the standard and upgraded models of SHM's VEPR and easily plinked steel from 100 to 450 yards with and without optics. Both rifles shot and ran great from the long-range prone shots to the closer CQB-type runs at 10 yards with zero issues or malfunctions. Obviously a complete and thorough review of any weapon platform should involved thousands of rounds in the worst possible conditions and climates. There was simply no way to perform an exhaustive evaluation of that sort in a single weekend in just one clime, and we didn't dissect it any more than what was necessary for a quick field cleaning; that said, all of our initial impressions were very positive. I will be interested to see if models assigned for T&E cosistently perform this well in dirty/muddy/sandy/freezing/blistering conditions, but in the meantime this platform is definitely worth checking out.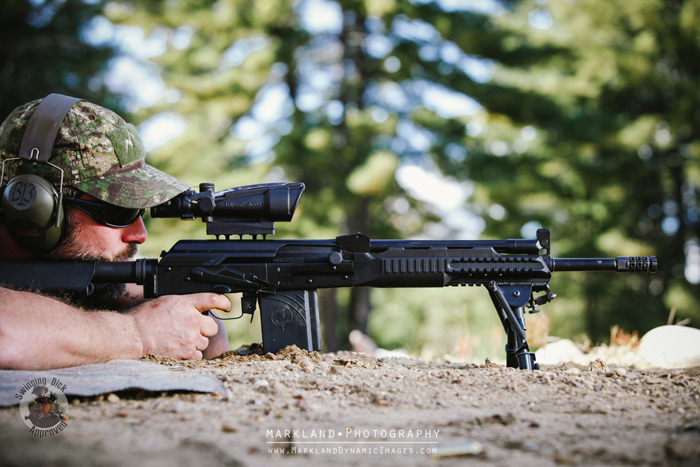 The Snake Hound Machine VEPRs are available for order now at http://store.snakehoundmachine.com/shm-308-vepr-carbine/ and range in retail from $2200-$2600 based on accessory additions and/or modifications. For full disclosure and info on Snake Hound Machine and news on the SHM VEPR, log on to www.snakehoundmachine.com. Note: big thanks to Kevin Markland Photography for some great imagery. It's entirely possible your pictures are a little better than the ones we took with our phones and that battered Sony Bloggie (he's on Facebook too if you're interested).
- BW -