Victory First on the TEA Headset (and Fighting From Concealment)
TEA Headsets are an awesome piece of kit, according to our wretched Chewbacca shaped flunky good friend Matt Jacques of Victory First.
"I f*&%ing love it dude," he said bluntly. "They are far superior to any electronic headset I've used in over twenty years of doing this. They are pricey, but I'm more of a buy once, cry once kind of guy and these are worth every penny, for a lot of reasons. For instance, with some headsets it's hard to get on a long gun, and when you're shooting a shotgun there's a tendency to bump them off…with these it 's like you're not even wearing hearing protection. You're gonna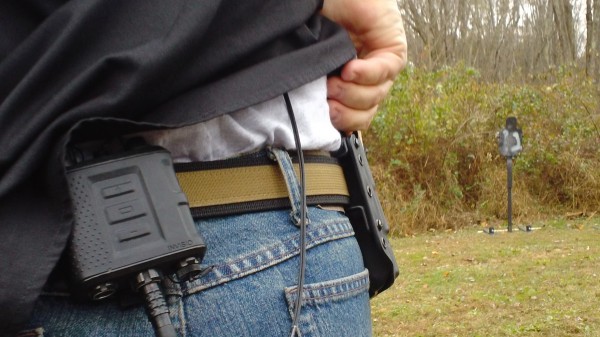 put 'em in and forget they're there. I can take 'em and put it in a 2mm jack…use my Android phone and talk through it driving down the road or…plug into Motorola, a link-up for XTS3000 and 5000 Motorola series, with two different push to talks…one is small like finger, one for kit like for a SWAT or military application. Hell there is also a connector for ICS on an airframe, and they all work perfectly. They're also great with a helmet. Normally you'd have to fightw ith a MICH or OPSCOR to wiggle chinstraps over regular hearing protection. These provide no obstruction or obstacle at all because they fit flush inside the ear…"
Read the article in its entirety and then take a look at TEA Headsets. Also, if you carry off duty or concealed or do fuck-all with a cover garment, you either need to attend one of Matt's courses or (at a minimum) watch his DVD. Don't take our word for it, ….
Actually, DO take our word for it. You'll learn something from this man, hirsute and hamfisted though he is (grunts: hirsute). If you've ever trusted us on something before, whether it's how to get single dancing mom nipple on the nose or introducing gunshot trauma training to your range regimen (grunts: regimen), trust on this.
{youtube}TR1dLLUUFIA{/youtube}