Be Nice To Your Nuts | Saxx Underwear
And now for something completely different.
It's a review about underwear and not just one style, but an entire brand: Saxx Underwear.
When people see that I wear SAXX or hear me talking about it the first thing that usually comes from their mouth is "Aren't those $30 underwear?" with a judgemental tone in their voice. Why would I spend and continue to spend so much money on underwear?
Well, let's gets balls deep into this.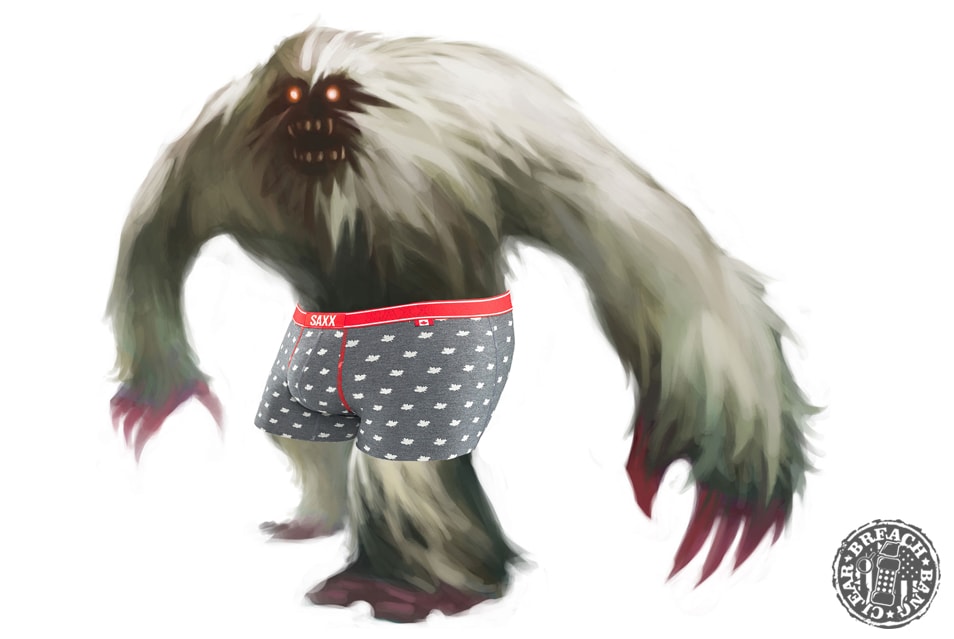 Cover photo from Urbasm. 
Saxx Underwear
Spoil Your Boys and Coddle Your Bits
My response to the question above is typically answered with the same response. I will only let three things in life touch my nuts. My SAXX, my wife, and a doctor who physically needs to.
If old me were to read this he would laugh as he grabbed a $7 pack of boxers from the shelf. However, a gift from my lovely wife started a cult-like obsession that I wish I had embarked on many years ago. I have even gone on to challenge friends that if they buy a pair and don't think it's their best set of boxers ever I will reimburse them.
The big reason the SAXX underwear just work is the "BallPark Pouch." If you have been on a long hike or ruck or just had moist balls chafing the ever-loving hell out of your legs, look no further. To much information time. When I was carrying a rifle for a living and blowing stuff up ruck marches were a constant issue. Walking long distances while carrying weight was never the issue, I am built like a tractor — high, torque low speed. My issue always came from bag chafe. I used to go as far as free balling it and putting Body Glide on my legs so that I didn't end up looking like I'd just ridden a moose across Canada.
The Saxx BallPark Pouch cradles the bag, and in combination with far better fabrics than your typical cotton boxer, helps keep moisture down and increases comfort. Since doing the swap to SAXX I no longer have bag chafe. Like Hernán Cortés and Tariq ibn Ziyad, I have burned all other underwear. I have sworn never to return to lesser skivvies.
Upholding this vow has led me to try pretty much every version of their boxers.
Vibe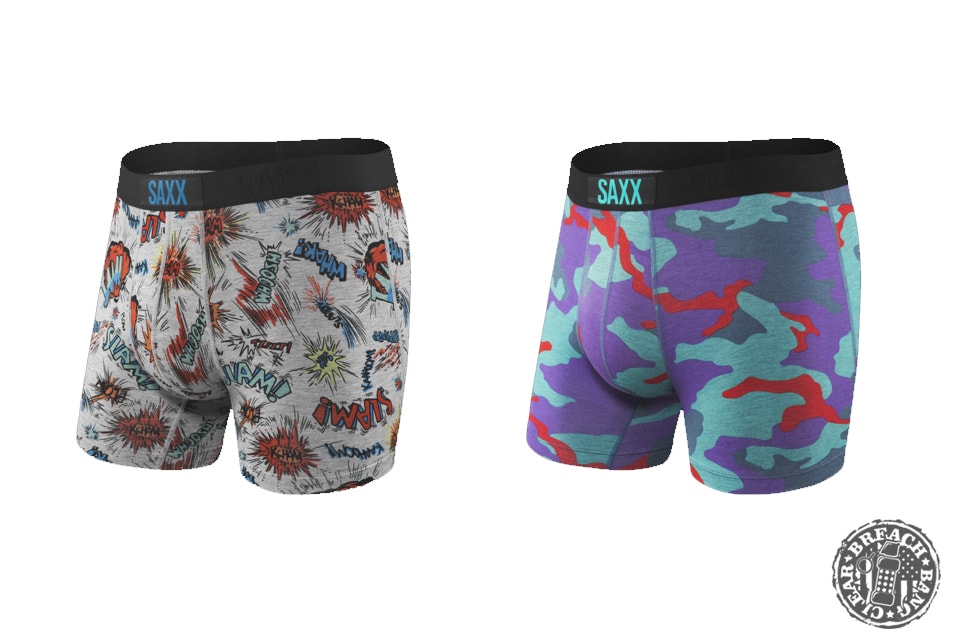 The Vibe is your jam if you want fun boxers with unique art. They have everything from patriotic versions to ones that support a charity like Movember. These are the great first impression boxers when you meet that special someone… or someones were not here to judge.
Ultra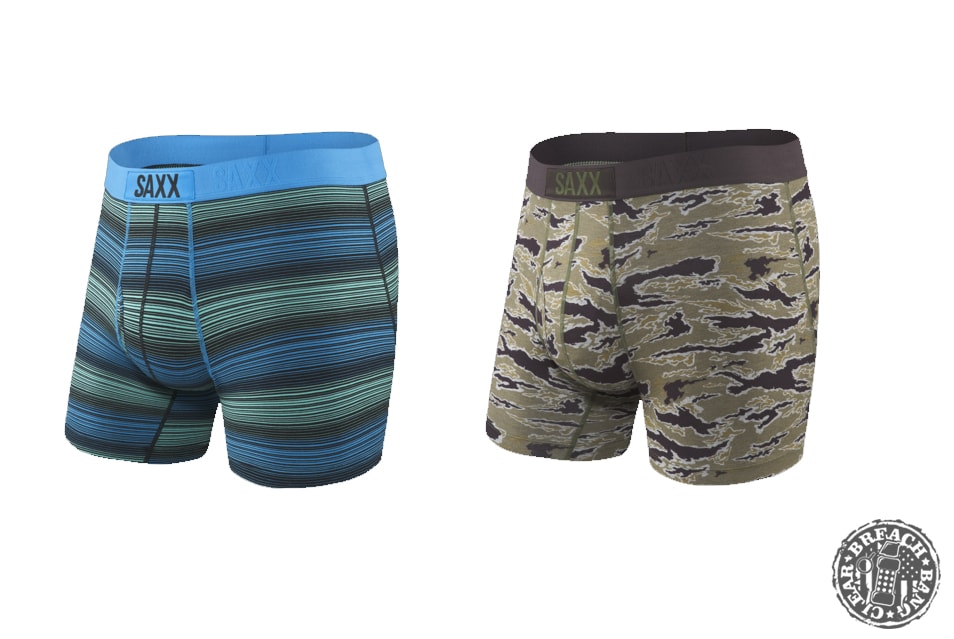 The Ultra originally only had solid colors but has recently branched out to include a ton of patterns like the Vibe. However, the fabric feels much fancier. In fact, it's a sensation very closely akin to someone carrying your nutsack around on a silk pillow. The fit is a bit looser, however. Thankfully, it's not normal boxer-loose. You're not going to put on a pair of pants and find them stuffed into a wad near your waistband.
If your big into fitness perhaps check out the Kinetic. They are made from a mesh-like material and have a compression fit that helps keep the moisture off of you. I like the Kinetic, however, I find the fit a tad tight on my massive legs.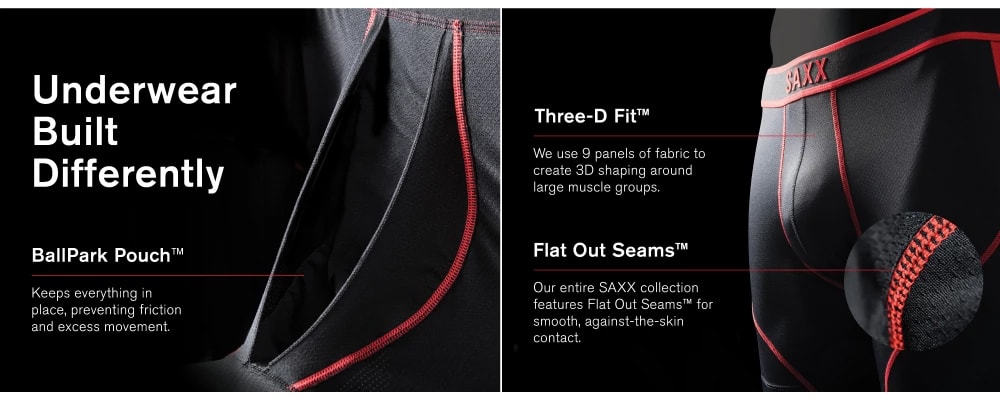 Blacksheep
Do we need to talk about Merino wool? No? So just buy the Blacksheep.  Your nuts will love this wool. This is the penultimate expression of testicular solicitude. In fact, these are so comfortable I —
No, no need to continue. Just trust me on this.  You should be coddling your bits in a soft wool blanket.
Quest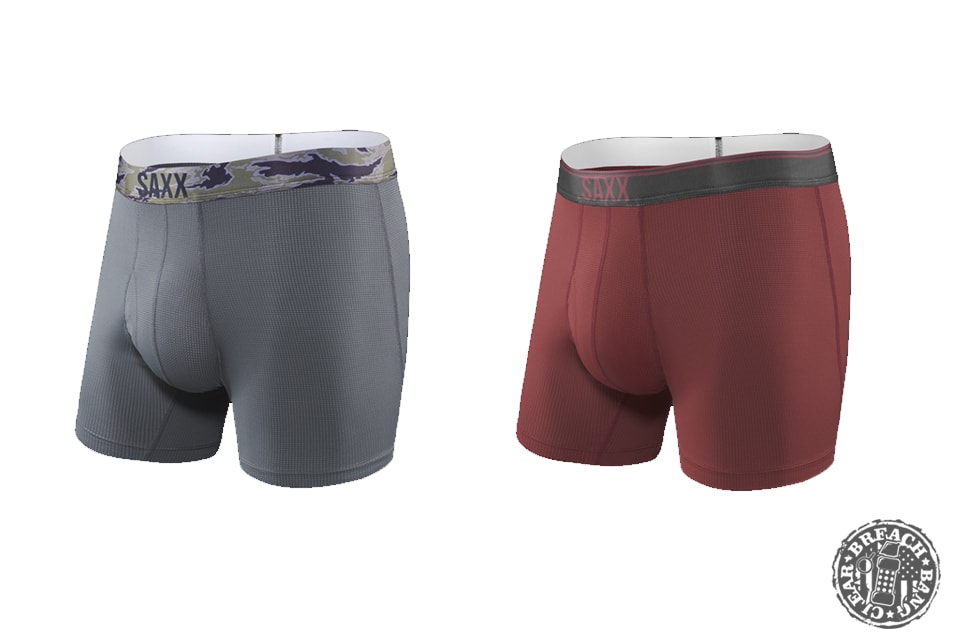 Outside of the Ultra, the Quest is my favorite thing SAXX makes. These are crazy fast drying boxers. If you live out of a carry-on, backpack or just seem to get wet far too often then these are where you need to be. Hell, even National Geographic digs these.
I haven't tried everything that SAXX makes just yet, but rest assured I'll be working my way through their entire line as time goes on. I currently own at least a decent pistol's value in Saxx skivvies I've purchased over the years. I could likely build Trump's border wall with all the little boxes they come in, and I don't intend to stop buying them now. I like Saxx so much I recommended them to everyone else in the B-B-C tribe and even arranged an affiliate code with them. Now if someone buys Saxx underwear through one of our links we'll make a commission, which will give us more money to buy Saxx underwear.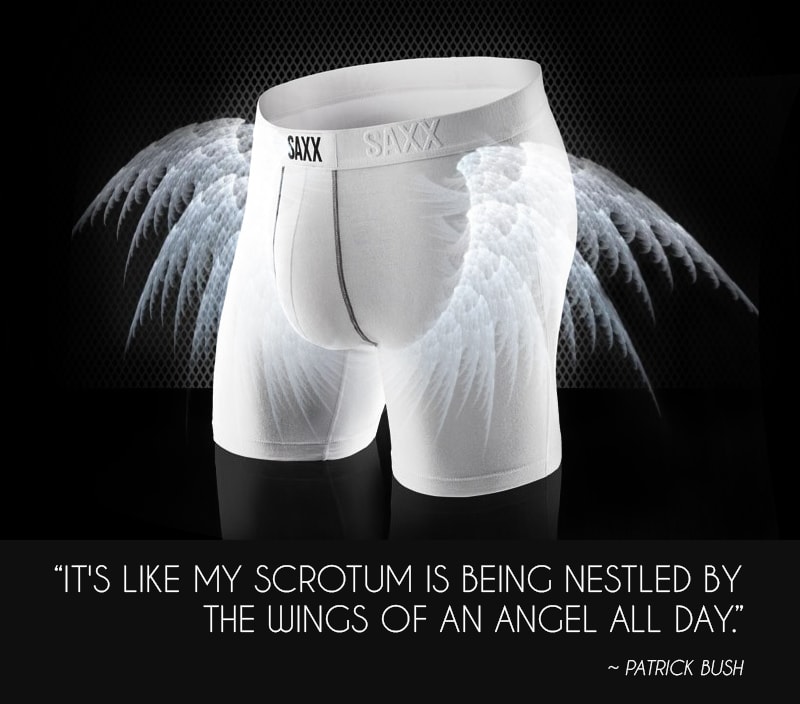 Do your nuts a favor and pamper them.
You'll only ever have one pair.
Don't you want to feel like this all the time, and look good doing it?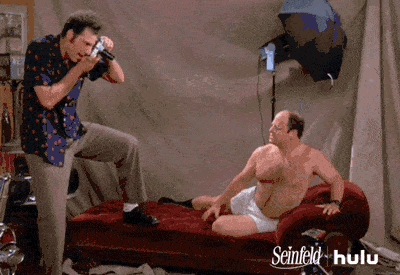 ---
More info and a few suggestions:
     •These underwear make us feel both tactical and pretty. 
     •These underwear are for only for Rafale and Mirage fighter pilots. 
     •These knickers are for pugilists and people who like bare-knuckle brawl. 
     •These skivvies are for those who listen to Dr. Teeth and the Electric Mayhem. 
     •These underwear are for those who remember Firebase Gloria. 
     •Saxx Underwear currently on special or sale. 
     •Saxx Underwear strength in numbers. 
     •About that BallPark Pouch and 3D fit. 
We did you guys a solid, gonna save you some money on some

CFF sto

ke.

---
Declare for Morning Wood!
Why become a patron? Not for the dick pics. So you can access the Morningwood Bazaar, obviously.
Exclusive discounts up to 60% off all kinds of guns and gear. 
Plus, unrivaled camaraderie where we only make fun of you most of the time.
Access to Nancy's Squat & Gobble, our closed Facebook discussion group.
If you wish to cite, syndicate, or curate our material, or if you're wondering about our please be so kind as to read our

Terms, Conditions, and Disclosure

s.
Take heed! We have advertisers, sponsors, and affiliate relationships with some of the companies you will be reading about (particularly, but not limited to, archival posts). If you purchase one of those items, we will get a small commission from the sale at no additional cost to you. A lot of work goes into Breach-Bang-Clear; by making your purchase through one of our portals you'll be supporting our work. This will help us buy beer, bullets, and barbecue, and we won't have to put pop-up ads and other such stupid shit into our articles to pay our expenses.