Review: Grey Ghost Gear – Slim Medic Pouch
Apocalypse Josh
This is the second of the Grey Ghost Gear pouches that I took rock-scrambling and bush-bashing so I could give them a good review. I'm a firm believer in always taking at least a small first aid kit along when you head out into the wilderness, so having a purpose-made pouch to outfit with my usual go-to items seemed perfect. I was only going for a couple of hours, but just like the SS Minnow's crew, I preferred to have it and not need it, than need it and not have it. This is GGG's Slim Medic Pouch, which was ideal for my needs.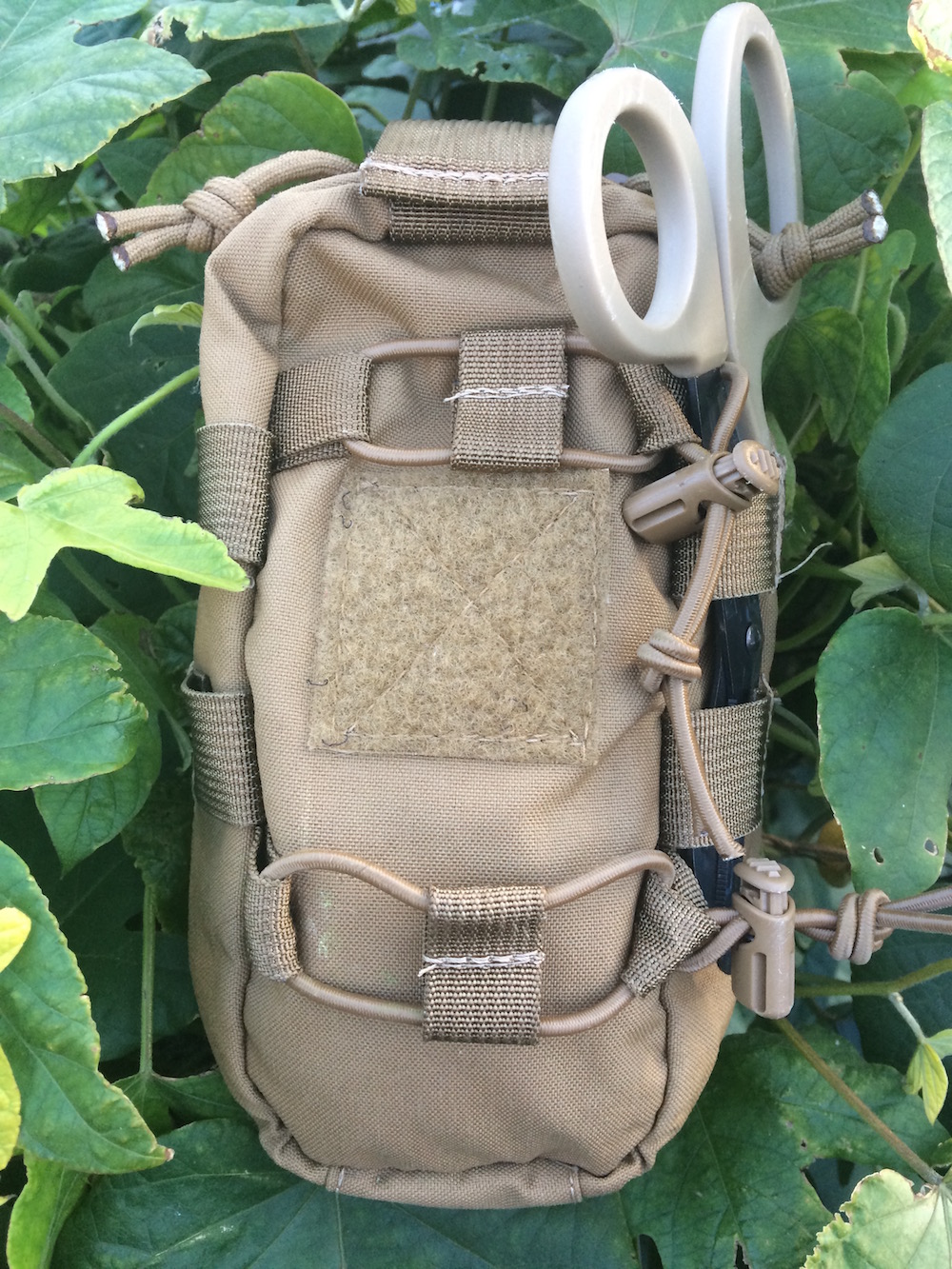 This offering from Grey Ghost Gear is designed to take up only two modular webbing channels on your vest or other MOLLE compatible platform, fitting in nicely and keeping your IFAK items quick to hand. As the name states, it has a slim profile and is specifically designed to carry your most important trauma supplies in a pouch that is only 5″high x 4″wide x 2.5″ deep.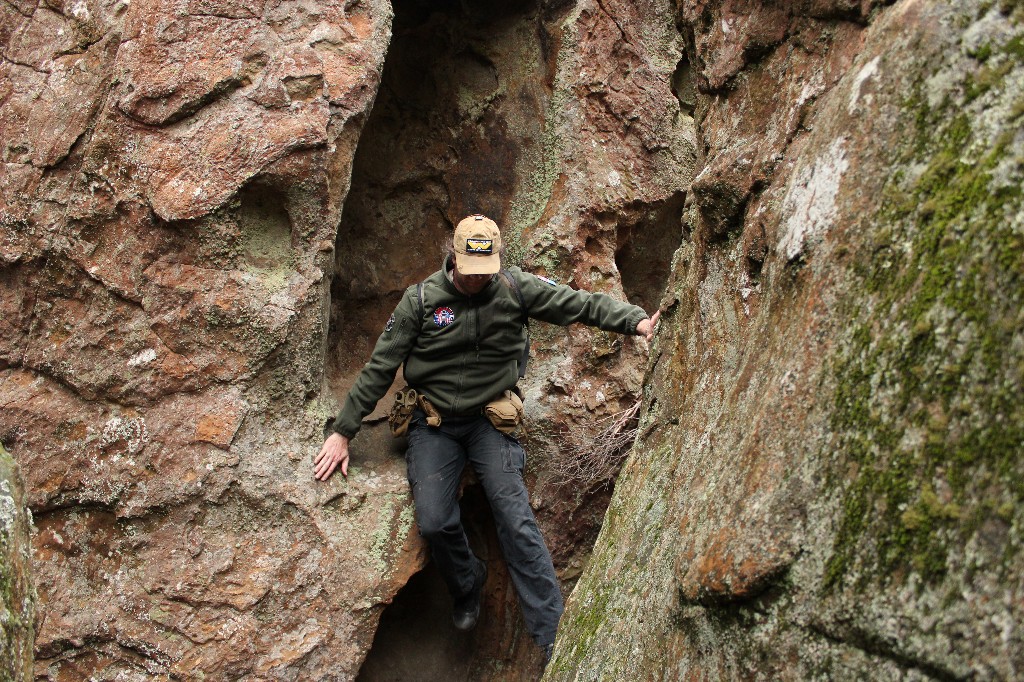 The Slim Medical Pouch features dual zippers running the full length of the pouch, combined with a large pull tab, to allow quick access to the contents inside the pouch. A bungee retainer system on the front of the pouch can secure a tourniquet, and two rows of modular webbing on either side can hold a pair of trauma shears or other items. I really like keeping trauma shears handy, since I might well need to cut something free.
I tried the pull-tab opening mechanism a few times, both with my primary and secondary hand, and also when I was up on the rockfaces, at odd angles and the like. It opened really nicely and cleanly, and I didn't have any issues with my items falling away. Proper placement for access is obviously important, so be sure to experiment with how you wear or stow yours.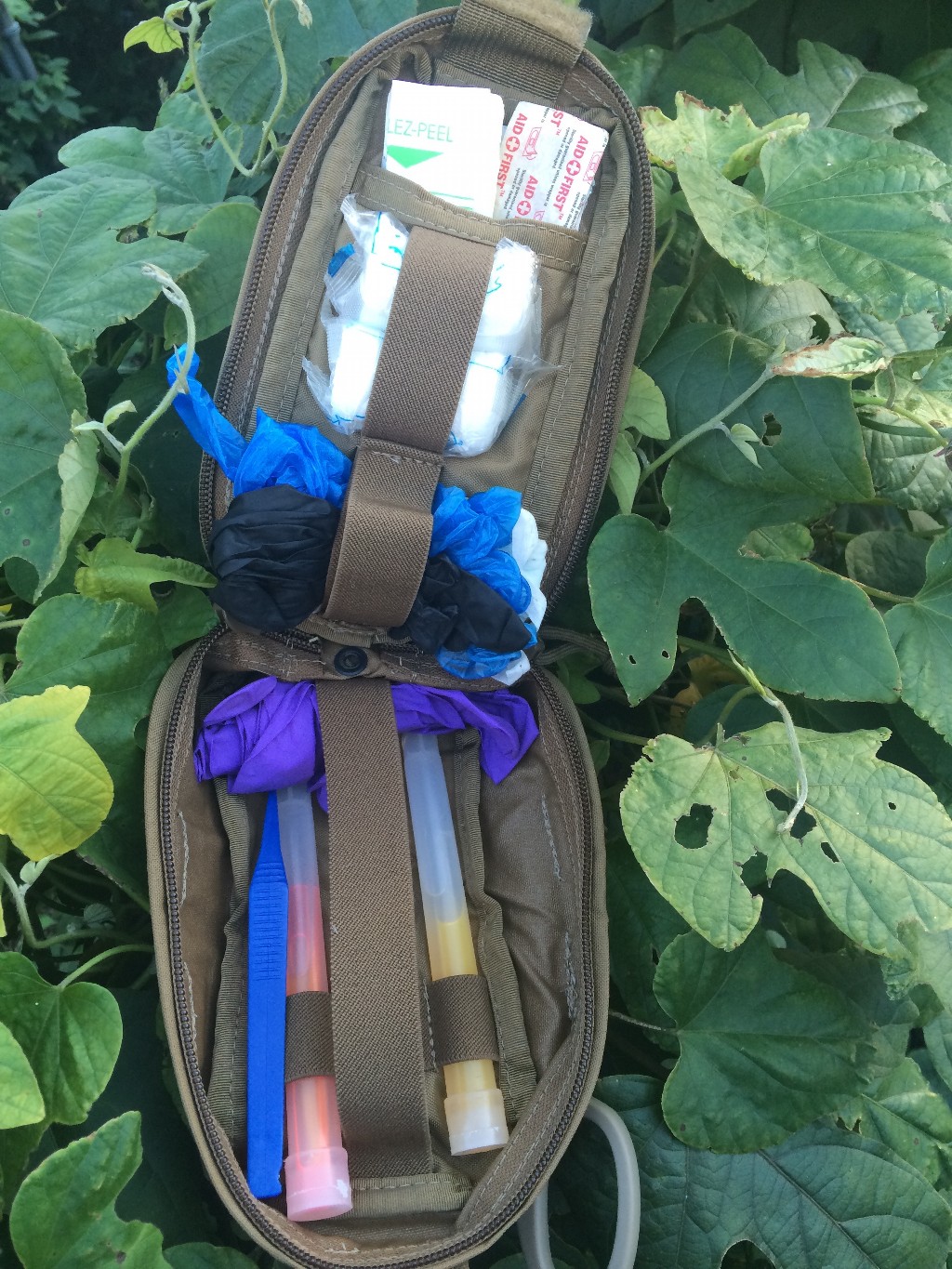 On the inside is plenty of room for essential trauma items as well as a flat pocket and elastic bands to secure various items. The backside of the pouch has a pocket for loose items like bandages. The backside also has an elastic band, with the top band having room for some rolled bandages and the bottom being doubled, where I like to stash a couple of sets of gloves and duck-bill N95 masks. The front inside of the pouch has loops for cyalume sticks, markers or tweezers. Another wide band of elastic runs the length of the front as well, where larger items can be secured.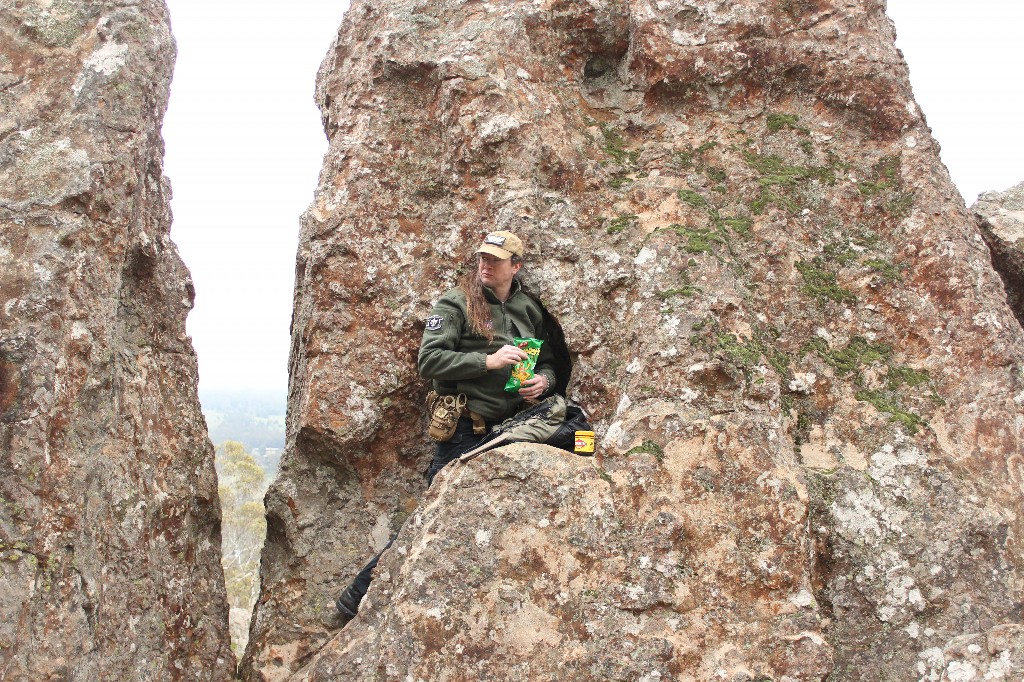 The pouch is constructed of 500 denier Cordura nylon and will attach to any MOLLE/PALS style webbing with the two included MALICE Clips. This pouch was designed to carry a specific set of items:
H&H compressed Gauze x2
Quickclot Combat Gauze
6″ Israeli Compression Bandage
28 FR NPA
Decompression Needle
1 pair of Nitril Gloves
HALO Chest Seal x2
CAT Tourniquet x2
Trauma Sheers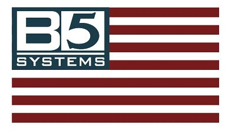 So if those are already in your loadout this pouch is perfect for you. I only have an Australian First Aid Certificate 2 rating, so it's a bit beyond my pay scale to attend major trauma, but I'm always looking to improve my skill set. Anyone who deals with firearms, chainsaws or other industrial spinning blades of death would do well to ensure their training is fit for the task, AND they have a good place to carry tools of the trade should an emergency arise.
As a boo-boo kit, this worked just fine for me, and even for moderately adventurous outings, I can heartily recommend it. If you're actively heading into harms way, I'd even more strongly suggest you consider one.
-AJ
---
---
Mad Duo, Breach-Bang& CLEAR!
Comms Plan
Primary: Subscribe to the Breach-Bang-Clear newsletter here; you can also support us on Patreon and find us on Pinterest.
Alternate: Join us on Facebook here or check us out on Instagram here.
Contingency: Exercise your inner perv with us on Tumblr here, follow us on Twitter here or connect on Google + here.
Emergency: Activate firefly, deploy green (or brown) star cluster, get your wank sock out of your ruck and stand by 'til we come get you.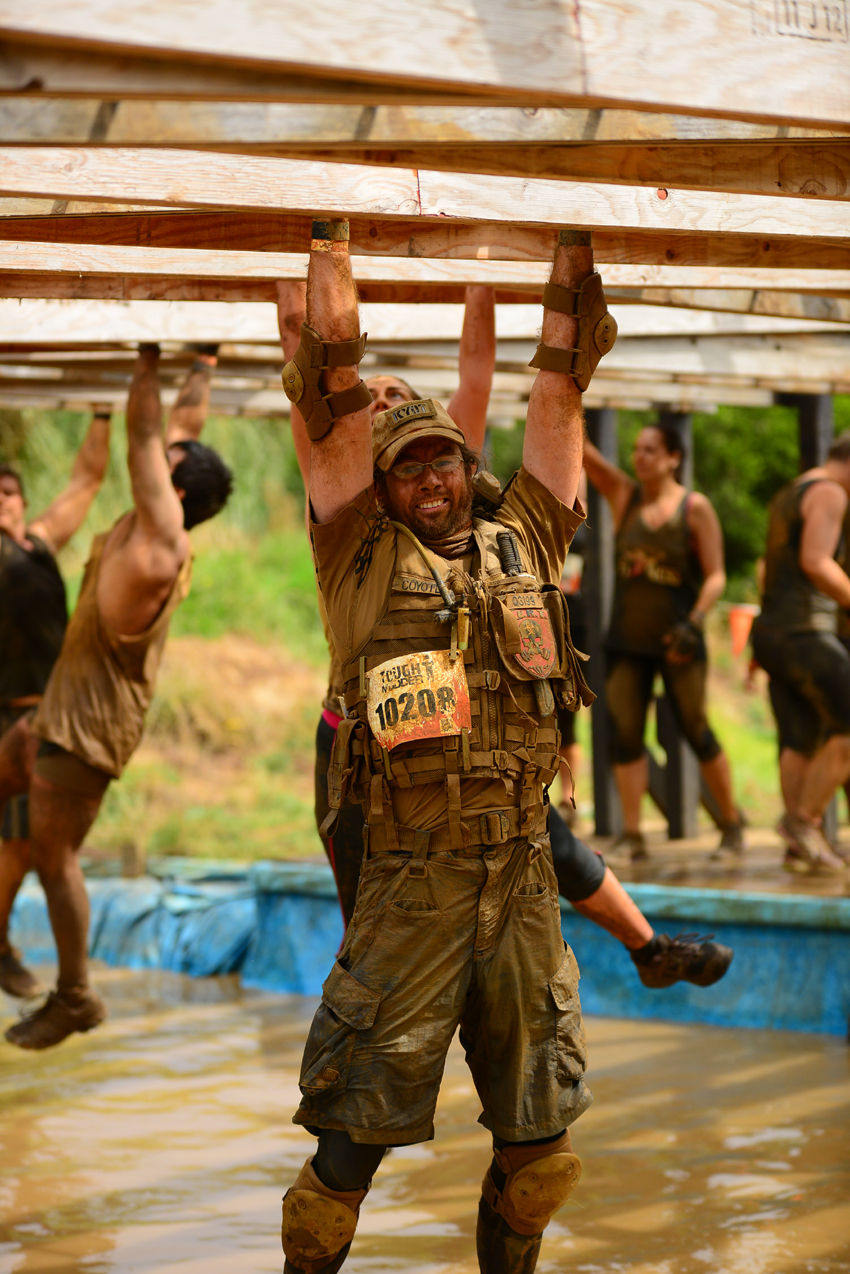 About the Author: Josh Orth is a second generation expat currently dwelling in the arguably civilized outskirts of Melbourne, Australia. He's lived in deserts, jungles and urban sprawls around the world and traveled/adventured into assorted inhospitable places around the world and has a keen sense of the speed with which the trappings of 'civilized Western life' can disappear. This has led him to begin writing about his interests and observations when it comes to the gear, skills and other necessities of self reliance of being equipped for whatever a capricious, occasionally indurate life might throw at him. This isn't by any means to say our eccentric friend truly experiences genuine vorfreude about dystopian life, but if he had to he might not complain. Read more by Josh at Apocalypse Equipped.
Grunts: vorfreude.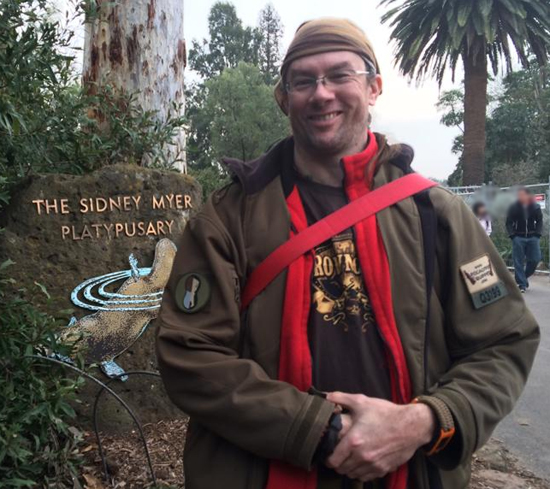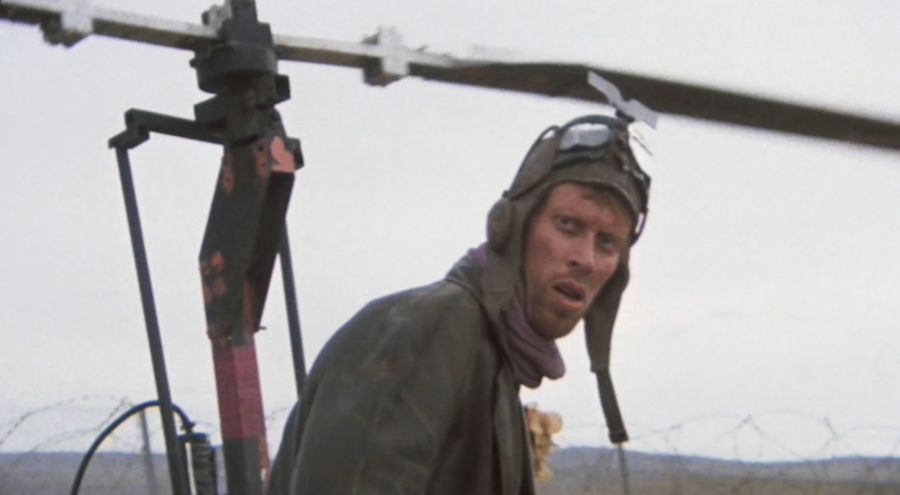 We're not saying Josh flies a PL-12 Airtruk. We're just saying this guy and Josh have never been seen in the same room together at the same time.