The Ka-Bar TDI Law Enforcement Knife isn't new, and no doubt you've seen it before even if you weren't exactly sure what it was. Its distinctive curved handle gives the knife an extremely low profile, so it's right at home tucked away on a duty belt or under your shirt. Which is exactly the point. Though it can be used as a primary blade with your dominant hand, we mostly see mounted on the support side of the body for use in protecting yourself during a gun grab.

Admittedly, there are a ton of knives that can accomplish this, but none at the cost/value ratio that the Ka-Bar TDI brings to the table–they can regularly be found for $35-$50. That's fairly budget friendly for a beat cop.
A number of different blade configurations are available, from traditional to half-serrated to fully serrated. And you can sometimes find it in baby poop brown instead of the traditional black. The grip is textured, though some skateboard tape would make for a marked improvement.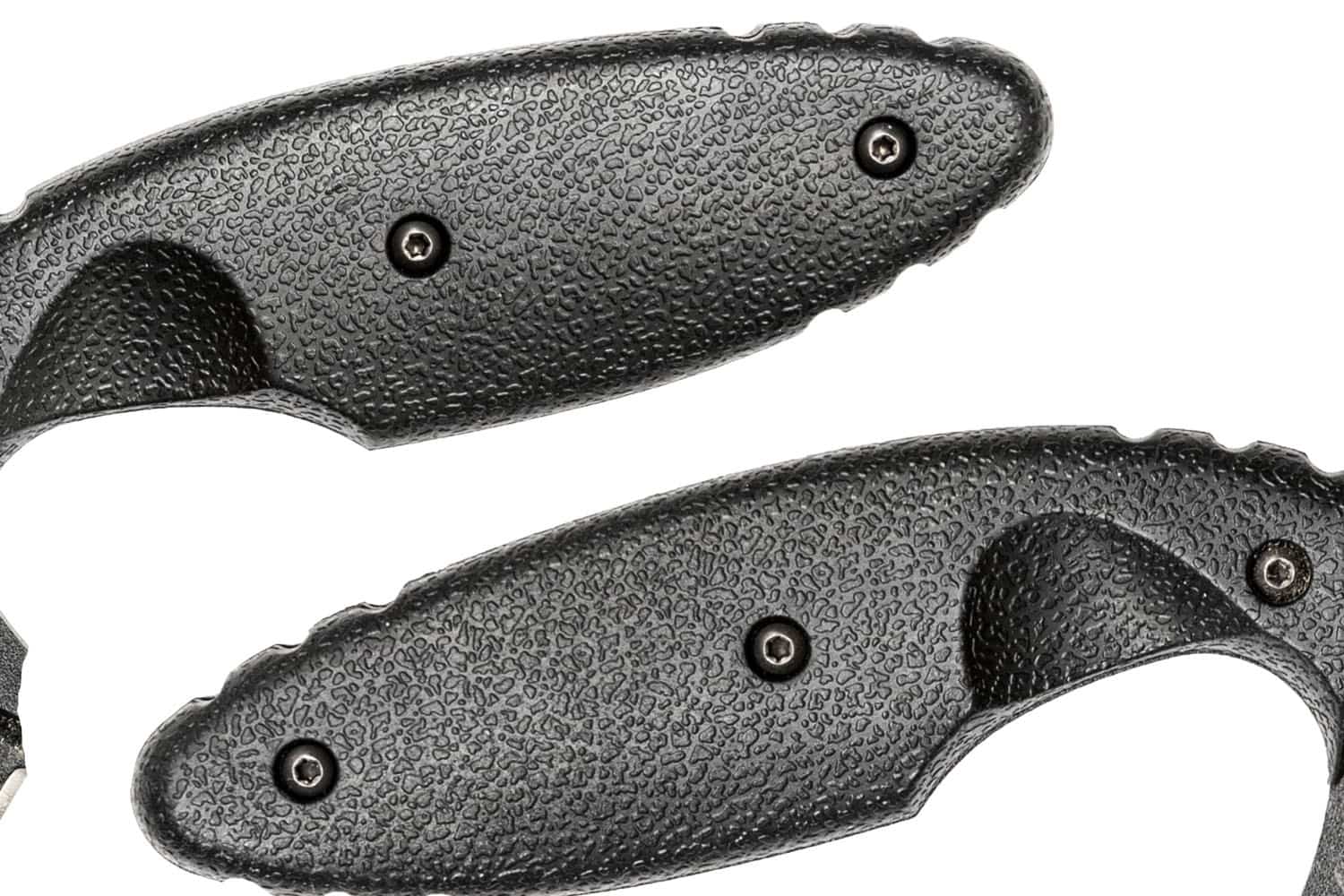 Of course at the lower price point, a custom Medford Knife it ain't. As you can see it's manufactured in Taiwan and there are some other downsides too. Here are the listed specifications:
•Blade Length: 2-5/16″

•Overall Length: 5-5/8″

•Blade Shape: Drop Point

•Stamp: KA-BAR

•Edge Angle: 15°

•Steel: AUS 8A Stainless Steel

•Grind: Hollow

•Handle Material: Zytel

•Sheath: Glass Filled Nylon with Black Metal Belt Clip
What is AUS 8A steel? KnifeUp explains it like this:
AUS-8 Steel is similar to 440 steel. It has Vanadium to give the steel more hardness. AUS-8a steel is very easy to sharpen to a razor edge but it will dull fast. Some reviewers online say that it'll dull by just being out in oxygen. Others say that they have used it daily at work and only sharpen it once a week. The quality of the blade does depend a lot on use and tempering techniques from the manufacturer. AUS-8a will withstand rust very well. It is similar to 440 steel in this regard as well.
Alright, so keep an eye on the edge. Got it. The Ka-Bar TDI Law Enforcement Knife also comes with it's own sheath.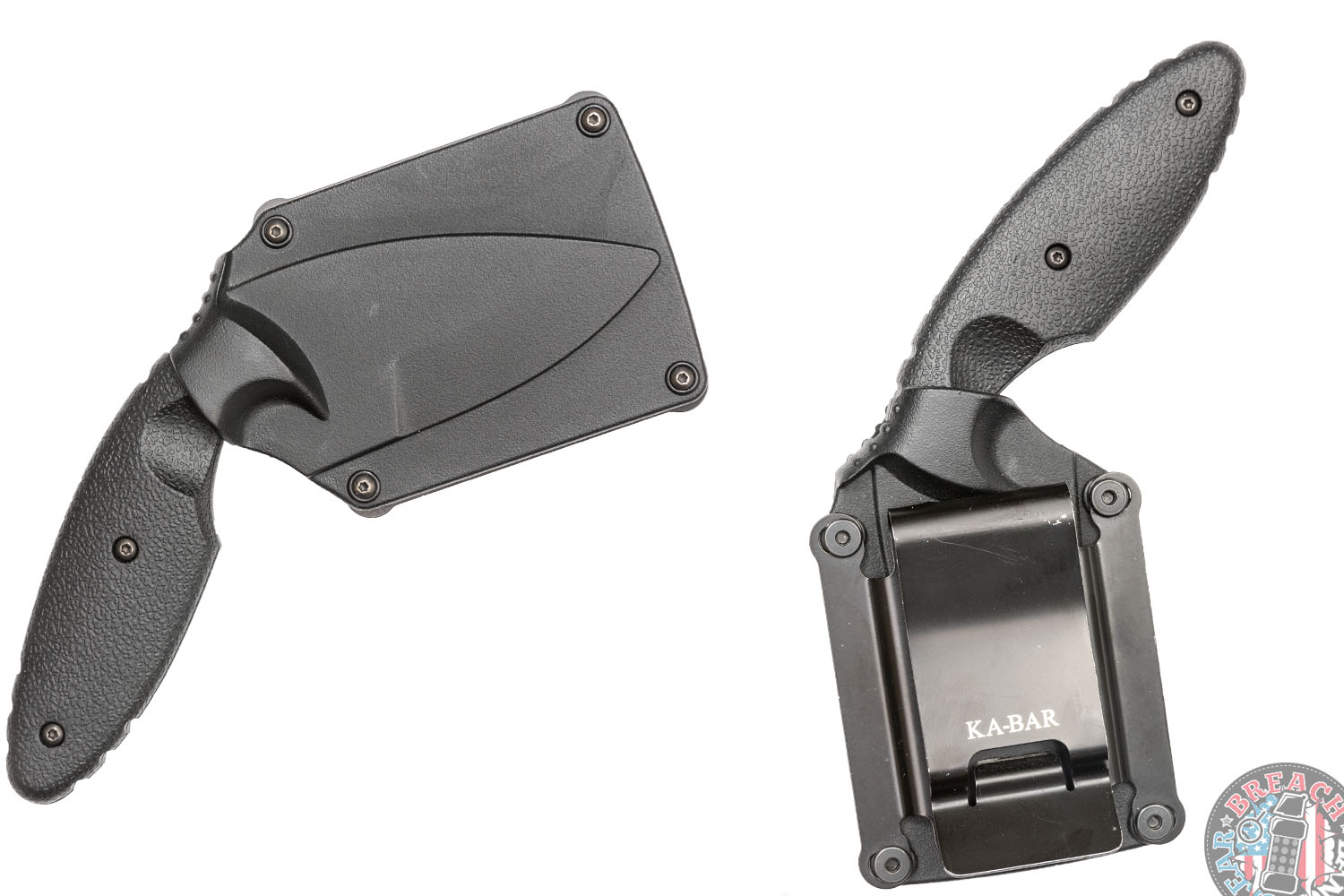 With its terribly thin design, awkward belt clip, and extremely small hardware, the sheath is marginally better than a nylon special you'd find at a flea market.
Absolutely your best bet is to get a replacement sheath for it. You can go to your cousin who will form one for a six pack of Old Style, or you can go with a known quantity. PHLster makes one named the Gen 2 Fightworthy Sheath, and it's everything the OEM sheath isn't.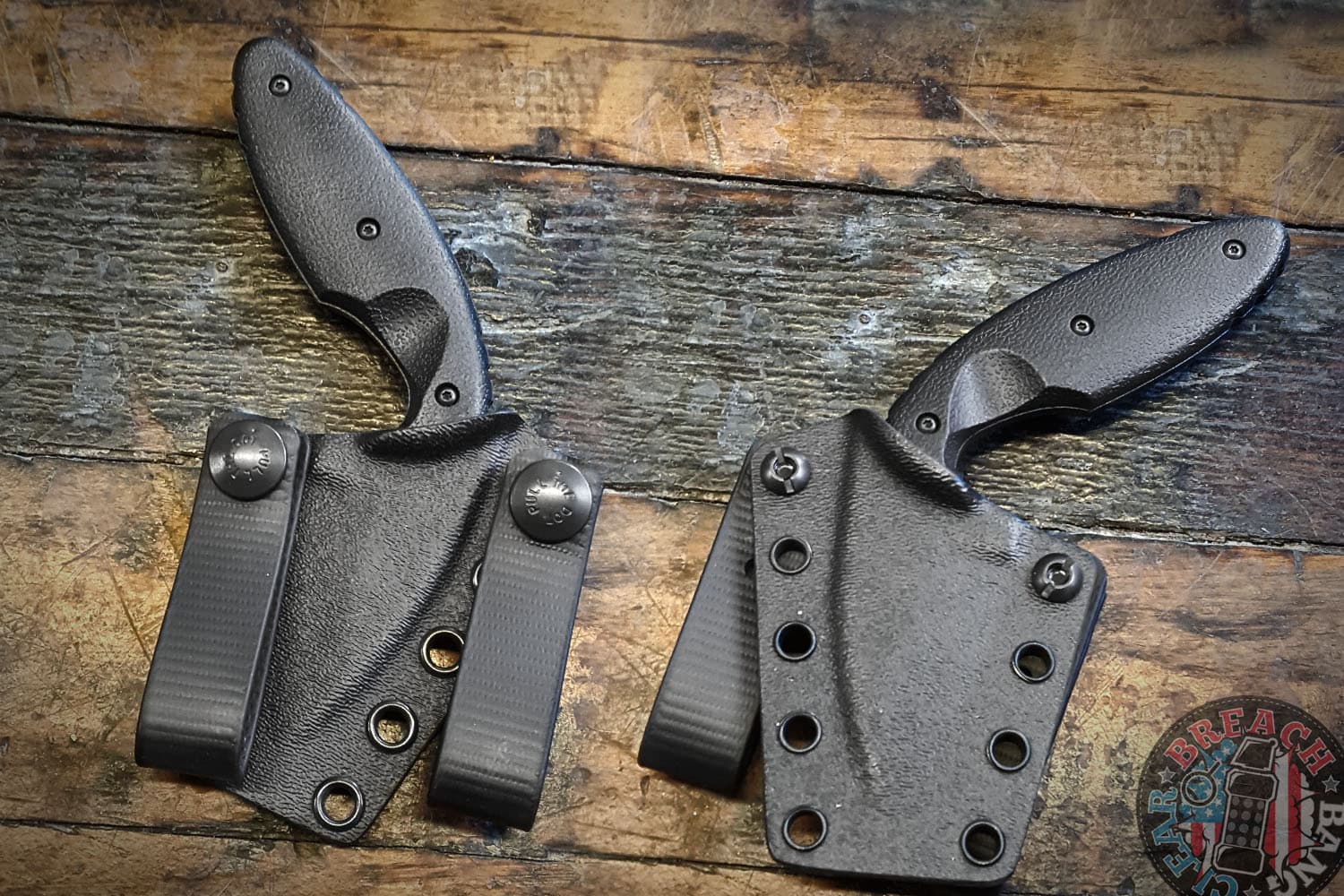 The PHLster comes with softloops, but with eyelets properly spaced out so you can swap out whatever hardware you want. Tuckable strut? Sure. Tuckable clips? Yup. MOLLE Lok? Why not?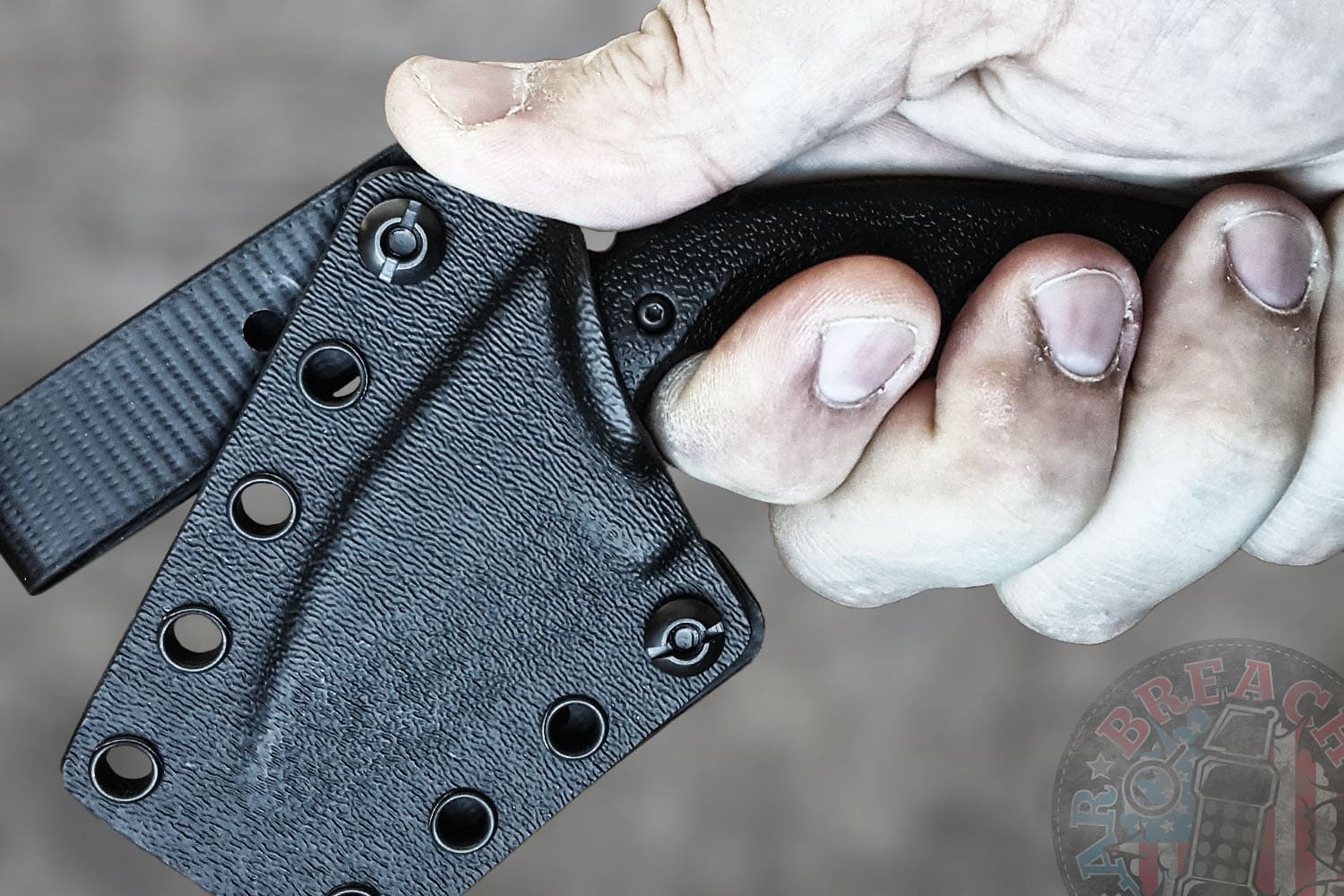 If you already have a Ka-Bar TDI, you'll be spending almost as much on the sheath as you did on the knife itself–but at least you'll have a sheath worth owning. They can be purchased in a bundle for $70, so you can save a bit of coin that way.
Even at $70-$80 for a complete system, it's still a sub-$100 knife that you can use day in and day out, provided you give it a little TLC from time to time.
-Swinging Dick
---
Comms Plan
Primary: Subscribe to our newsletter here, get the RSS feed and support us on Patreon right here.
Alternate: Join us on Facebook here or check us out on Instagram here.
Contingency: Exercise your inner perv with us on Tumblr here, follow us on Twitter here or connect on Google + here.
Emergency: Activate firefly, deploy green (or brown) star cluster, get your wank sock out of your ruck and stand by 'til we come get you.
---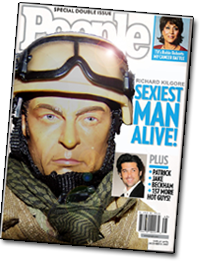 About the Author: Richard "Swingin' Dick" Kilgore is half of the most storied celebrity action figure team in the world (and the half that doesn't prefer BBWs). He believes in American Exceptionalism, America, holding the door for any woman (lady or whore) and the idea that you should be held accountable for what comes out of your fucking mouth. Swingin' Dick has been a warrior gyrovague for many years now and is, apparently, impossible to kill — he once had a complete body transplant after an IED hit the gun truck in which he was riding. True story, one of the Cav guys mailed his head and arm home. Swingin' Dick comes from a long line of soldiers and LEOs (his Great Uncle commanded an Air Cav battalion in Vietnam and his many times removed great grandfather was one of the few original Burt Mossman era Arizona Rangers). Swingin' Dick detests Joy Behar and Chris Matthews almost as much as he enjoys traveling the world to crush crime vice and evil. He believes the opportunity to lead eeeelight team of Breach Bang Clear minions is the most improbably awesome thing an action figure has ever done and he's immensely proud of his perfect hair.
Loyalty and respect should start from the top down.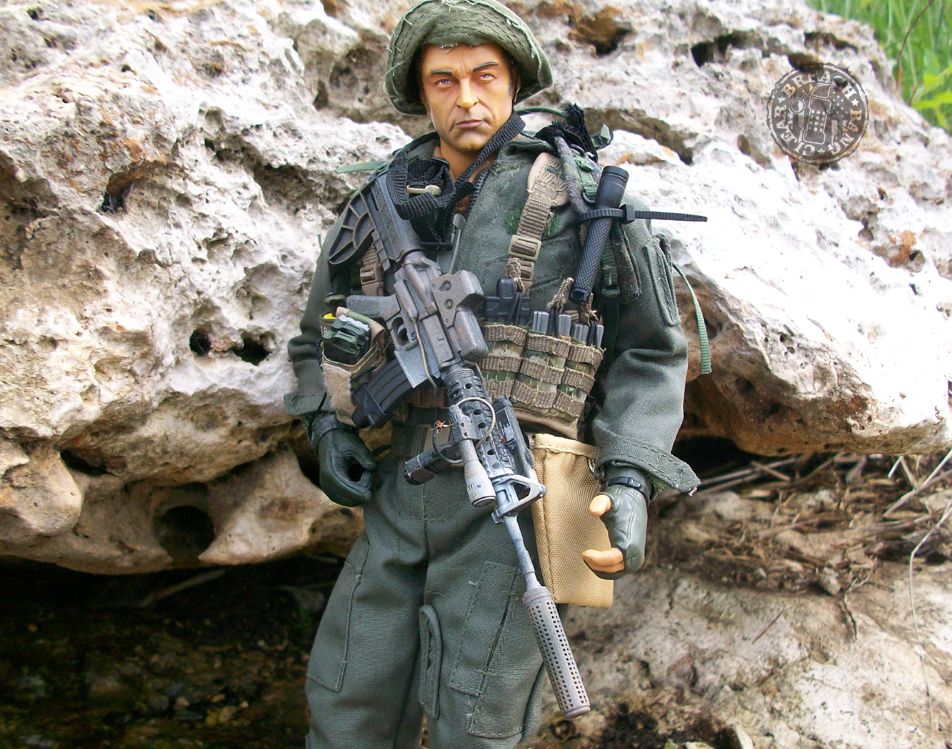 ---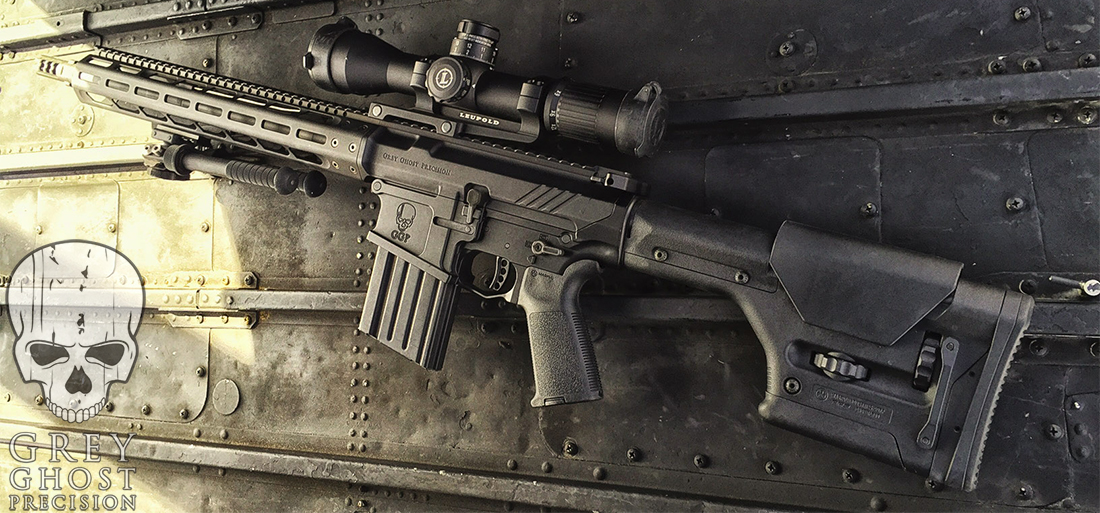 More about Grey Ghost Gear: This Pacific Northwest Powerhouse has been putting out badass gear from the word 'Go'. Most companies would be more than satisfied with that–but no, no they didn't stop there. They launched a lethal armament branch and named it Grey Ghost Precision. Some of the finest examples of both 5.56 and 7.62N AR's can be found there, and they're even bringing some new stuff into the mix (read more about our SHOT Shot adventures with them here). You can find Grey Ghost online here and on Facebook here. You can follow them on Instagram (@greyghostgear). And if you prefer Twitter, you can locate them here.