Green Eyes of Adams Industries

Today we introduce to you Anthony Winegar; this is his first piece with us so be sure to be gentle (just kidding–go big or go home). Mad Duo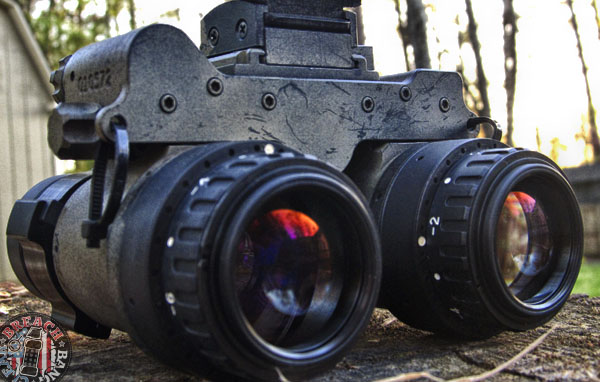 The Green Eyes of the Night Watchman: Review of the Adams Industries Sentinel Goggles
By Anthony Winegar
Rugged and clear night vision equipment is a significant force multiplier, particularly if the law enforcement officer or warfighter has the proper training and experience to exploit this advantage. I am one of those fortunate law enforcement officers whose duties are frequently carried out more safely with the use of night vision.
Although my department has night vision now, we didn't always. In fact our quest for this capability came from a case where we found ourselves dealing with perpetrators who had night vision while we did not. The availability of cheaper night vision scopes, monoculars, and handheld units from major outdoor retailers offers our adversaries the same advantage it offers us. Simply put, we need the best technology we can get in order to maintain a "leg up" on those that would do us harm. It was an unpleasant situation for us to say the least, and one we have since remedied.
I've watched the development of image intensifying technology for some time, so a few years ago when Adams Industries Inc. gathered some of the brightest designers and dedicated end users to build a product, I paid close attention. That collaboration eventually led to the Sentinel product (I am privileged to know some of those great minds and so I was able to keep tabs on the design as it progressed). One might say that I am partial to the design based on personal connections, but that would be doing the Sentinels a great disservice – this product is loaded with practical features.
When I decided I wanted my own set of goggles, I immediately thought of the Sentinels. I had already purchased the Sentinel housing the year prior and had Adams Industries put the intensifier tubes and lenses from my government issued AN/AVS-9s into it. Once I used them I was hooked and knew that one day I would leave my job and thus my goggles. I decided to have my own set built, and since I already owned the housing, I was halfway there!

I contacted Adams Industries for pricing information and simultaneously went to another large night vision distributor for comparison. I got great reception from the large distributor, but after that initial conversation I never received any further communication. That sealed the deal and Adams Industries was once again my first choice for night vision work. The owner, Chris Adams, was prompt in returning phone calls and emails. I was anxious to move on my decision before life got in the way and Chris understood that. He helped me make crucial decisions based on technical specs and my price range. Night vision products and accessories are expensive, and I never felt like I was a small customer.
What makes the Sentinels different? For comparison, I have operationally used PVS 7's, PVS 15's, AN/AVS 6's and 9's, and the Sentinels.
First, there are options for attaching the goggles to your helmet. Additionally, those attachment points are changeable by the user. The unit comes with the parts needed for dovetail and ball/detent mounting points. The user can change them with only four screws. This was a huge plus for this author because I did not have to change mounts simply by going to a different goggle.
The integrated battery housing on the Sentinel makes them exceptionally versatile. While other designs like the PVS 15's have this feature as well, in my experience the 15's became front heavy on the helmet and cause more discomfort. With the Sentinels, you can use a standard AN/AVS battery pack (which also acts as a counterweight) or the integrated battery. Additionally, with the integrated battery the user does not need a battery pack for a softer "skull crusher" mount like the Crye Precision Nightcap (that I love and use often.) Again, the lighter Sentinels also improve skull crusher comfort.
Another facet where this product shines is with its "knobology", colloquially meaning the ability to learn the different control knobs and what they do. In this case, if one has worn the PVS 7's, 14's, or 15's, these goggles are simple to understand and use. The "on/off" knob is the same as on the above mentioned models, with selections for on/off and a pull/twist option for the IR illuminator.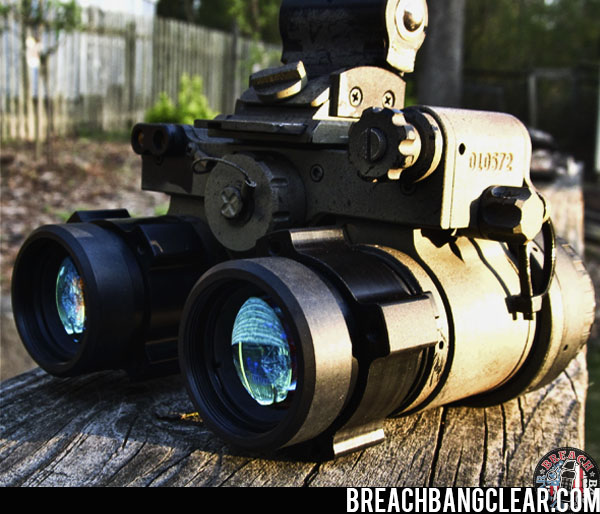 Additionally, I have experienced tension loss on the interpupillary adjustment of the individual tubes with a set of PVS-15s, and it was frustrating that the goggles would not stop "self- adjusting." By comparison, the Sentinels use two small knobs on the side of the goggles that allow the user to make small adjustments that will not move unless the user wants them to. This is similar to the AN/AVS adjustment option but the Sentinels add positive "clicks" so that you know when the adjustment is complete. Some critics believe that the swing arm method of adjustment, such as on the PVS-15's, allows for increased user options. This is true but there is no such thing as a free lunch, and this author would rather have a solid adjustment option compared with one that could fail.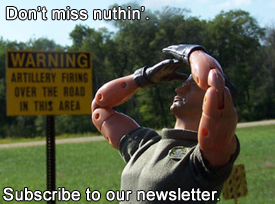 The Infrared Illuminator is a great feature as well. The problem with any image intensifier (night vision device) is that there has to be light to illuminate. If you want to see into the dark places of the world, you have to be able to throw light there without providing too much or too little. There is no one device that is best suited for that, so when it comes to IR light options are better. The Sentinel has an IR illuminator with two settings, low and high. These are great for navigational purposes and the ability to flood the immediate area with soft IR light. For anything greater than room distances, I have a Surefire M1 on my helmet and an Insight PEQ 15 on my work gun. This combination gives the range of ability for close range navigation and also the ability to "throw" light well downrange with the PEQ 15.
In summary, the Sentinel goggles are an excellent choice for someone who is shopping for night vision binoculars. The ruggedized and brilliantly designed housing, power supply options, and mounting choices make this goggle a piece of kit that, with proper training, you can trust your life and the life of your mates with.
Visit Adams Industries homepage here or follow them on Facebook. As with any other quality NVD, you can pick one up at TNVC.
Mad Duo, Breach-Bang& CLEAR!
Comms Plan
Primary: Subscribe to our newsletter here or get the RSS feed.
Alternate: Join us on Facebook here or check us out on Instagram here.
Contingency: Exercise your inner perv with us on Tumblr here, follow us on Twitter here or connect on Google + here.
Emergency: Activate firefly, deploy green (or brown) star cluster, get your wank sock out of your ruck and stand by 'til we come get you.
About the Author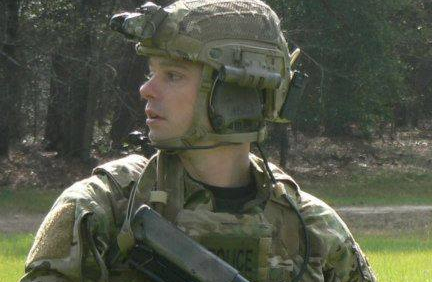 Although he looks like he's about 12 years old (even with the beard), Anthony Winegar is actually a seasoned, long-time law enforcement officer with a federal land management agency. Despite working in a major metropolitan area for the past 15 years, his major areas of study have always focused on rural operations (with a special love for tactical tracking and fieldcraft). He is a firearms and use of force instructor whose major criminal apprehensions have included armed robbers, rapists, suicidal subjects, poachers and artifact looters. The study of tactics, techniques, and procedures for criminal apprehension in rural environments has been (and remains) his true professional passion – to that end he has trained with and sought instruction from a veritable wish list of military and civilian specialty and SOF units and teachers. The unique demands of law enforcement activity in his jurisdiction have given him the opportunity to work alongside personnel from unusual agencies in the conduct of a few singularly interesting operations. Those experiences have given him some rare insight, though sadly they've yet to help him start shaving any more often. Winegar is one of those primitive weapons nerd who enjoys knapping, fletching and assorted similar tool building activities. This obsession hobby allows him to bloviate at length about such things as the relative merits of oak foreshafts, pine pitch glue, river cane arrow shafts as well as the varied properties of turkey feather fletchings and whiteail sinew. Unfortunately it also has the tendency to set him at odds with many of the Mad Duo's other minions, who'd just as soon go hunting with an SBR and a spotlight from inside the warmth of a pickup cab.