Glock 47: quietly seeing service in more and more units
News of the Glock 47 and the CBP contract it served became available in early April, 2019. Interest in the weapon continues both among LE agencies and the public at large. We'll provide occasional updates on the Glock G47 as they become available (and if they're interesting).
Join us at Nancy's Squat & Gobble! (It's our double dog secret, members-only discussion group.)

Glock 47 | now to be issued to Secret Service SOD
Glock 47 | Specs and more about it
Glock 47 | New model Glock for 2019 and the US Border Patrol
Glock G47 and WML to be issued to USSS/SOD
August 02, 2019
According to Soldier Systems Daily (who in all likelihood has it right), the recently announced Glock 47 is now on the list of authorized handguns for the United States Secret Service SOD. SSD says,
"Earlier today in an internal message to the Secret Service, Director James Murray announced the adoption of the same technology as recently selected by the US Customs and Border Protection, the 9mm Glock 19 MOS Gen 5."
SOD refers to the Secret Service Special Operations Division.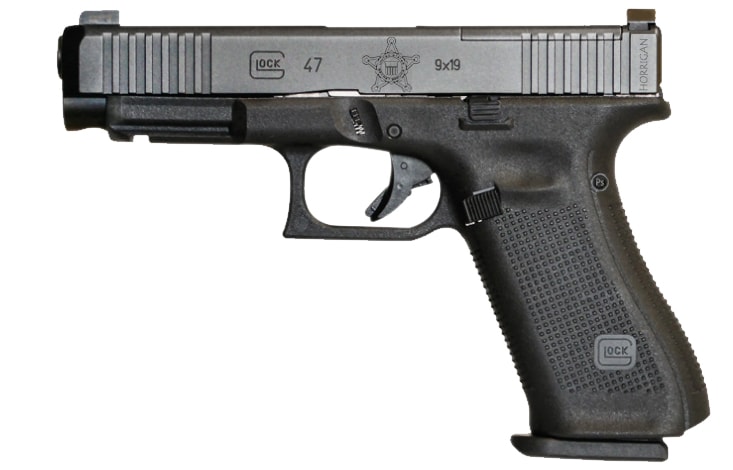 In addition to the agency-wide availability G19 MOS Gen 5 in 9mm (which will replace their .357 SIG P229s), the Secret Service's SOD will be issued the G47 MOS and G26 (both Gen 5), WML (weapon-mounted light), and holster. These weapons will be sourced from the same contract as the CBP contract reported on last April.
Glock G47: specs and more about it
April 12, 2019
• The Glock 47 apparently puts a full-length slide on a G45 frame, with a barrel length identical to that of the Glock 17 – but the G17 slide will apparently not fit on a G47. That said, according to TFB, the end-user can swap the G47 slide for the G19 slide.
• Glock 19X magazines, G17 mags, G34 mags, and G45 mags are said to be compatible.
• It is said to feature a flared magwell and a match grade GMB (Glock Marksman Barrel)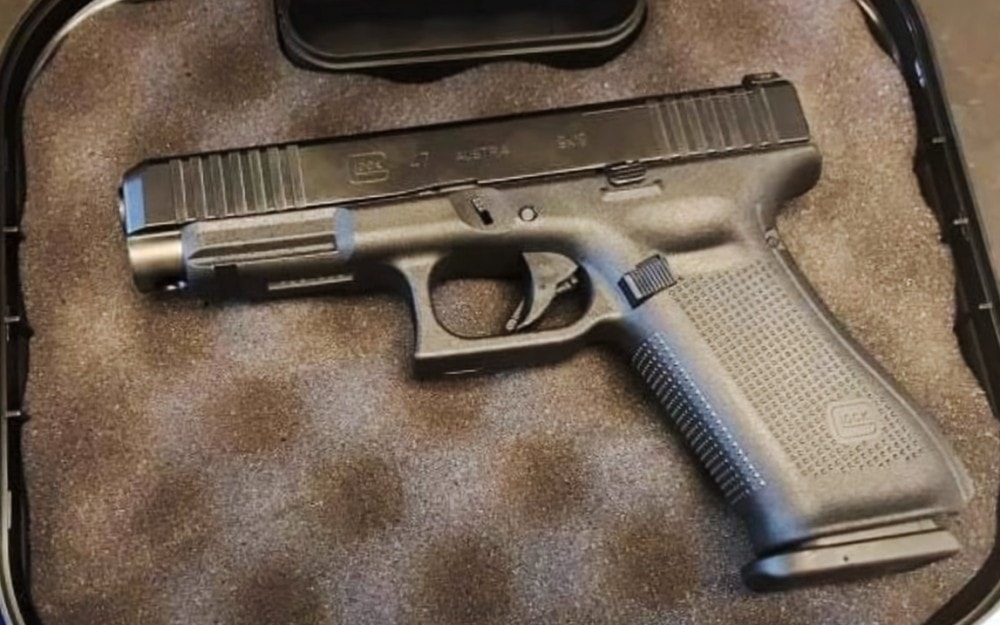 Glock's latest model: the Glock 47. This picture has been floating around the interwebz, so we can't give proper image credit. Though we certainly will if we find out the legit originator.• According to Tactical Life, it will be equipped with Ameriglo BOLD sights. This assertion is also made by Military Times, to wit:
"G47s come standard with Ameriglo Bold sights, and the ability to field an RMR sight depending on the needs of the end-user. G47s will feature a 100% parts compatibility with the G19 Gen 5 MOS pistol which CBP will also be picking up, which ultimately saves the agency money and hassle in the long run."

Glock 47 | US Customs and Border Protection
April 10, 2019
*The 9 x 18 Makarov reference is from an April Fool's joke a few year's back. 
Yesterday CBP (US Customs and Border Protection) announced the award of a contract for new duty handguns. That contract will be worth an estimated $85 million over the next decade.
What has people all over the interwebz stirred up, however, is word of a Glock 47. Glock 47, they cry, what is that?!
Let's be clear about this. We don't need a G47! We have the [insert Glock model here]! Why would any business be so stupid as to release a new handgun just to make $85 million (from the first customer)? I can't answer that question, though in fairness I wouldn't have asked it in the first place.
I'm actually more concerned with the repeated number. Remember the halcyon days of 2015? There already is a Glock 47 and it's chambered in 9×18 Makarov!1 They announced that Glock 47 01 April, 2015, I remember it very clearly because it was right after the G43 was released. Apparently, Glock is now repeating nomenclature, which would make this the Glock 47 Mk. 2 Gen 5. I think. All the numbers and Ms and Xs and numbers start to confuse me pretty quickly.
For the sake of argument though, let's assume the new Glock 47 isn't a typo. That's a safe bet, as the number 47 appears a couple of times on the graphic from that duty handgun contract (the solicitation for which was announced last July). Let's also assume it's chambered in the same good ole fashioned 9mm all the other Glocks are using.2
Note: there is a lot of sarcasm going on here. Hopefully, unlikely a couple of readers who completely missed the April Fools callout earlier, you're reading this in the (hopefully) humorous manner intended.
If not, we'll try hard. For those of you who are genuinely bitching about the Glock 47 and "how stoopid the Border Patrol is", we say:
"Same small parts for every gun in the fleet. 100% small parts commonality across one of the largest and most widely distributed pistol customers on Earth? Fucking horrible idea. You're right uninvested Internet person." Jon Canipe
Speaking of the redoubtable JC, I wonder if there will be any issue with Magpul Glock mags in the new G47?3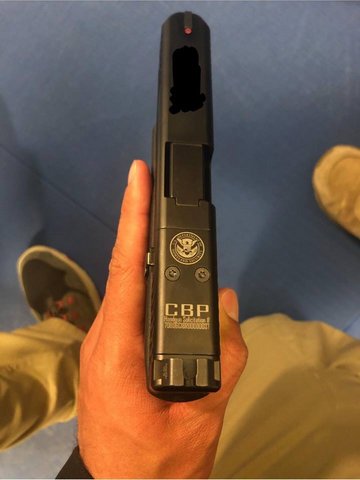 Does it solve a problem a previous Glock model doesn't? I have no idea. It does seem to help offer the opportunity to change from a long slide to a shorter slide, and it doesn't seem like this took a massive amount of engineering to accomplish. Presumably, there are advantages to a weapon of this design…and presumably, even if there weren't, a savvy firearms manufacturer might go ahead and build it for $85 million+.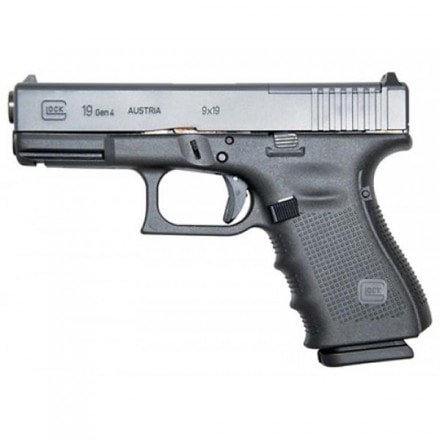 ---
"You realize now that if an agency buys the G19 & G47 (two guns) that they get FOUR configurations out of it, right?
•G47 (effectively a G17)
•G19
•G45/19X (G19 slide on G47 frame)
•G…17X (G47 slide on G19 frame)
Glocks can now offer the same feature/function of swapping frames and slides that the P320 can… But they're Glocks, so they get bonus points.  I'll get a G47 just to have the swappable aspects covered since I already have a Gen 5 G19. Between my Gen 5 G34, my 19X, and now this? I still don't have a reason to buy a G17. I'll get a G48 when they finally come with the black DLC finish from the factory."  Frank Woods, Tactics & Applications.
---
I'll update this article as more information becomes available. In the meantime, I leave you with this compelling image from Jim Davis. The symbolism lies on several levels.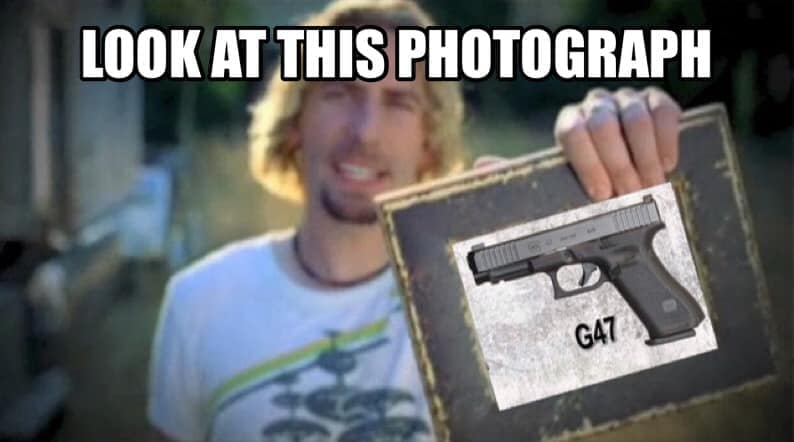 Thank you, Jim. Your profundity will help silence much tomfuckery.
Grunts: profundity.
Find more information about the Border Patrol's new handgun on AmmoLand.
You can learn more about the Border Patrol (et al) in the following TFB video.
1 From this excellent article on Outdoor Hub: https://www.outdoorhub.com/news/2015/04/01/exclusive-glock-release-long-awaited-single-stack-9x18mm-makarov-glock-47/
2 We actually don't need to assume, it's completely true. 
3 I'm not really wondering, I just needed an excuse to do an internal link to another article on the site. I could just as easily made a crack about Raven Concealment Systems holsters, or the Glock 48. Oh, wait, I just did.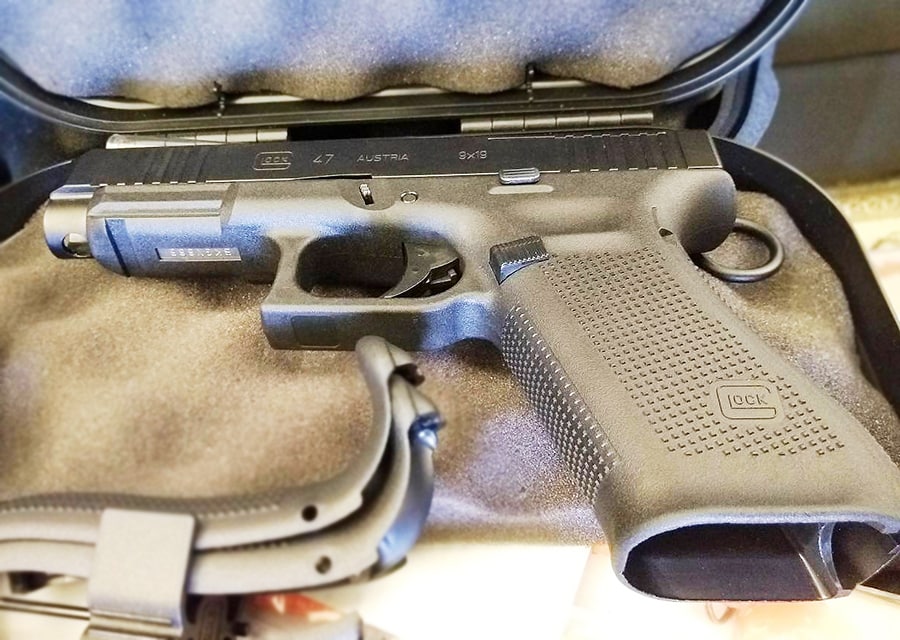 Like what you read here? Consider backing us on Patreon.
You'll be automatically enrolled into the Tactical Buyers Club, thus getting dozens of discount codes to high-end companies in the tactical/firearm/outdoor arena, and you'll earn the right to wear the House Morningwood sigil.
⚠️ Some hyperlinks in this article may contain affiliate links. If you use them to make a purchase, we will receive a small commission at no additional cost to you. It's just one way to Back the Bang. #backthebang