EDC-Survival | RE Factor's Operator Band in Africa and Back in Stock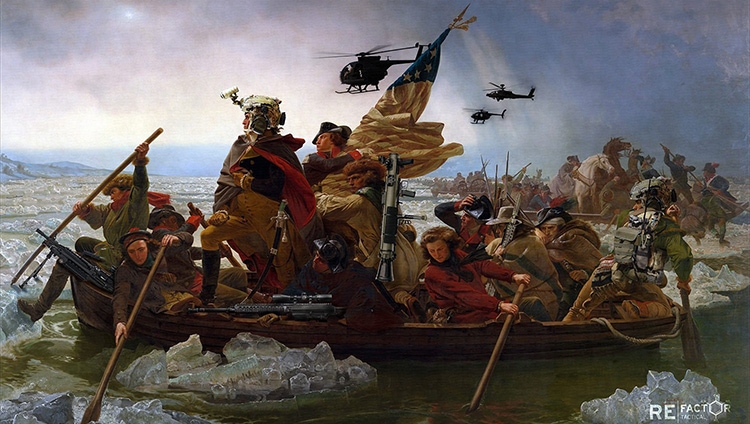 Once upon a time, paracord bracelets (with melted nylon holding a spare button off your DCUs to fasten it) were made by your friends and only people who were in the military, or who had friends in the military (with too much time on their hands) wore them. Now they are a veritable (grunts: veritable) fashion statement. This isn't necessarily a Bad Thing, though if you buy one at Academy Sports or Wal-mart you're doing it wrong. In any case, there are a small number of 550 cord bracelets at the top of the paracord bracelet gene pool, and among the best of those is the RE Factor Operator Band. We like this particular form of 'tactical jewelry' because of it's potential lifesaving use – and even if for 90% of the wearers that sort of preparedness is more of an indulgence than a need (grunts: indulgence) we believe genuine preparedness is something to be promulgated.
Oooh, that's a good one eh? PROMULGATED! (Grunts: promulgate)
Here's a picture of one somewhere over Africa:
Here's where to buy it: Oh they are back in stock too! 
Here's where we sign off.
---
Declare for Morning Wood!
Why become a patron? Not for the dick pics. So you can access the Morningwood Bazaar, obviously.
Exclusive discounts up to 60% off all kinds of guns and gear. 
Plus, unrivaled camaraderie where we only make fun of you most of the time.
Access to Nancy's Squat & Gobble, our closed Facebook discussion group.
If you wish to cite, syndicate, or curate our material, or if you're wondering about our please be so kind as to read our

Terms, Conditions, and Disclosure

s.
Take heed! We have advertisers, sponsors, and affiliate relationships with some of the companies you will be reading about (particularly, but not limited to, archival posts). If you purchase one of those items, we will get a small commission from the sale at no additional cost to you. A lot of work goes into Breach-Bang-Clear; by making your purchase through one of our portals you'll be supporting our work. This will help us buy beer, bullets, and barbecue, and we won't have to put pop-up ads and other such stupid shit into our articles to pay our expenses.