WTW: FEG FP-9 – the 9mm Hi-Power Python

WTW: FEG FP-9 – the 9mm Hi-Power Python
Mike Searson
In examining dozens of 19th century revolver clones made in foreign countries as knock-offs of Smith & Wesson, Colt or even Iver Johnson, we noticed one thing about all of them: they were very used and had been shot often.
Our working hypothesis* is that many of these old guns were bought while the real deals lay in the safes or strong boxes to preserve their value.
hy·poth·e·sis

/hīˈpäTHəsəs/

noun

1. a supposition or proposed explanation made on the basis of limited evidence as a starting point for further investigation:

2. a random, sometimes educated, (sometimes not) fucking guess.
Patent and trademark laws ended much of this over the years, but we still see it today.
Some folks will buy a Colt 1911 or SAA and actually shoot a Springfield armory or Uberti replica. This does not just happen with Colts however, and in the 1990s a company called FÉG was banging out clones of AK-47s, Makarovs (PA-63), Walther PPs and PPKs, and even Browning Hi-Power patterned pistols.
FÉG (Fegyver- és Gépgyár, "Arms and Machine Factory") refers to the Hungarian company Fegyver- és Gépgyártó Részvénytársaság ("Arms and Machine Manufacturing Company"), which was founded on 24 February 1891 in Csepel (now Budapest). They primarily made arms for the Hungarian military, but the fall of the Iron Curtain allowed them to open up and export civilian arms to the United States, Canada and a few other countries hungry for inexpensive handguns.
Most folks have never heard of them due to poor marketing by importers and distributors prior to the boom of the internet. However, they build a hell of a nice firearm. This week we take a look at their FP-9, a Browning Hi-Power clone with some slight "enhancements."
We have seen many of these pistols in recent years with that "rode hard and put away wet" look.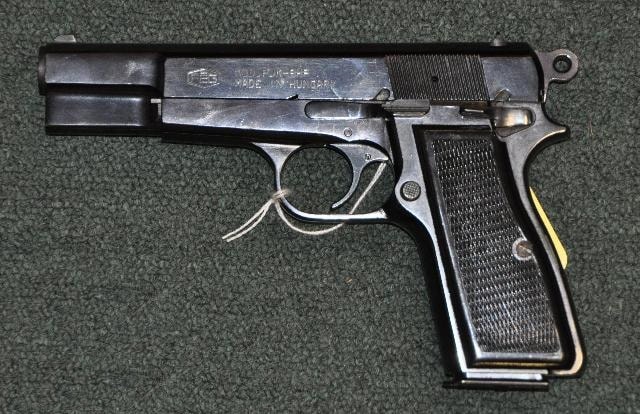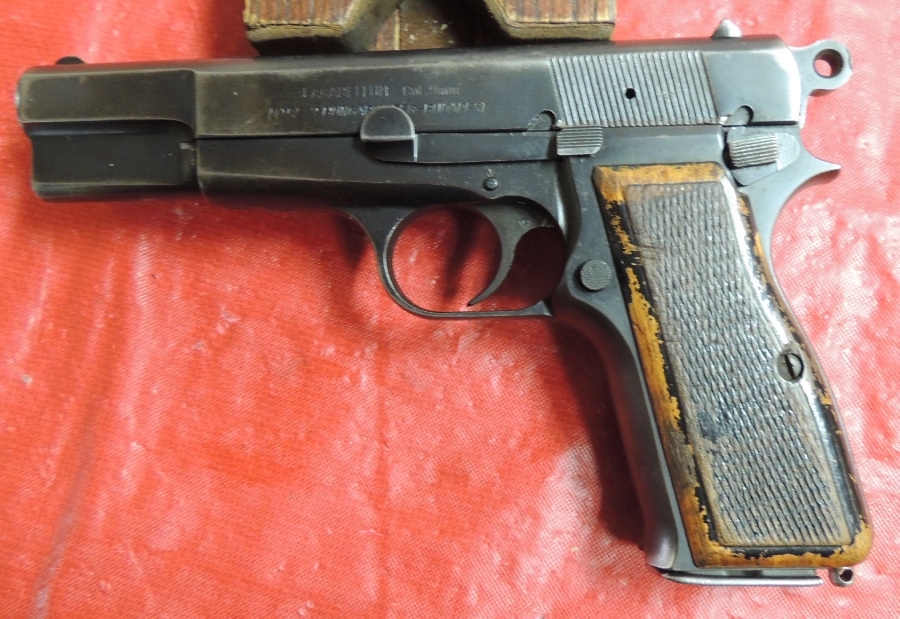 Their first effort in this arena was a straight-up Hi-Power clone most often designated as the PJK-9HP or the P9M. These pistols have a 99% parts interchange with legit Browning Hi-Powers.
One model of these pistols was sold as the FP-9. However most FP-9s have a ventilated rib atop the barrel, similar to what you might find on a Colt Python or a sporting shotgun.
We've been fans of the Browning Hi-Power since our teenage years, and some call it John Browning's finest design. At the time we could not afford a real Browning (this was when they were still made by FN in Belgium and we never warmed up to the Argentine clones) and liked the rib's aesthetics. We did the two basic mods that everyone did: removed the magazine safety and added a Pachmayr extended slide stop. A few years later we felt saucy and added a pair of stag horn grips we found at a good price.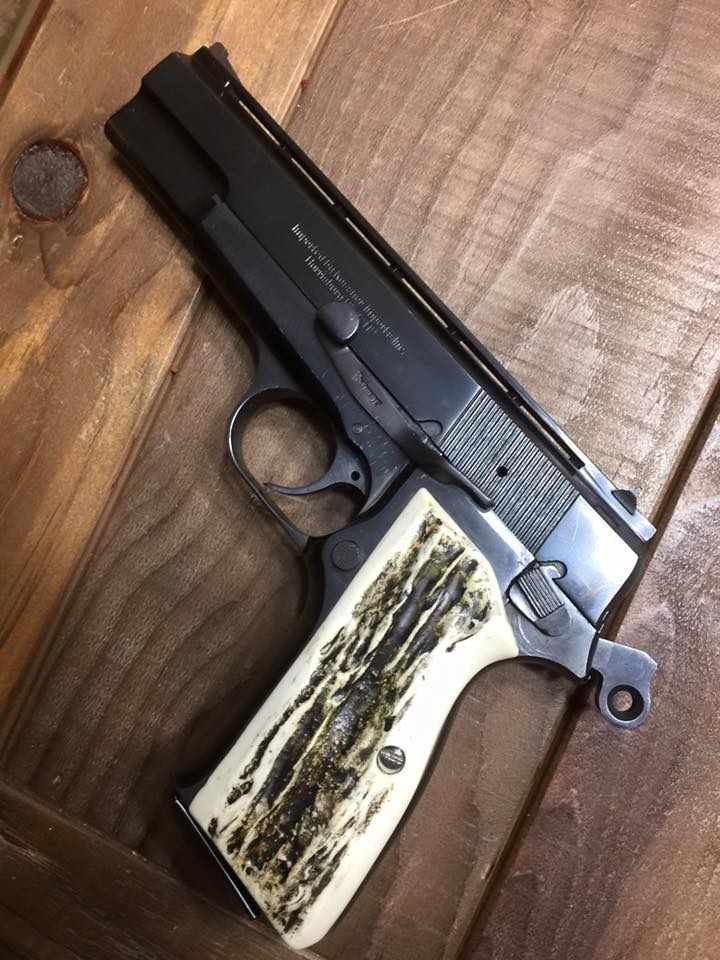 Like the BHP, the safety is minuscule and it can be easy to miss. This is perhaps the only feature beyond the magazine safety that we despise about this family of handguns. Fortunately, the magazine release is easy to remove and improves the trigger pull tremendously when done properly.
The sight rib has always intrigued us. It has no real purpose beyond aesthetics and maybe making the sights a bit easier to see by raising them to "suppressor height". We think it was done just for looks and to give US shooters some variety. While you can drift the rear sight, the front sight is fixed in place.
These pistols originally shipped with light colored checkered grips from some Hungarian tree (we have no idea what kind). The blued finish is known to come off easily on these pistols, but ours looks as good as the day it did 20+ years ago when we found it. Some later pistols were hard chromed while others were parkerized. Still, when Browning began to outsource to Portugal in the late 90s to bring the price down in order to be competitive and to remain relevant, they switched to black paint over parkerizing and went with black plastic grips. In essence, the FÉG guns offered better (or at least more attractive) surface coatings and stocks.
Over the years, this pistol has given us very few problems. Many were shipped to Israel in order to outfit security guards in certain areas. While first imported to the US by Century International Arms, KBI, Kassnar and finally  by Charles Daly, we think the value of Brownings (at least modernish ones) had nose dived so much that fans of the BHP simply forsaked the clones.
Should you go looking for one, especially on the auction sites, try to find the true Single Action Only BHP clones (FP9, P9M, PJK-9HP). Some have ringed hammers, others straight hammers; ours has the ventilated rib, but there are others out there which are SA/DA pistols or DAO made by the same company and sharing the same cosmetic lines. They are not bad pistols (Jim Grasky carries a .45 ACP version) but they are based on the S&W 39/59 action as opposed to the BHP. This means minimal to zero parts interchange with the BHP and absolutely zero magazine availability.
All of these pistols by FÉG were designed purely for the export market and despite what some dealer may tell you; they were never issued to the Hungarian Military. They were popular with security guards in Israel and we have heard of police agencies in Lithuania toting these in their holsters. Aside from that, these were mostly popular among civilian sport and self-defense shooters in Canada and the United States who wanted everything Hi-Powery about their pistol, aside from the high price tag.
The design may seem a bit dated, but the BHP was the original "WonderNine" or "High Capacity Pistol", holding 13 rounds as opposed to 7 or 8. If finding an original will break the bank, one of these Hungarian clones might scratch the itch for a fraction of the price. Plus you can cerakote it, refinish it or do things to it that you wouldn't think of doing to a farm animal without destroying any semblance of history.
Mike the Mook
This article was brought to you today in its entirety by Raven Concealment Systems. Follow them on Instagram, @RavenConcealment, or on Facebook, RCS Gear.
[arrow_feed id='48621′]
---
---
Mad Duo, Breach-Bang& CLEAR!
Comms Plan
Primary: Subscribe to the Breach-Bang-Clear newsletter here; you can also support us on Patreon and find us on Pinterest.
Alternate: Join us on Facebook here or check us out on Instagram here.
Contingency: Exercise your inner perv with us on Tumblr here, follow us on Twitter here or connect on Google + here.
Emergency: Activate firefly, deploy green (or brown) star cluster, get your wank sock out of your ruck and stand by 'til we come get you.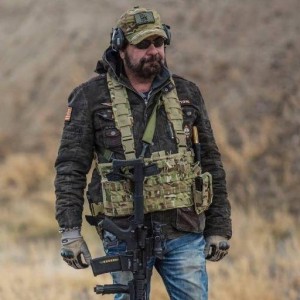 About the Author: Mike "the Mook" Searson is a veteran writer who began his career in firearms at the Camp Pendleton School for Destructive Boys at age 17. He has worked in the firearms industry his entire life, writing about guns and knives for numerous publications and consulting with the film industry on weapons while at the same time working as gunsmith and ballistician. Though seemingly a surly curmudgeon shy a few chromosomes at first meeting, Searson is actually far less of a dick and at least a little smarter than most of the Mad Duo's minions. He is rightfully considered to be not just good company, but actually fit for polite company as well (though he has never forgotten his roots as a rifleman trained to kill people and break things, and if you look closely you'll see his knuckles are still quite scabbed over from dragging the ground). You can learn more about him on his website or follow him on Twitter, @MikeSearson.