Bravo 5 SOPMOD has a brother coming
We hear B5 Systems has got a new stock coming. As you probably already know, they do the B5 SOPMOD (it has gotten a lot of good attention and positive reviews, like this one from AR15.com: http://www.ar15.com/mobile/topic.html?b=3&f=12&t=551888). The new stock, which should be available in just a few weeks, will be the Bravo SOPMOD. It will have a couple of excellent new features, including a unique sling QD capability and an anti-rotational provision.
This is the "standard" Enhanced SOPMOD in a training evolution in a police shoot house: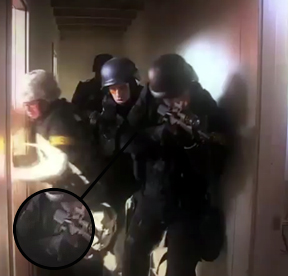 You'll notice we have it in our list Swingin' Dick's preferred gear…and FYI, we finally got off our doorkicking little asses and built a Facebook page for our trigger-pulling friends and fans. You can check it out at www.facebook.com/breachbangclear. Do it now. No hippies, sissies or Marine Corps trombone players (all other gyrenes are good to go).