Actual Daily Carry EDC – "Just One Chance…"

Monday Morning Carry: "Just One Chance…" 
Tom Marshall
Our inaugural installment of this resurrected, transplanted series comes to us by way of our good friend Tom Matturro. Tom is the lead instructor and all-around HMFIC at One Chance Tactical Solutions in western Washington. He spent twelve years in the Army, including three years as a full-time weapons/tactics instructor. If you're in the PNW area and looking for quality handgun or carbine training, OCTS may be the place for you. They train military units, LE Agencies and civilians. Check them out here. What follows is Tom's real-life, no-shit personal daily carry (which does not mean future installments won't be exemplars rather than specific).
We love gear porn as much as the next metrotactical, after all.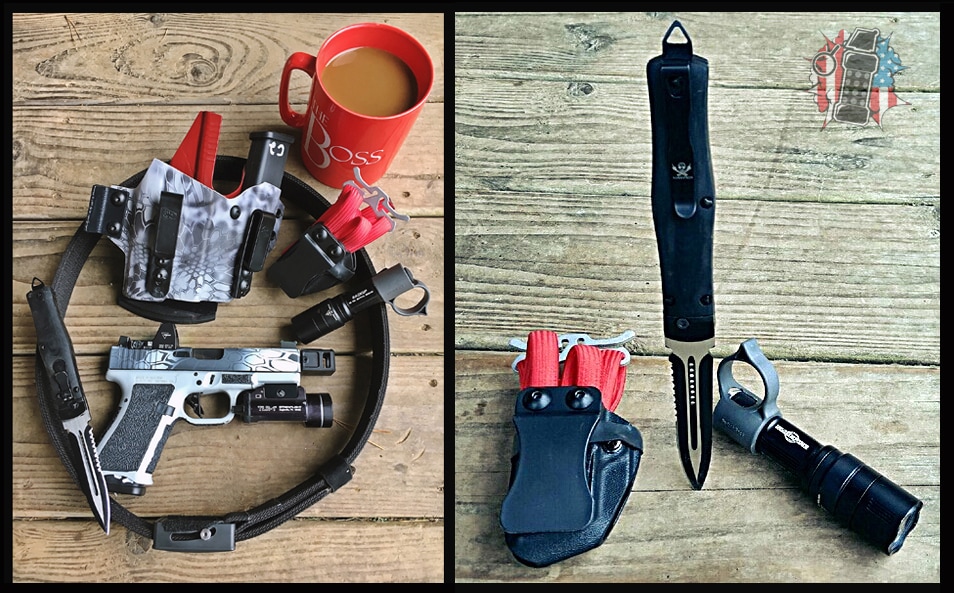 The blaster is a Gen 3 G19 with stock internals, minus the Overwatch Precision trigger. I err on the side of caution when swapping triggers, not due to liability but because of the three internal safeties on a Glock. Some aftermarket triggers don't leave all three safeties fully functional, which, obviously, is a problem. As a Glock armorer, I can attest to the importance of making sure we know what we're doing before we go swapping out springs and bits.
This G19 is currently sporting a Lone Wolf Alpha Wolf barrel. The Kryptek cerakote was done by my friend Jason at GH coatings. On the end of this barrel is a Micro Comp from Texas Black Rifle Company. What I love about this comp is it makes my carry ammo, 135gr Hornady Critical Duty, feel like 115gr FMJ.
Every handgun I own gets a set of Dawson fiber-topic sights, and this one is no exception. The Trijicon RMR that I prefer for EDC is the RMR02, which has the larger-than-life 6.5 MOA dot. Underneath said RMR is a mounting plate from the amazing dudes at Battlewerx. They make a plate that has a little bump in it, which eliminates the flicker seen with some RDS handguns. For WML, I use the TLR-1 because I find it has really good spill/splash characteristics, which are perfect for maximizing the beam.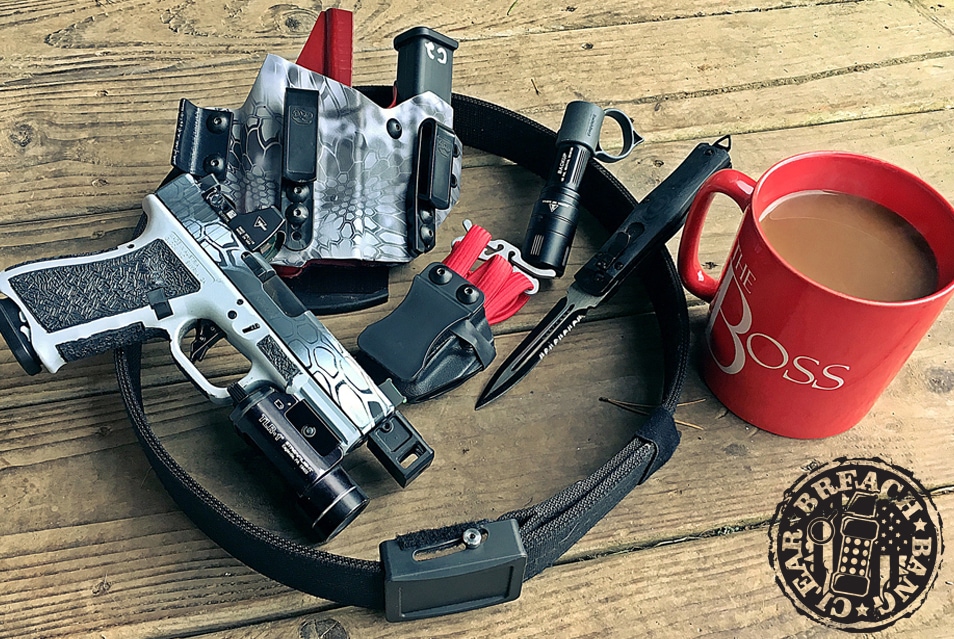 The holster is a T-Rex Arms side car. It's my second side car from them, and one of the first to make appendix carry with a WML practical and comfy. You may notice some extra padding on the back of my holster; this is a custom modification I came up with after going through an aggressive string of fire that caused the Micro Comp to heat up and nearly brand me on re-holster. It's actually a mouse pad from the local office store that's mounted to the holster with self-adhesive hook-and-loop. It's provides both padding and insulation.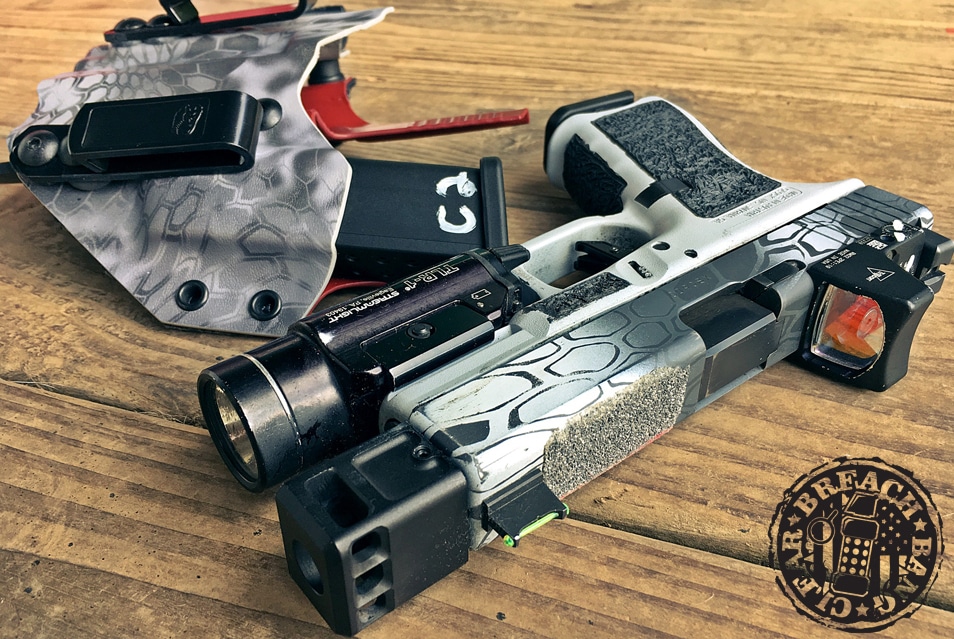 In addition to a WML, I also carry a Surefire E1B with a Thyrm Switchback. It gives me all the light I need for any task where I need light without a gun.
For medical response, I carry a RATS tourniquet jammed in a G-code mag caddy. The only modification here is a quick clip which mates perfectly to the caddy.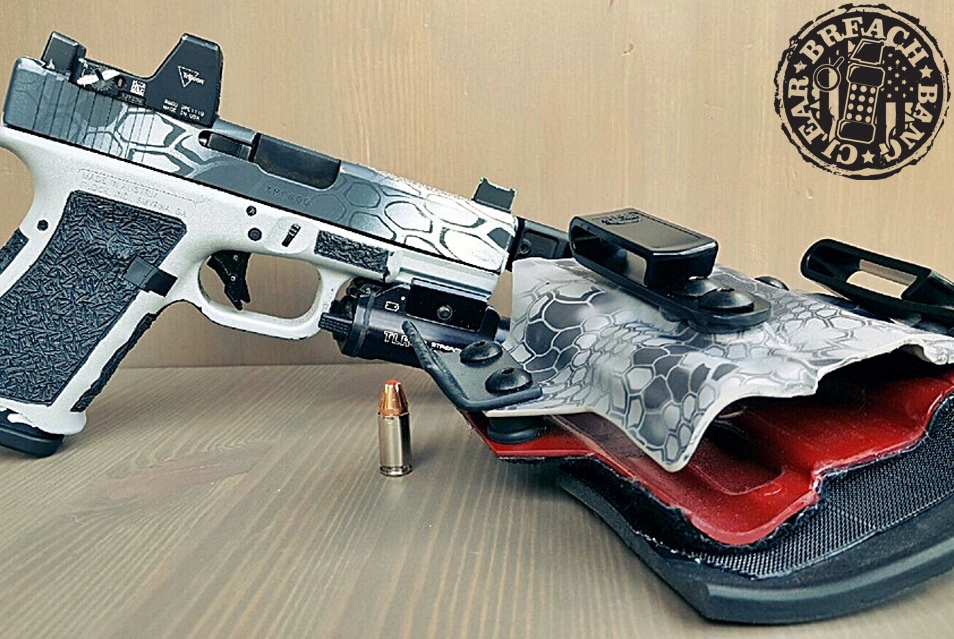 The auto knife was hand-made by Chad at Rubens Custom Blades. It's a slim, low-pro design with lightning-quick action.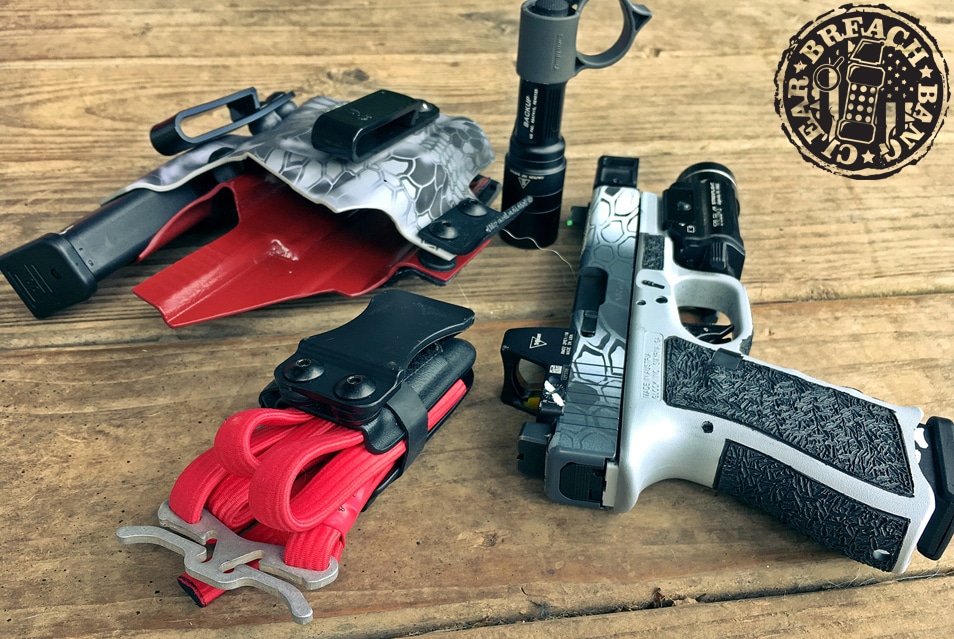 The belt is an Ares Aegis belt which, in my experience, is the best EDC belt on the market right now. It has an easy on/off and a clean buckle, while still being just as bomb proof as their proven ranger line.
-Tom Marshall
This article was brought to you today thank in part to the support of Sonoran Desert Institute (@sdi_school), a member of JTF Awesome.
---
---
If you wish to share or repost, please so kind as to follow our terms and conditions.
Mad Duo, Breach-Bang& CLEAR!
Comms Plan
Primary: Subscribe to the Breach-Bang-Clear newsletter here; you can also support us on Patreon and find us on Pinterest.
Alternate: Join us on Facebook here or check us out on Instagram here.
Contingency: Exercise your inner perv with us on Tumblr here, follow us on Twitter here or connect on Google + here.
Emergency: Activate firefly, deploy green (or brown) star cluster, get your wank sock out of your ruck and stand by 'til we come get you.
T&C: All original material published by Breach-Bang-Clear is the copywritten property of Breach-Bang-Clear, Inc. If you wish to repost, republish, or otherwise share our content, feel free to reproduce an extract of up to 225 words and one complete, unaltered image, preceded by attribution crediting the source and author's name, to include a link to the Breach-Bang-Clear home page, with a link back to the full article on our website, BreachBangClear.com. You do not require our permission to do this. Please do not reproduce our content in its entirety without contacting us first. We do allow full syndication on a case by case basis (credited, and posted with a canonical link, as is common practice and in good form) but only when mutually agreed upon beforehand. If you wish to reproduce a complete article, please contact us for permission to publish first. 
About the Author: Tom Marshall is an interesting miscegenation of background experiences. He's a former active duty US Army officer, but before that was a graduate of the US Merchant Marine Academy at Kings Point, NY. Before accepting his commission as a 2LT, Midshipman Marshall spent a year travelling the world on a variety of merchant shipping vessels, including several months attached to Military Sealift Command. After returning from sea, he spent a summer working at the HQ training facility for Blackwater USA.
Tom spent four years in the Cavalry with a Stryker Brigade, including a one-year tour to Iraq with 4th BCT, 2nd Infantry ("Raiders"). Among other assignments he worked S-3 before taking over a Recce Platoon. He earned the rank of Captain and spent his final year in a HQ Company XO billet. After departing the military he spent about a year and a half working security at a federally-contracted Corrections facility before going back overseas in a PMC job working security and force protection for government personnel working in high threat environments around the world. Tom has written for Guns & Ammo, World of Firepower, SWAT Magazine, Black Sheep Warrior, RECOIL Magazine, and Emerge Social, a PR firm specializing in digital brand management for firearms-industry clients. Despite being an officer we actually trust him (mostly) with a compass. Tom Marshall may or may not have been the inspiration for the best selling issue of Urecco. You can follow him on Facebook at /TMAuthor/ or on Instagram, @tom.marshall.author.
Grunts: miscegenation.