Some Updates About Law Tactical's AR Folder
Like what you read here on Breach-Bang-Clear? Support us on Patreon.
Previous efforts to turn an AR15 into a folding weapon have, for a number of reasons, failed to succeed or catch on. Law Tactical solved that problem, and now they've even improved it.
We're happy to share some news about the Law Tactical AR-15 Folding Stock Adapter.
The popular LTARFSA (to use the convenient acronym we just made up) has been out for a few years now, and you might recall reading about it here or (if you're clever enough to have been following us for a while) waaaaay back here.  The adapter has gone through a series of improvements over the years, and has remained a high-demand, hard-to-get accessory for the popular AR-15 type rifle. luckily, we have some good news for you. 
Law Tactical has squared away some logistic issues as it rapidly grew, and is poised to start cranking out adapters to fill the demand. Fans will be excited to see that the proven adapter will also be an OEM option on several popular production guns, but we aren't allowed to talk about that just yet! We recently caught up with the company to get the low down on the new, improved Mod 3 Adapter that has started to ship. There are only small changes, but worth noting.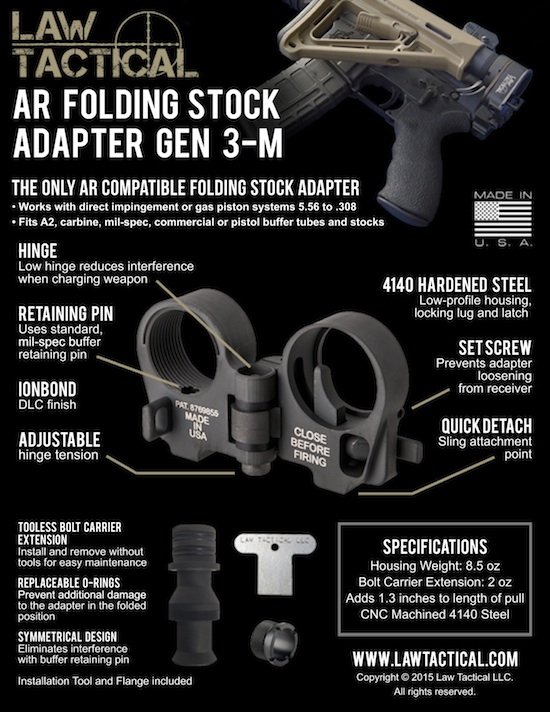 The first change is that the adapter will no longer be coated in the Ceracoat type finish it previously was offered in. The new finish is a black IonBond DLC coating, which sounds super cool. We have no idea what it was, so we inquired what the new coating is all about. We were informed that IonBonded DLC is a Diamond-Like-Coating at the micron level that's extremely tough, slick, and corrosion resistant. It's a good choice for the 4140 steel adapter, and a hard one to beat for this application. 
The next change is to the Bolt Carrier Extension, which is now slightly longer than the previous one. The Extension is reverse compatible with the older unit, but not vice versa. The benefit to this small change is to take out any play with how the BCG rests on the buffer assembly. Although minor, its still an example of how Law Tactical is constantly improving their products.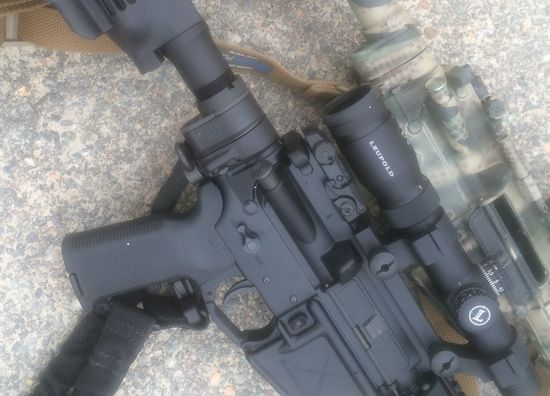 The last change of note is to the buffer retaining pin. In the earlier models, the user needed to use the proprietary buffer retaining pin included in the kit. This pin was slightly longer than the standard one inside the unmodified firearm, and presented a few issues. If lost or damaged, the user would need to order a replacement from Law Tactical as no other types would work properly with the adapter. But Law Tactical has changed the internal dimensions to allow any GI or aftermarket buffer retaining pin to be used. This is great news if you happen to shear the tip off or otherwise damage the part where standard replacement parts are available. For those currently running the older Gen adapters, don't worry. Law Tactical will continue to make their proprietary Buffer Retaining Pin available on their website and for unit armorers to keep handy.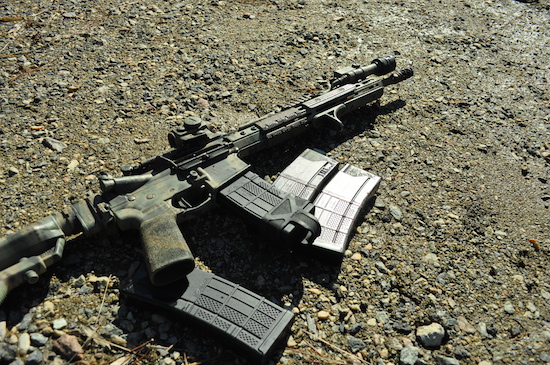 We like to see smaller companies grow, and have been tracking Law Tactical's progress over the years. We are excited about these small but changes, and the increased availability of their products. Stay tuned to Breach-Bang-Clear, we think you'll want to hear about some future announcements coming later in the year. You can check out Law Tactical and their products here on their website. The Gen 3 Adapter is available via a number of their retailers, including JTF Awesome member, Operation Parts (read about that Small American Business here).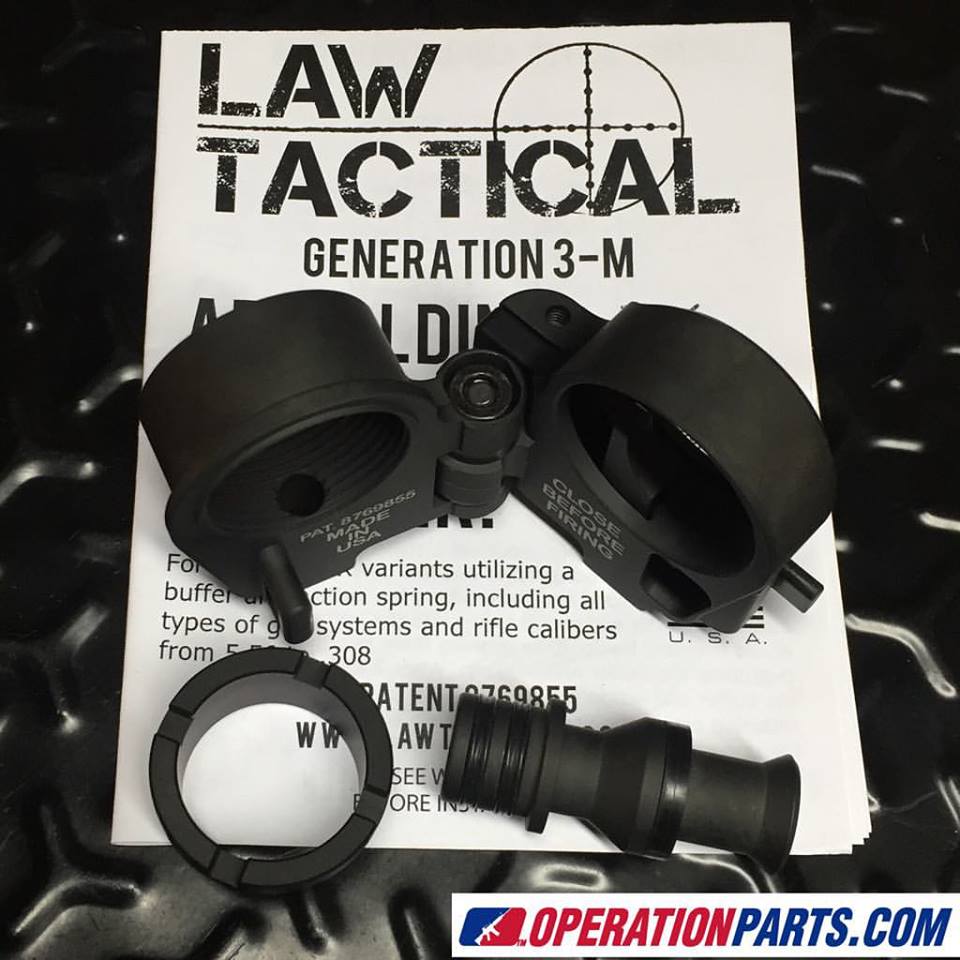 Bottom line, this is an outstanding add-on for those who need it (and those who do need it rarely need it explained to them). If you are looking for a way to tuck away a long gun discreetly, in a compact and easily transportable "container" that doesn't betray what's inside, this is exactly what you're looking for. From our experience, this adapter doesn't create any of the problems that so often come with adding a new moving part to weapon (which is usually our first hesitation). We've shot the hell out of it and found it to be both rugged and reliable. Sure, you could eventually bend the steel retaining finger if you keep firing it repeatedly from the folded position (which it will but is not designed to do) but you could also make it rust if you left it for a year in your fish tank, so what the fuck does that prove? The other question we'd ask of course is, why would you want to fight with a folded stock unless you absolutely had to? Anyway, several of our minions now have this on their blasters — you should consider joining them.
This Has been SWINGING DICK APPROVED.
Mad Duo, Breach-Bang& CLEAR!
Comms Plan
Primary: Subscribe to our newsletter here, get the RSS feed and support us on Patreon right here.
Alternate: Join us on Facebook here or check us out on Instagram here.
Contingency: Exercise your inner perv with us on Tumblr here, follow us on Twitter here or connect on Google + here.
Emergency: Activate firefly, deploy green (or brown) star cluster, get your wank sock out of your ruck and stand by 'til we come get you.