Anyone who spends time on their feet – like, you know, GRUNTS – will tell you that taking care of your feet is important. Probably second only to taking care of your weapon. Then they will make fun of you for not already knowing that. Usually this sort of conversation is about boots.
Today we're going to talk about socks. In point of fact, kevlar socks.
Yes, socks, because since before the time of Marius's Mules (if not before), it's the infantryman who has had to walk to and fro from battle to battle in wars that often spanned continents.
The word sock comes from the Latin soccus, itself derived from the Greek sykchos, meaning "A cloth garment to preserve your feet and to wank in." This is important to remember, lest their be unfortunate accidents (like their were in the early to mid 20th century, when some unfortunate souls tried to make wank puttees instead of wank socks with terrible results).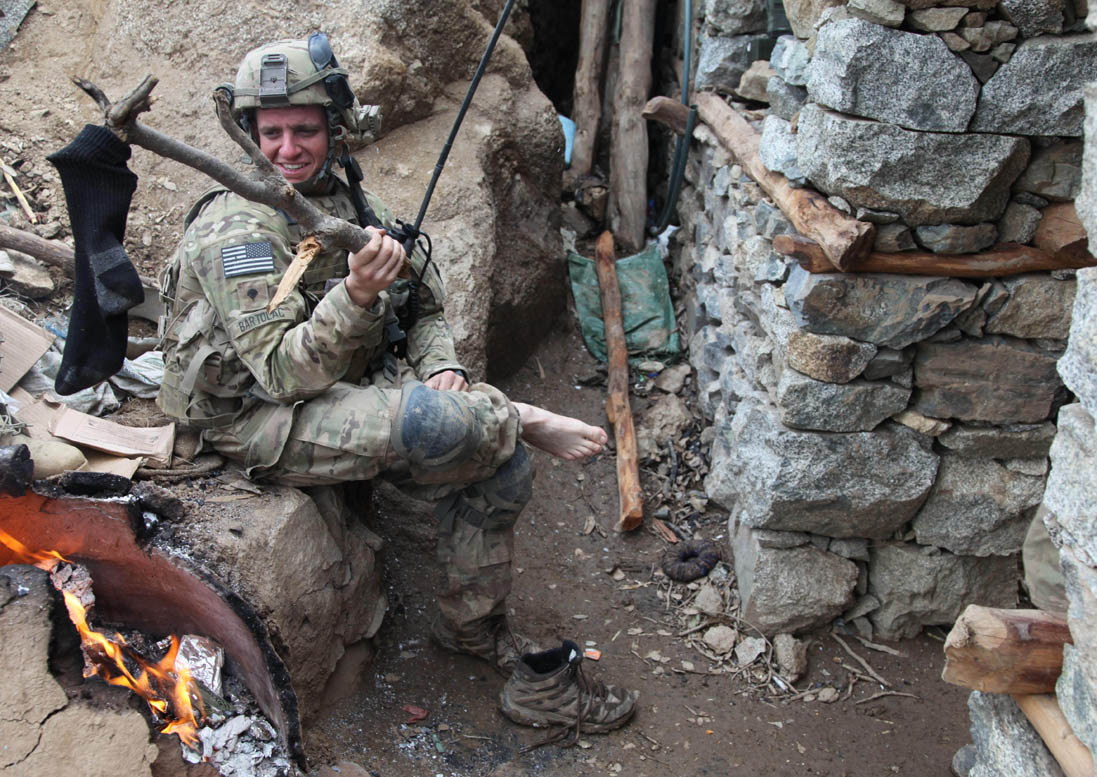 There are many different kinds of socks, from the little thin ones you wear with your best uniform to padded high-tech socks for backpacking to five-toed numbers to run in.
Regardless of material, be it wool, silk, linen, bamboo, cotton (you're a moron if you wear these) to the some of the new synthetic materials, one thing holds true. They wear out, particularly in the heel and toe.
To address that, former military member Cam Carter is developing kevlar based socks. He was working with the Italian government (not sure what it was) and was hit with an epiphany sparked by 'declassified military technology' and 'Milan's fashion scene'. The result are what may be the longest-lasting socks we may ever need to buy. The Kickstarter project being used to put these 'Socrates Socks' into production describes them as follows: "Using a military grade Kevlar|Carbon Matrix, these socks will never get a hole, droop, or wear out on the bottom…"
The socks were prototyped for 7 months and have received rave reviews from GizMag, UnCrate and DudeIWantThat. They've yet to be put to the grunt test (as in 11B or 03 Series) but that's undoubtedly coming (though hopefully they'll offer some military style colors instead of the somewhat garish civvie colors currently available).
If you want to know more, or if you want to help get them started, check them out on-line or go support their Kickstarter Project: http://www.kickstarter.com/projects/713023302/socrates-the-most-clever-socks-ever
About the Authors: Richard "Swingin' Dick" Kilgore and Jake "Slim" Call are the HMFICs at Breach-Bang-Clear (breachbangclear.com). They are the most door-kickingest, trigger-pullingest action figures in the tactical operator tactically operational world. Subscribe to them and stay informed about TTPs, new kit, and latest in what's stoopid (and occasionally inspiring) in the military and modern society or check them out on Facebook.