M600V Weaponlight: Surefire's New Vampire

No sparkley douchebag hipster vampires here. The ones we like are stone hearted night killers who also have a way with the ladies. Mad Duo

M600V Weaponlight: Surefire's New Vampire
Surefire has recently released its new series of IR capable Weapon lights, the M600V AND M300V Mini Scout lights. The "V" series of Surefire Scout lights offer the user the ability to switch from white light to IR light via a specialized LED head (commonly called "Vampire" heads). The new M600V has a reduced profile head and offers a dual spectrum output which can be selected easily and quickly. The M600V produces 150 lumens of white light for a 1.8 hours, and 120 mW of IR light for nearly eight hours. Powered by two CR123 lithium batteries, the lightweight, slim Scout light offers good illumination out to about 150 meters in pitch black providing near to mid range target engagement.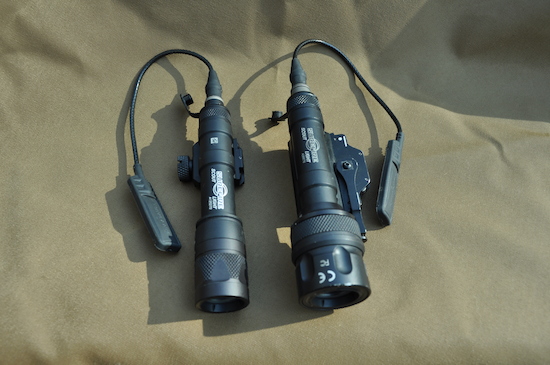 The new LED head of the M600V is what really stands out from previous versions of the Scout series. The Head has a drastically reduced profile in comparison to the older KM2 type heads it has replaced. Although KM2 conversion heads are still available on Surefire's website, the 2015 catalog doesn't offer the older V series heads on any of the Scout lights. This makes sense, as the new M600 head has virtually replaced the older design.
With the older KM2 dual spectrum heads, the user had to pull forward on a narrow slip ring to rotate the head from white to IR light. This proved to be somewhat difficult to execute quickly and flawlessly, especially when wearing gloves. The larger head of the KM2 also created some mounting issues, depending on where you mounted the weapon light and what other accessories. Mounted as far forward on a forearm as you can, (as many mount their lights) the older style head placed your hand closer to a potentially hot barrel. It also lacked a "lockout" or off mode, making IR and white light NDs possible. All of these issues have been addressed and corrected with the new M600V head.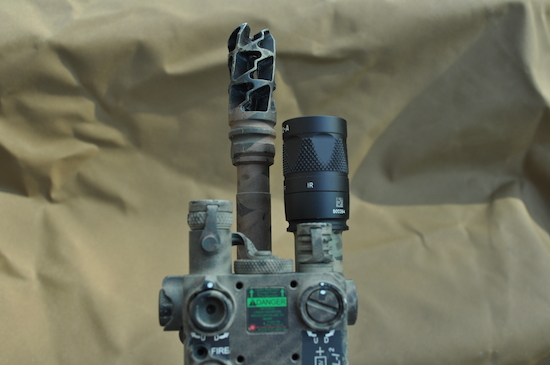 The profile of the M600V head matches the standard, Non-IR scout heads many are familiar with. While only slightly longer, the outside diameter of the head matches that of the lower output white-light-only models. Eliminating the slip ring selection format of the KM2, the new M600V can be grasped in any position and rotated to your preferred setting. Rotating the head clockwise will allow the user to go from "white" to "IR" with an "off" position in between. This addition of the off position will be of use to those wishing to avoid light NDs and those that store their weapon in a case where the light might be accidentally engaged. Nothing sucks more then melting a rifle case and snatching up a weapon with dead batteries when you need it ready to go.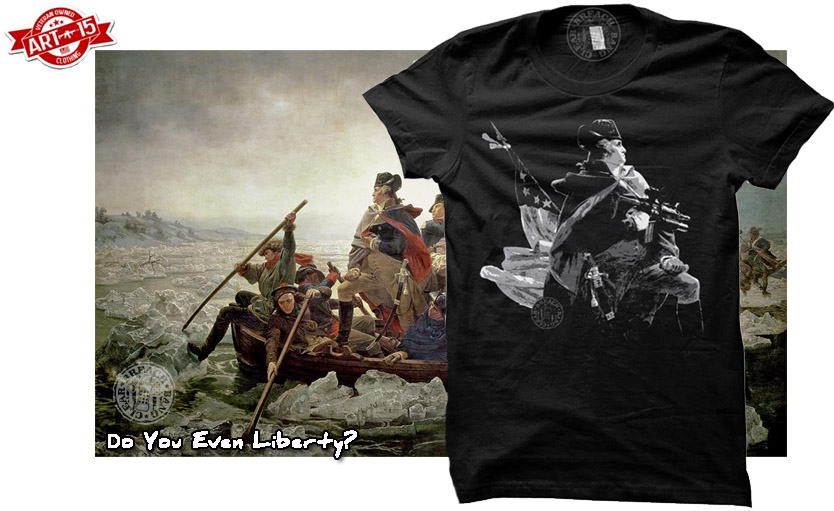 The light mounts to any picatinny rail section via a thumb wheel screw, as with older Scout models. Surefire has a new low profile mount available for the light, but there are seemingly endless aftermarket options for the Scout family currently available. The waterproof unit is available in black as well as tan, and includes a momentary-constant on pushbutton tailcap switch as well as a momentary-on pressure-activated tape switch with a 7″ cable.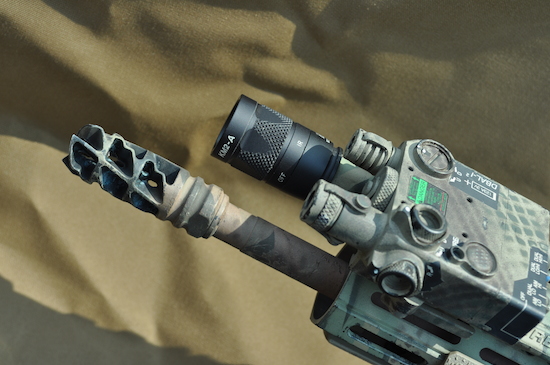 Many people speculate why you might need a IR light source separate from what you might have built into your IR laser unit, such as the DBAL, PEQ-15 or PEQ-16. First, some military units, LE departments and various other shooters might not have a IR light source built into their older style IR aiming device. Rather then replace a serviceable IR laser unit for a newer, expensive replacement with IR light capability, the M600V can provide the IR light in a dual purpose and cost effective way. Next, for those extensively using their weapons at night such as military units, you can often quickly burn your batteries down in your aiming device by using its IR illuminator to investigate possible threats and obstacles.
The use of the IR light on the M600V helps spread the use out, and allows you to retain two different sources of IR illumination should one source fail. Additionally, the way you should be using IR light to burn through different night time scenarios will find you wanting both forms of IR light. The larger "flood" IR light of your PEQ or DBAL is wanted at times, when a more concentrated beam such as the M600V provides a more ideal solution in others. Using both forms of IR light, the shooter can instantly go back and forth to which form of light is best suited to identify and engage a target. The systems will complement each other, and provide the user an added ability not possible without the dual-spectrum M600V.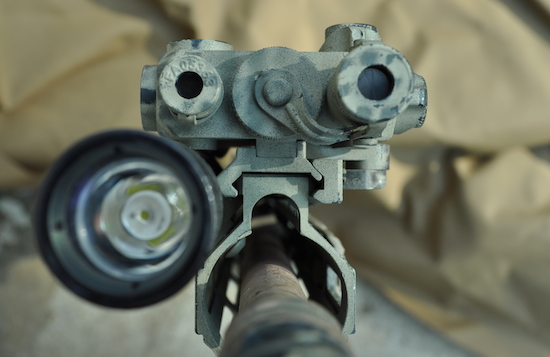 We're no strangers to the Scout series of weapon light, and the new improved version is possibly the best one yet. We will be using this and other Surefire lights in various training courses over the next few months, and will report on more through observations. Like all Surefire products, the M600V is going to punch you hard in the wallet. But with their performance and warranty, we have yet to meet someone who has regretted buying a Surefire light. 
For some more previews of what Surefire has coming down the pipe, refer back to our Surefire porn from SHOT Show.
You can visit Surefire's page on the M600V here, or follow them on Facebook or Instagram.
Is reading Breach-Bang-Clear worth at least $1 month to you? That's not even a lapdance! Consider backing us!
What is Patreon? It's a crowdfunding platform. Breach-Bang-Clear readers pledge from $1 to $50 a month to "House Morningwood" (our Game of Thrones house, complete with sigil!), to help us with expenses. We, in turn, give our supporters unique content, membership to a closed discussion group, and access to the "Morningwood Bazaar", which is basically helluva lot of unique discount codes (up to 60%) to numerous manufacturers and retailers. "Bend the knee" to House Morningwood and help us cover costs. Rise Before Dawn! 
If you wish to cite, syndicate, or curate our material, or if you're wondering about our please be so kind as to read our Terms, Conditions, and Disclosures.
Take heed! We have advertisers, sponsors, and affiliate relationships with some of the companies you will be reading about (particularly, but not limited to, archival posts). If you purchase one of those items, we will get a small commission from the sale at no additional cost to you. A lot of work goes into Breach-Bang-Clear; by making your purchase through one of our portals you'll be supporting our work. This will help us buy beer, bullets, and barbecue, and we won't have to put pop-up ads and other such stupid shit into our articles to pay our expenses.