MNKF: Colonel Blades 
Alexander Crown
I was told at a young age to, "…never do anything without a knife." This has proven sage counsel in the years since. Thus, except for those occasions when I've been disarmed by the sad, prufrockian functionaries running the TSA, I always have a knife on me. Over the years these knives have changed from multi-tools to automatics to small folders to fixed blades.
Of late (and out of pure laziness) I've been daily carrying a Spyderco Endura 4 for its lightweight and slim profile. However I've been pondering the wisdom of throwing a fixed blade knife into the EDC rotation, so when Colonel Blades (@colonel_blades) asked for a couple of us to report on their knives I jumped at the chance.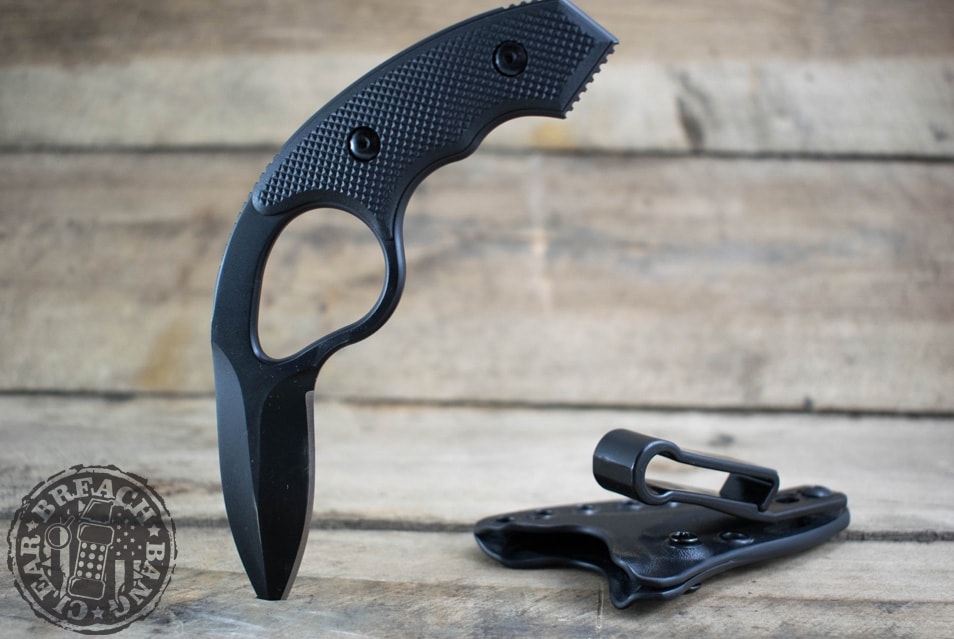 Grunts: prufrockian.
There were two blades inside the package I received from Colonel; the LowVz Colonel kit and the Full Bird kit. The Full Bird was sent along to another Minion for a longer term review, while I retained the LowVz.
Colonel Blades are fighting knives, plain and simple. They're dubbed the "Blade made for Shooters," which is apparent by the distinctive shape.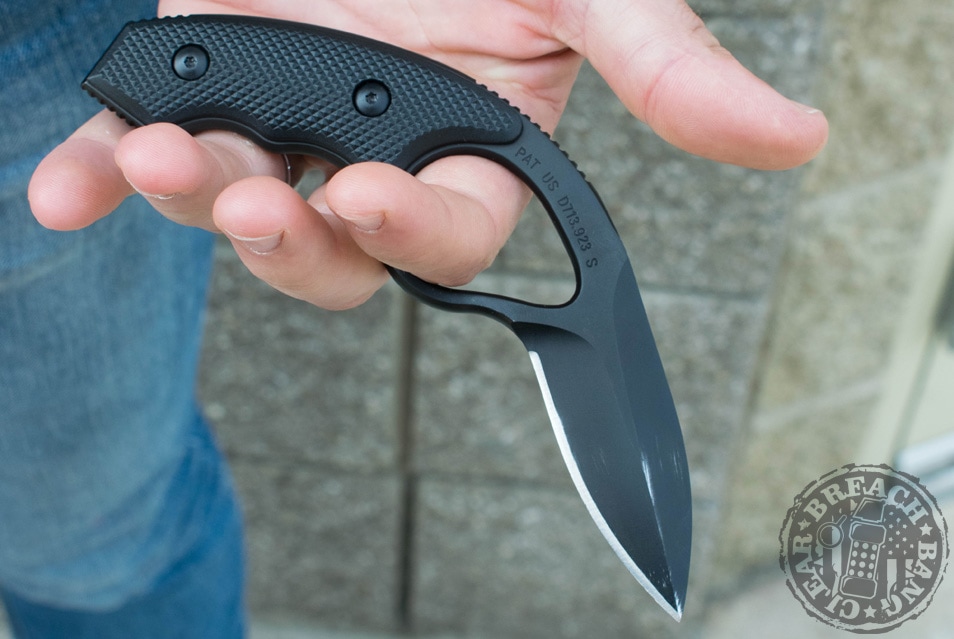 Specifications:
Blade Material: N690Co steel
Blade thickness: .2" (at thickest point)
Blade OAL: 2.75"
Coating: QPQ (Quench Polish Quench)
Grip Size: 3.5"
Grip Material: G10 with jimping
Sheathe: Kydex
Trainer: Injection molded plastic
N690Co steel is a popular material for higher end knives and is also used in making surgical instruments. It can be hardened to desirable levels and can still be sharpened relatively easily. The LowVz is a compact sized knife for easy carry and concealment but also large enough to fit the hand without feeling like you're holding a banana. The coating on the blade is a durable QPQ which is well known for lubricity, durability, and corrosion resistance. G10 and kydex are pretty standard these days in well-made knives.
As soon as I got the blade and adjusted the G-Code sheathe, I did the most hardcore gunfighter thing I could think of. I shoved it in my pants and went to a 3 hour long meeting. The Colonel Blade has been hailed by other reviewers for its ability to wear like a pistol. As I usually carry AIWB with a Glock 19, I simply put the blade on the opposite (left) side and sat for the next 3 hours going over spreadsheets and PowerPoints.
At first the feel of the knife was evident and distracting, but just as my mind grew numb to the endless numbers and graphs, so my pliable dad bod grew accustomed to the new piece of EDC.
Now, realistically the Colonel Blade is meant for fighting. However, despite wearing it for several weeks now, I've yet to encounter a situation that actually calls for knife fighting — so I can't tell you how well it performs when called upon to carve some miscreant into portable pieces.  What I can give you are my impressions of it.
While it might functionally be doing the blade a disservice, the Colonel does make for a decent everyman's EDC knife, particularly given the strength and thickness of the blade. I have used it to open packages of (course) and even to pry open some crates, which it did well. To me, an EDC blade has to do more than just stick bad guys. It needs to be a utility tools that can dig holes, cut various materials, break glass, etc.
The Colonel is a robust blade and can handle these tasks without issue, although some might find a more conventional knife better suited.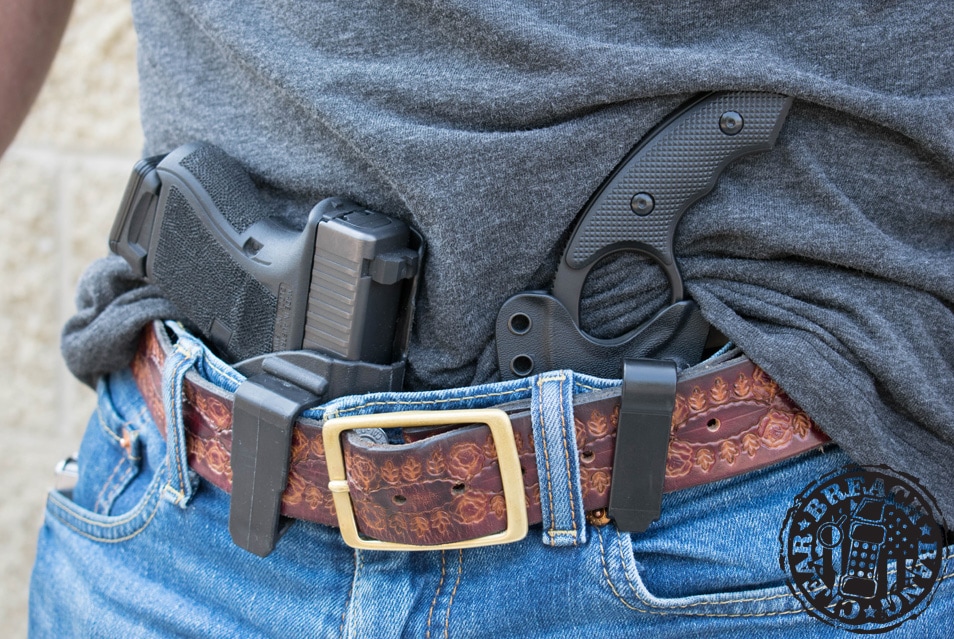 The Colonel ships with an injection molded trainer that is blunt tipped and shorter than the actual blade, which is a nice touch. This of course is so you do not develop training scars by not having full blade thrust into the target receiver.
Final tally? The Colonel LowVz Kit is a great option for folks that want to carry a fixed blade knife comfortably every day. The unique shape does require some getting used to and to be truly proficient you will (like with any new fighting implement) need to hammer out a lot of reps. Luckily the guys that designed it included a trainer and made it ergonomically similar to that thing so near and dear to so many of us all, the Glock 19.
You can find Colonel Blades online at ColonelBlades.com and also on Facebook, /colonelblades/.
Please note: the pictures here are of the NCO which is made in Taiwan.

Follow Armageddon Gear on Instagram, @armageddongear.
---
---
If you wish to share or repost, please so kind as to follow our terms and conditions.
Mad Duo, Breach-Bang& CLEAR!
Comms Plan
Primary: Subscribe to the Breach-Bang-Clear newsletter here; you can also support us on Patreon and find us on Pinterest.
Alternate: Join us on Facebook here or check us out on Instagram here.
Contingency: Exercise your inner perv with us on Tumblr here, follow us on Twitter here or connect on Google + here.
Emergency: Activate firefly, deploy green (or brown) star cluster, get your wank sock out of your ruck and stand by 'til we come get you.
T&C: All original material published by Breach-Bang-Clear is the copywritten property of Breach-Bang-Clear, Inc. If you wish to repost, republish, or otherwise share our content, feel free to reproduce an extract of up to 225 words and one complete, unaltered image, preceded by attribution crediting the source and author's name, to include a link to the Breach-Bang-Clear home page, with a link back to the full article on our website, BreachBangClear.com. You do not require our permission to do this. Please do not reproduce our content in its entirety without contacting us first. We do allow full syndication on a case by case basis (credited, and posted with a canonical link, as is common practice and in good form) but only when mutually agreed upon beforehand. If you wish to reproduce a complete article, please contact us for permission to publish first. 
About the Author: Alexander Crown was the littlest big mistake Gemtech ever hired–and they even manage to continue to promote him to higher positions. Prior to his early retirement (caused by an enemy winning a marksmanship award at the cost of his hamstring), Alexander served in the 3/509 PIR out of Ft. Richardson and spent a little time in Iraq. In addition to dabbling in the world of silencers and science fiction, he has a BS in biology and is an avid gardener — like, the kind of gardener Hugh Farnham would appreciate and Alec Holland would envy.