ZipStitch Needle Free Sutures
ZipStitch has apparently been around for a few years now, but this is the first we've heard of it. ZipStitch panels, described as "needle-free sutures", seem like they'd be easy enough to use. You place ZipStitch over a wound, tighten the zip ties to close the wound, and cut off the ends.
Vurrrry interdasting…

Would it be better than Steri Strips? We dunno, we're still looking for reviews and further information online, but these certainly look interesting. Likely of more use on a linear laceration than something like, say, Meg's bite, but that's still a nice benefit. According to the manufacturer, ZipStitch may be used on wounds up to 1.5 in. in length…which isn't exactly huge, but again – for the intended purpose, these could be a good addition to a vehicle medical or individual blowout kit.

ZipStitch is based on the same principles as ZipLine, a surgical product thus far used in hundreds of thousands of medical procedures, and a couple months ago it earned a Bronze  Award for Medical Design Excellence in the Over-the-Counter and Self-Care Products category. That's enough for us to want to give it a try.
Anyone reading this ever used these before? If so, chime in and let us know what you think.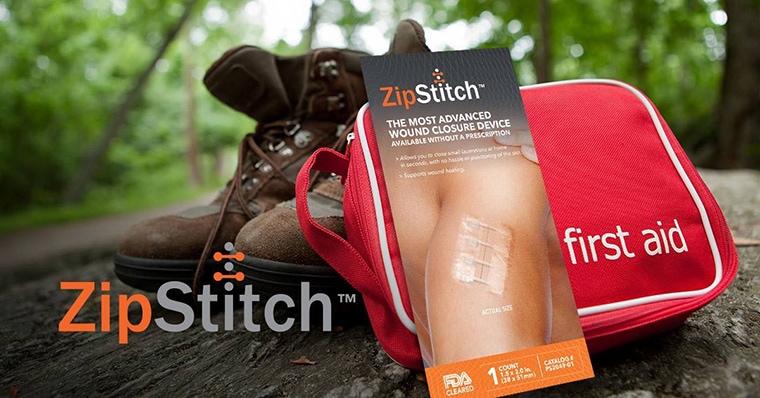 They're on Facebook too, /ZipStitch/.
Enjoy Breach-Bang-Clear? How about doing us a solid. Back us by joining Great House Morningwood – you'll get stupid awesome rewards for it. 
---
Declare for Morning Wood!
Come, stroll the awe-inspiring aisles of the Morningwood Bazaar.  Earn the right to wear our sigil and speak our words.
If you wish to cite, syndicate, or curate our material, or if you're wondering about our please be so kind as to read our Terms, Conditions, and Disclosures.
Take heed! We have advertisers, sponsors, and affiliate relationships with some of the companies you will be reading about (particularly, but not limited to, archival posts). If you purchase one of those items, we will get a small commission from the sale at no additional cost to you. A lot of work goes into Breach-Bang-Clear; by making your purchase through one of our portals you'll be supporting our work. This will help us buy beer, bullets, and barbecue, and we won't have to put pop-up ads and other such stupid shit into our articles to pay our expenses.