What's Going on in Broward County?
Broward County Sheriffs Office, an agency long accredited by CALEA standards (and currently seeking re-accreditation) appears to have a number of problems They quite possibly have more, and different problems, than what the public suspects. Breach-Bang-Clear
What's Going on in Broward County
The Sheriff Has Much to Answer For
David Reeder
We're seeing a lot of discussion about one or more deputies failing to act during the recent shooting at Marjory Stoneman Douglas High School in Florida. While we're trying not to go shark-eyed about it, recent events in Broward County don't make it easy.
By the time school was out for summer vacation in 1999, many of LEOs in my area were learning the long-antiquated (but contemporarily lauded) "hall boss" tactics for dealing with an active shooter. Even then, just a couple months after the murders in Columbine, many of us were dubious.
Wait…you want me to wait until eight officers get here before you want me to go inside? 
That was nearly 20 years ago. It is a tactic long since superseded. Thus it defies credulity that anyone currently serving in law enforcement could possibly think that hunkering down and waiting for help is the appropriate response.
It's not just improbable, it's unconscionable.
Here's a question that needs to be answered, though, and this has nothing whatsoever to do with conspiracy theories. It has everything to do with the agency, particularly if (as we are hearing) there are multiple deputies under investigation.
What's going on at Broward County Sheriffs Office? There are hundreds of sworn deputies there. The majority are almost certainly good officers, but it stands to reason that a few of them shouldn't be doing the job. How in the hell did several who appear to be the worst sort of LEO wind up stacking the deck in the vicinity of MSDHS on day shift, though?
At least three deputies, maybe four, are currently under scrutiny (there are conflicting reports about how many deputies were on scene).
Maybe they were cowards. Maybe they were paralyzed by stress. Maybe it was both. I find it difficult to believe it's just that, however.
Once can be an accident. Twice can be a coincidence. Three times, though, is enemy action. So what is four times? A conspiracy? Cruel fate? What is the likelihood of that?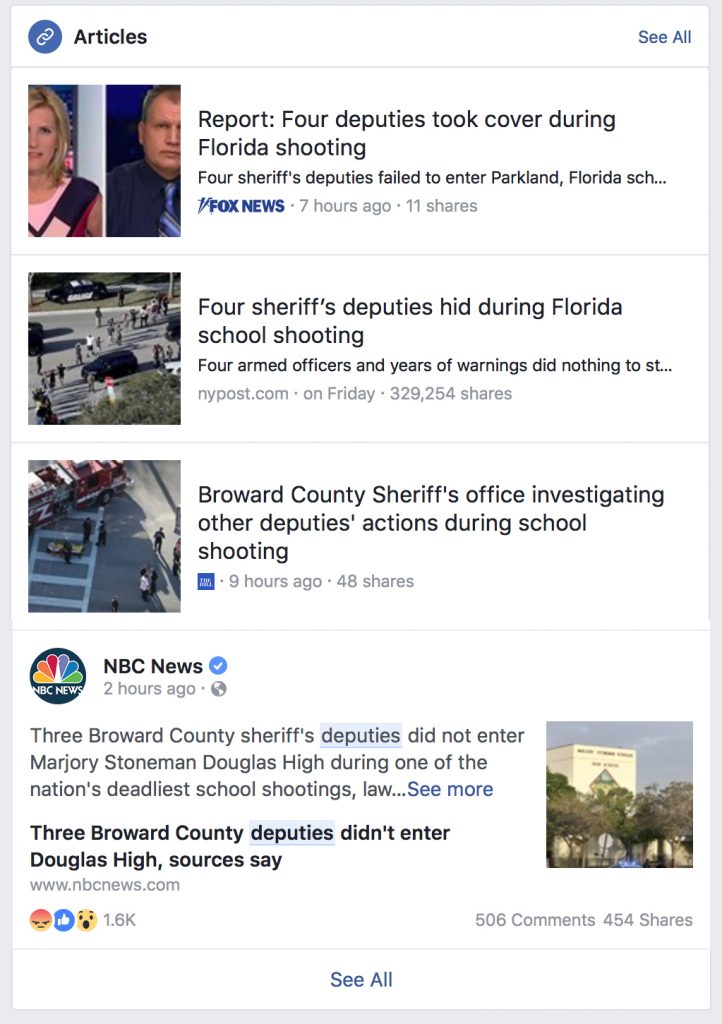 It is very hard, though not impossible, to believe multiple deputies stood by and waited out of fear…that is, unless there is something systemic going on. Bad hiring practices? Bad training? Terrible leadership in one district or on one watch? Bad Policy & Procedures? Is this a case of shuffling all sub-par, low performing or unreliable officers into area or assignment?
There's no way four cowards just somehow wound up in one place at one time holding the perimeter while children were dying unless there is something systemic going on.
A couple of our team are reviewing one of the deputy's training records. We're trying to get a look at some of the other deputies' records, particularly since we haven't been able to get a look at their Policy & Procedures manual yet.
More to follow.
DR

That's it for now. Go forth and conquer.
[arrow_feed id='56055′]
If you wish to cite, syndicate, or curate our material, please be so kind as to read our Terms and Conditions.
---
Breach-Bang & CLEAR!