Waterproof Firelighter and "Flame Defying Body Armor" at SHOT Show | SHOTREP
Visitors to this year's SHOT Show in Las Vegas  (Sands Expo Center 22-25 Jan) will be able to see waterproof fire-lighting fuel and flame resistant body armor when they visit booth 7613.
164-year-old survival equipment manufacturers, BCB International Ltd, have developed the world's first solid bio-ethanol firelighter, called 'FireDragon'.  It is issued to British Soldiers as the heating source for their operational rations.  The fuel boasts an impressive list of features: it is made from sustainable natural ingredients, it is non-toxic, burns cleanly, can be ignited even when wet and if necessary can be used as a hand cleanser. At the SHOT SHOW, BCB International will be unveiling their new FireDragon solid and gel fuel retail range.
Another exhibit on the BCB International booth which is tipped to grab the attention of visitors is their flame resistant modular quick release plate carrier, the Kastell Pro Aqua.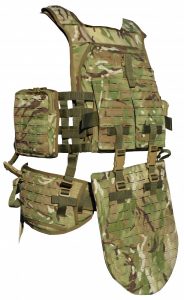 It was crafted using Flame resistant and quick drying materials.  It is equipped with a quad quick release system that can be activated in five seconds and clipped back together in twenty seconds.  The release system can be a lifesaver when quick emergency medical treatment and tactical extraction are required. A neat video of the flame resistant qualities of the body armor can be viewed on BCB's website.
BCB's Business Development Manager, Ben Simmons said: "At this year's SHOT Show we will have on display novel products that cater to the needs of law enforcement professionals as well as outdoor enthusiasts.  We look forward to having the opportunity of presenting to visitors some of our breakthrough equipment."
BCB International Ltd will be exhibiting at booth 77613.
Enjoy Breach-Bang-Clear? How about doing us a solid. Back us by joining Great House Morningwood – you'll get stupid awesome rewards for it.