Vortex SPARC II: The Dot That Would Not Die
Vortex SPARC II: The Dot That Would Not Die: For decades now there's been a huge gap between high-priced, high-quality optics from companies like Schmidt & Bender, Nightforce, Trijicon, Aimpoint, or Leupold and the cheap, Chinese junk you commonly find at gun shows and on eBay. Certainly, there have been optics in the medium price range, but oftentimes their quality was only marginally better than the cheap junk, or their price point was such that it was worth saving your pennies to hold out for a higher-quality optic from one of the aforementioned companies or their peers.
Article by Peter Palma.
This review appeared originally on RECOIL.  It appears here in its entirety and with their editor's express permission.  Mad Duo
Vortex Optics has recently and effectively filled that gap in the market by providing a large range of great-quality optics at prices that let you keep both kidneys. Maybe. Every one of their products that we've shot with and finger banged — from simple 1x red-dots to precision-rifle optics for even the largest of calibers — have been well thought out, well made, and often boast a clarity better than some much more expensive glass. But since Vortex hasn't been in this game as long as their competitors, there isn't as much empirical data on the durability of these attractive sights. We've beaten up our S&Bs, Nightforces, Aimpoints, and EOtechs way more than is reasonable, and it's easier to break rocks than an ACOG. Trust us, we've tried.
But what about Vortex? Can its optics take a hit or will it have a glass jaw? Well, we figured it would be a good test to take Vortex's cheapest optic, the Sparc II, hand it to a Marine, and just let nature take its course.
Now, before we set off on our path of destruction, let's talk about this optic and its short, agonizing future. It's made in China. There, we said it. Although roughly the same size and shape as an Aimpoint T1, it's also only one-third the cost. To be honest, the country of origin did concern us a little because we had fears the Sparc II wouldn't hold it together long enough and force us to write a one-sentence article like this, "When attaching the Sparc II to the Picatinny rail, the mount broke, so we just ended up drinking beer and stalking people on Instagram." Fortunately, our fears were way off base.
Layout
The Sparc II's controls are on the left-hand side of the objective lens, where they can be easily accessed, even when used in conjunction with a magnifier or night-vision devices. Two buttons cycle through eight visible red-dot intensities and two IR levels, and turn the optic on and off. The commonly available CR2032 battery is rated at 300 hours on the brightest setting and a whopping 5,000 hours (208 days) on the lowest brightness setting. The Sparc II turns itself off after 12 hours, further extending battery life.
Its 2 MOA dot has a rather slow refresh rate, so it will appear to have a slight trail when transitioning between targets. This was more of an annoyance than a hindrance, as we're not robots or Jerry Miculek and couldn't shoot fast enough to catch up with it.
Apart from the dot trail, the Sparc II is well thought out. The windage and elevation covers are captive and can be used to adjust the turrets, as could the rim of a case. The adjustments are well marked, tactile, and audible. The sight ships with two mounting bases of different heights so it can be mounted on inline designs such as ARs or firearms with a lower comb, such as shotguns or AKs. An additional spacer is provided for shooters who prefer to use a lower one-third co-witness with iron sights. It can also be used in conjunction with the lower mount, depending on the height needed. The one-piece aluminum body is finished in an even matte black anodizing. All of the tools for mounting, an extra battery, and scope caps are included in the box.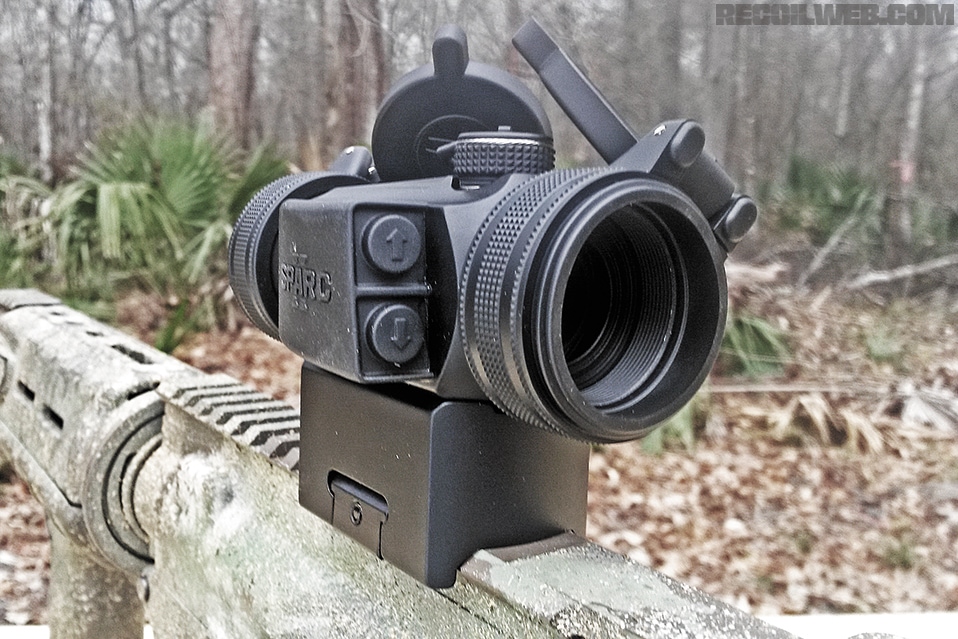 To the Torture Chamber!
So…attractive packaging, convenient controls, lots of brightness levels, and excellent adjustability. None of that matters if this thing can't take a beating.
So let the destruction commence! For reasons not totally clear — there may have been moonshine involved — we packed our Sparc II in ice, zeroed it, and produced a number of acceptable groups. Once we were satisfied, the optic was submerged, rifle deep, into 60-degree swamp water for an hour. This had no effect, which soon became something of a theme.
We dropped our rifle onto rocks — multiple times — optic down, from shoulder height. With the dot still shining we turned up the heat, literally. We built a fire and subjected the Sparc II to the flames, only removing it for fear the melting scope caps would stick to the coated glass. Then, taking a cue from Monty Python, the Sparc II was then immediately submerged, like a witch. Now all of this seems like aimless torture, but there's some reasoning here. Most of the optics we have seen fail do so because of exposure to temperature extremes, moisture, shock, or some combination of these factors. If an optic survives unreasonable levels of abuse, then it should endure lesser strains.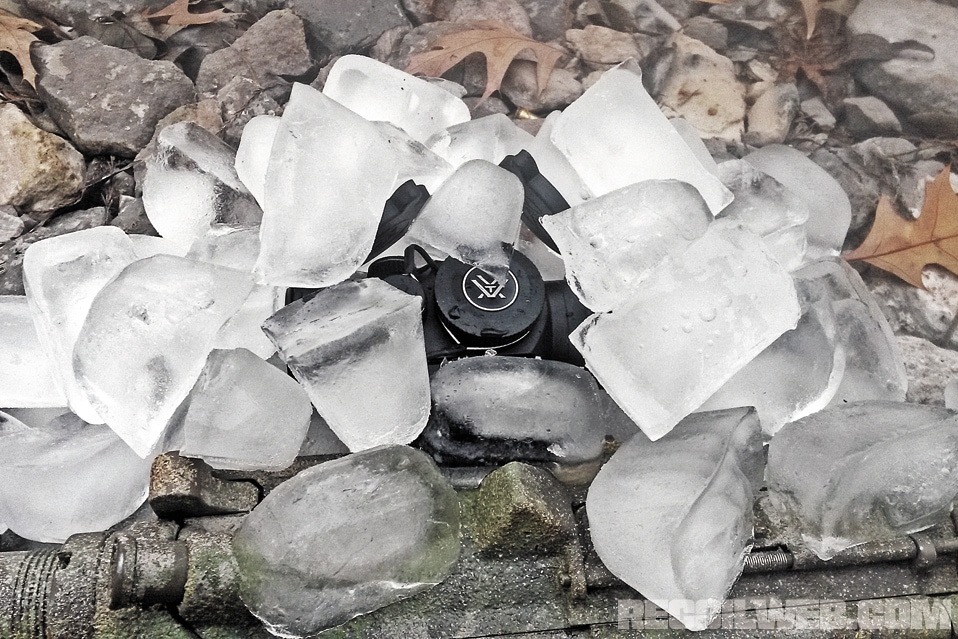 On with the mission. A mighty oak that has stood longer than anyone alive today shrugged off the onslaught of the author swinging a Sparc II-laden rifle against it in a motion reminiscent of a 17th century logger. The Sparc II was not so unscathed. Heat from the fire weakened the rubber covering the controls, and the impacts from the axing exposed a maze of green circuit boards and wires. The dot was somehow still on, asking for more, so we set about turning it off — permanently. With circuit boards dangling about, we submerged the battered optic for the last time. Or so we thought. Much to our surprise, a red dot still glowed cheerfully. So we ran over the Sparc II with our off-road vehicle, and then shot groups on paper to see if it would still be able to do its job. To our dismay, we discovered that we now had larger group sizes and a wandering zero. We packed up our gear and headed home counting the Sparc II out. We should have known better.
Upon returning home to remove the Sparc II from our rifle, we noticed that the mounting base had worked loose and was allowing the optic to move freely on the rail. This discovery was bittersweet, however, because this was most likely the cause of our large, post-destruction test groups. It also meant that we had to return to the range to continue our test. And we are nothing if not lazy.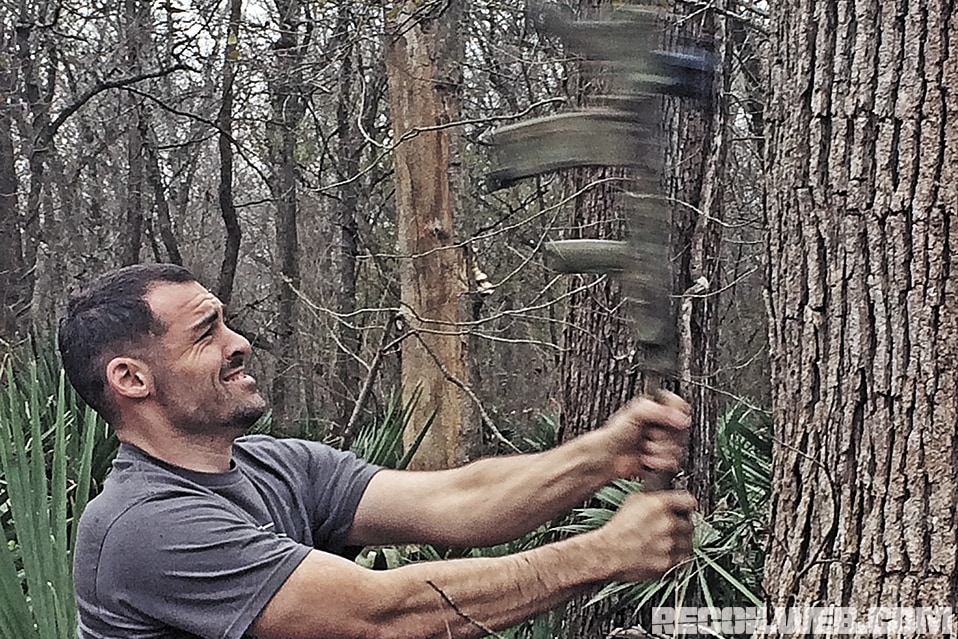 It Takes a Lickin'…
Unable to shake off our innate slothfulness, we decided to subject Sparc II (at this point, it seemed she'd earned the right to her own name) to some more intense torture in hopes that the dot would be forever extinguished and we could just stay home and watch Hoarders on Netflix. We put Sparc II in the freezer overnight, and when the dot was discovered still glowing, turned on the oven, took the sight off of our frozen solid upper, and left her in the oven for an hour. According to our laser thermometer, her body was at least 200 degrees. We immediately put Sparc II back into the freezer for 24 hours, then took her from the freezer, immediately submerged her into 120-degree water and let her sit in her own filth for a day.
Remember, at this point the scope caps had long ago melted and the circuit boards were protected only by a piece of duct tape that we applied to preserve her dignity. With the dot still defiantly shimmering, we got up off of our lazy ass and headed back to the range.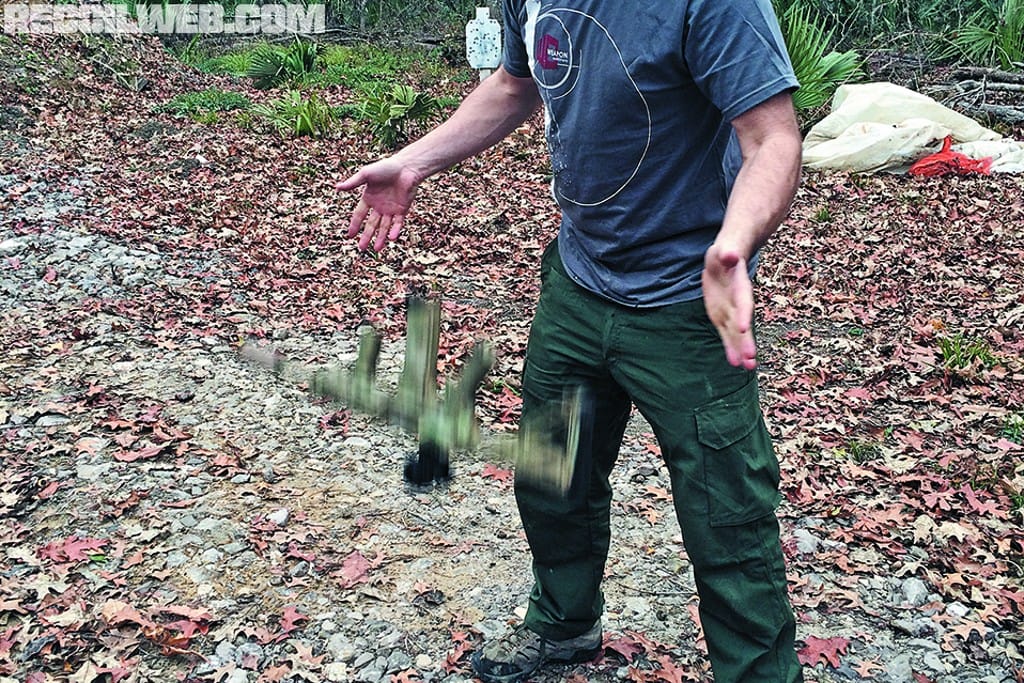 Once settled in all the way back at the range, Sparc II's dot finally decided to quit. Apparently, the circuit board that controlled the on/off buttons separated from some of the exposed wires, so we just ripped it off. Be it either from making the trip all the way out to the range, or for our growing affection for this underdog scope, we weren't ready to give up. We ended up gingerly touching a spent brass shell casing on the surviving exposed circuit board until, like a fondly remembered ex-girlfriend, we figured out the right places to touch her in order to bring the ol' girl back to life. With the dot back on, we were able to produce groups similar to the control groups we shot before inflicting a little caveman rage.
With Sparc II thriving in conditions much worse than any combat optic would be expected to survive, we now set up a worst-case scenario. If you're of a nervous disposition, you might want to skip the next bit. We shot Sparc II with a .22-caliber AR, ironically topped with another Sparc II. Cannibals! Three direct hits did only aesthetic damage, but the fourth shot struck directly on the windage adjustment, turning the bullet, the adjustment cap, and the adjustment knob into one twisted mess of various metals. The dot (yes, the f*cking thing was still on) was pushed to the far right of the optic with no way of readjusting. No rubbing dirt on this one and walking it off.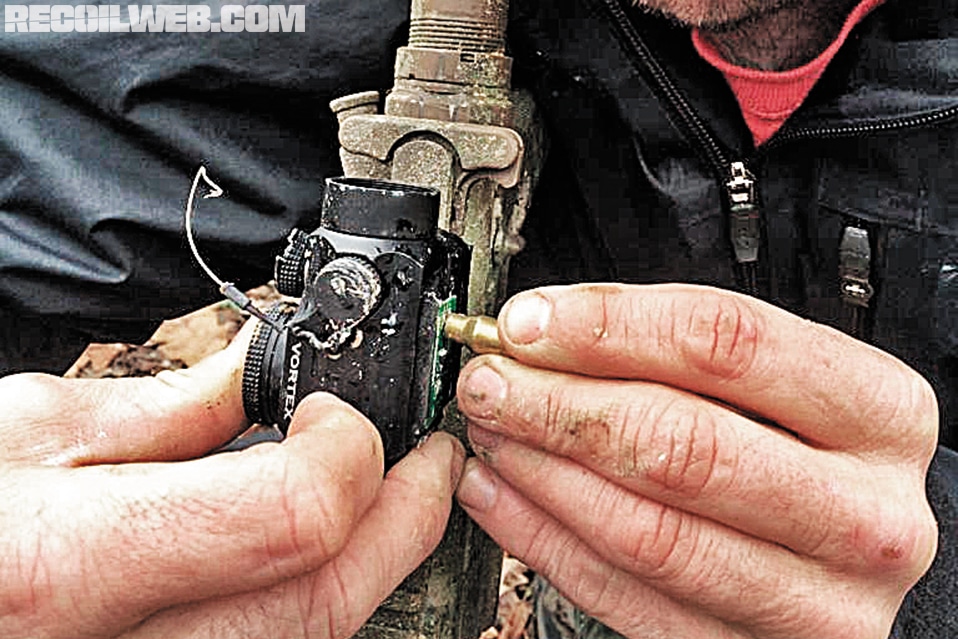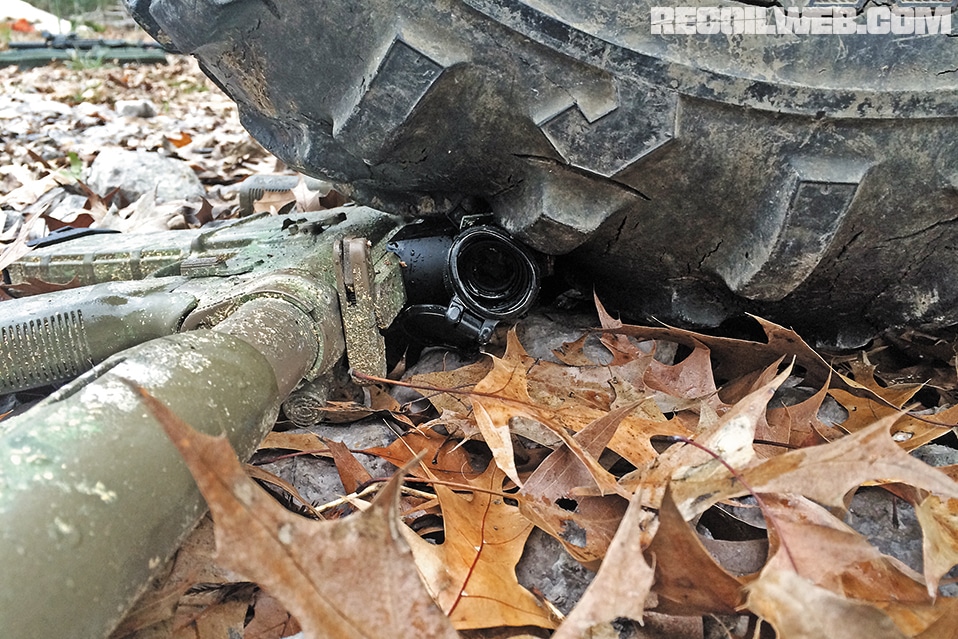 We continued to shoot the optic until a round took off the battery housing, thus removing the power source and finally extinguishing the dot. On returning home, we used the extra battery, the wires from the destroyed circuit board, and the inevitable duct tape to triumphantly resurrect the dot — not unlike Frankenstein. With a rainbow of emotions ranging from joy, confusion, curiosity, determination, and uncertainty about what to do next, we put Sparc II in the microwave, where what appeared to be a mini lightning storm took place. We aren't really sure what this replicates; let's pretend an EMP or something. What used to be a nitrogen-filled sight turned into a black smoke-filled sight, and Sparc II's dot would never again shine.
Don't be sad! Vortex Optics has a no-questions-asked warranty, so we just mailed her back for a new one. Following each torture test, if we'd been asked to bet $20 on whether the dot would remain on or not, we would have lost more than the cost of a Sparc II. It's up to you to decide if you think the Sparc II is as good or better than its competition, but we believe we've found the most affordable optic that can be placed atop a fighting carbine.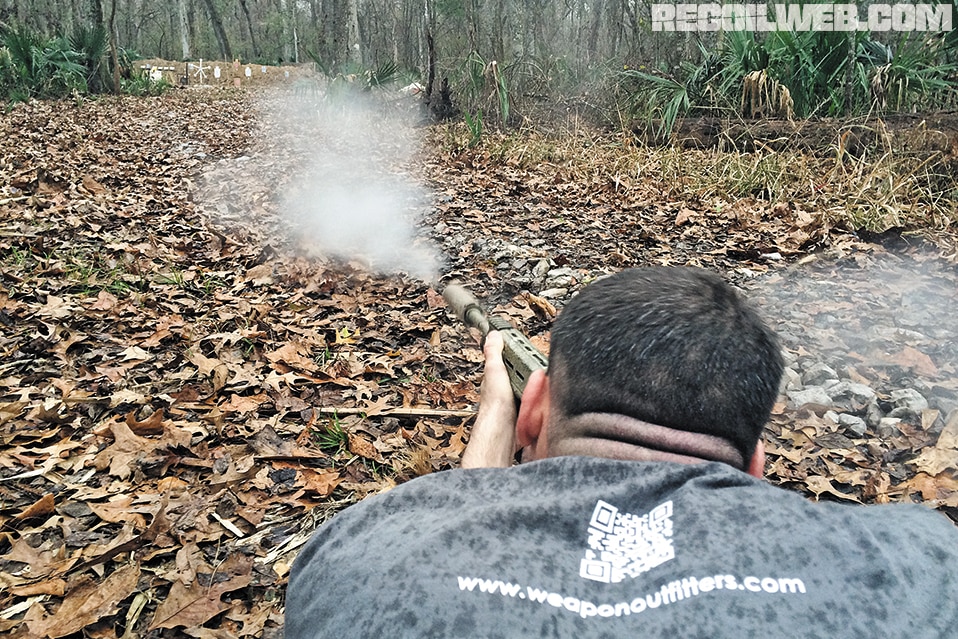 Make:Vortex OpticsModel:Sparc IIOverall Length:3.125 inchesOverall Width:2.1 inchesWeight:5.2 ouncesMSRP:$259URL:www.vortexoptics.com
Read more: http://www.recoilweb.com/vortex-sparc-ii-the-dot-that-would-not-die-67267.html#ixzz4mN1FavdP
This article appears here courtesy of RECOIL Magazine (thanks Iain).
RECOIL Magazine is online at recoilmag.com and on Facebook at /recoil.gun.lifestyle/.

Follow RECOIL on Instagram, @recoilmagazine.
---
…
Vortex scopes, red dots, rangefinders, binos…buy 'em or not, but if you're gonna, do it via one of our links.

Find Vortex Optics at PSA (Palmetto State Armory).

Find Vortex Optics at Primary Arms.

Find Vortex Optics at Rainier Arms.

Find Vortex Optics at Weapon Outfitters.

Vortex Optics: they're on Amazon.
Find Vortex Optics at Brownells.com.

Vortex Optics: believe it or not, they're online at Wal-Mart.

⚠️ Some hyperlinks in this article may contain affiliate links. If you use them to make a purchase, we will receive a small commission at no additional cost to you. It's just one way to Back the Bang. #backthebang 

⚠️ Some hyperlinks in this article may contain affiliate links. If you use them to make a purchase, we will receive a small commission at no additional cost to you. It's just one way to Back the Bang. #backthebang