Rhino GX | 440 Horse 6.7L V8 Rhinos Roaming China
The Rhino GX is something more than an up-armored pickup but different from a rich man's technical, and they're mostly being sold in far-off Cathay. Breach-Bang-Clear
There Are Four Model Packages Available In Stealth Black, Tactical Green, and Desert Sand
40 in. TV, Satellite Receiver, and Heated Leather Seats Optional Of Course
MotorTrend published a story yesterday about the 2018 USSV RHINO GX. If that sounds cool to you, it does so for good reason. The Rhino GX is an armored SUV (well, it's armored SUV-ish) built by US Specialty Vehicles on a Ford F-450 platform. Interestingly, of the approximately 300 thus far built, less than 10% can be seen driving US roads. Almost all the rest are in China.
The Rhino was born an 8-foot dualie pickup at the Louiseville Kentucky Truck Plant, but it quickly evolved. It starts with a 2016 truck chassis, with Bilstein adjustable stocks up front and a LiquidSpring Compressible Liquid Active Suspension System in lieu of leaf springs in the back. It's 4WD, has three ride settings, variable damping hydraulic spring/damper units, and, check this out — front-to-rear interchangeable forged aluminum wheels. Muscle comes from a powerstroke diesel (6.7L/440-hp/860-lb-ft turbodiesel OHV 16-valve V-8), which according to reported tests will push the 2,500lb vehicle and its B6 rated vehicle armor from 0-60 in 8.3 seconds. [According to Armormax, B6 vehicle armour (it's evidently a Commonwealth website) is rated to withstand up to 7.62 x 51mm rounds.]
Quick off the line it's not, but then again it was designed to carry people in relative safety, not win the Carrera Panamericana.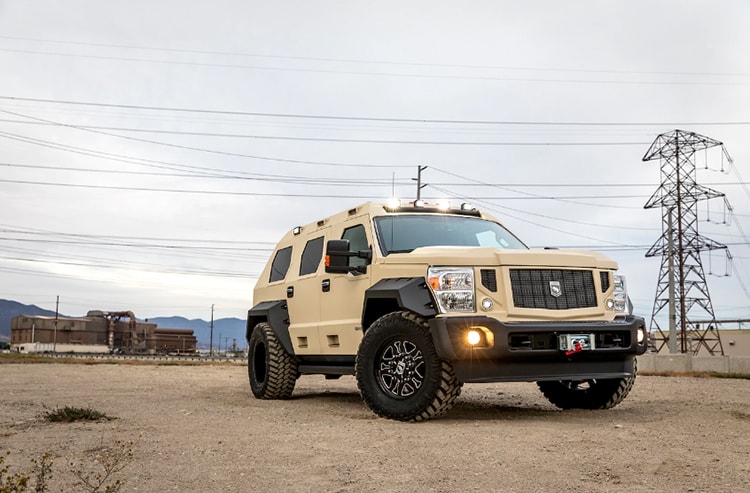 Back to the Rhinos roaming China, USSV is apparently working with the Chinese firm G. Patton (that's really its name) to release the Rhino XT. The Rhino XT will be some sort of Jeep Wrangler Unlimited update.
There the Rhino XT will join a predecessor, the G. Patton Tomahawk. The Tomahawk is a 6×6 Jeep 3.6-liter V6 Jeep Wrangler whose most recent update was released, apparently, at the Chengdu Auto Show in 2016.
The Tomahawk rolled out with such features as a RIPP supercharger, 35 in. Mickey Thompson tires on 17 in. alloy wheels, and a Warn Zero winch. Learn a little more about that one in the Autoevolution 6×6 Jeep Wrangler Conversion article from a couple years back.
You can learn more about vehicle armor, by the way, on the Armormax blog's bulletproof car questions page.
2018 USSV Rhino GX
•BASE PRICE – $250,950-$331,000
•VEHICLE LAYOUT – Front-engine, 4WD, 5-8-pass, 4-door SUV
•ENGINE – 6.7L/440-hp/860-lb-ft turbodiesel OHV 16-valve V-8
•TRANSMISSION – 6-speed automatic
•CURB WEIGHT – 9,800 lb (mfr)
•WHEELBASE – 140.8 in
•LENGTH X WIDTH X HEIGHT – 225.0 x 96.0 x 88.0 in
•0-60 MPH 8.3 sec (MT est)
You can learn all about the USSV Rhino GX in  MotorTrend's article Offensive Defender.
Brought to you today by Propper (@wearpropper), a member of JTF Awesome.
[arrow_feed id='48630′]
Brought to you by the Breach-Bang-Clear News Desk…
If you wish to cite, syndicate, or curate our material, please be so kind as to read our Terms and Conditions.
---
Breach-Bang & CLEAR!