USA Today Rifle Mods – Four Things They Missed
USA Today Rifle Mods – Four Things They Missed
Mad Duo
You've likely seen the imagery from USA Today's recent tomfuckery about AR15s.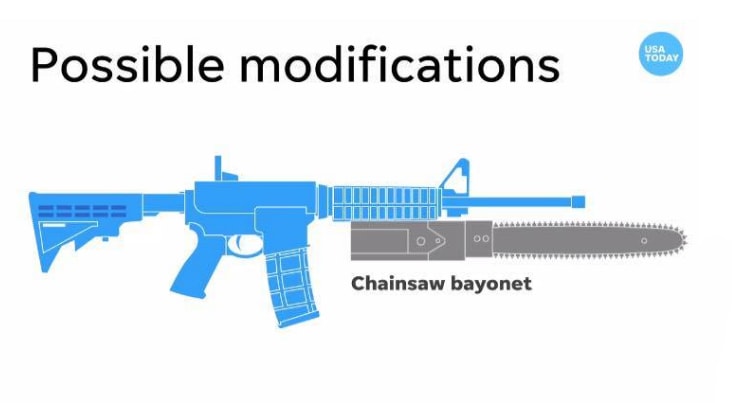 They talked about a few mods (red dots, vertical foregrips, etc.) but they missed a few. Here are some we thought of — what are we missing? Let us know. There really ought to be a lineup of these somewhere.
1. Underbarrel Assault Clown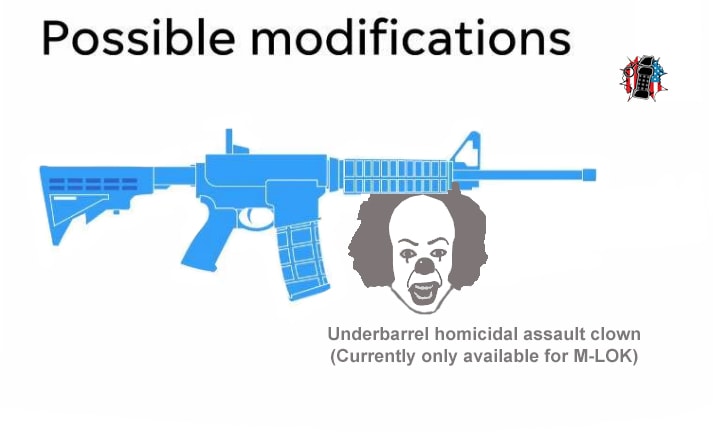 2. Phased Plasma Rifle in a 40 Watt Range
Enjoying this? Would it kill you to subscribe to our newsletter then? FFS.
3. Magazine sword base plate (warning: not suitable for drum mags, and looks like ISIS)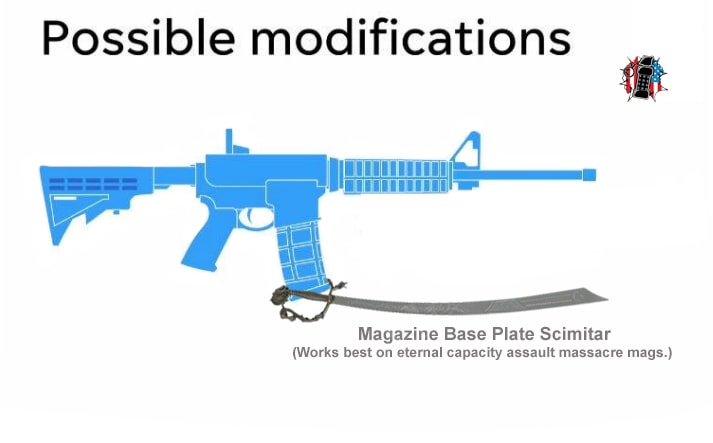 4. Clever Girl rail-attach velociraptor.
So, what else should be on this list?
By the way, we're aware there are a handful of real chainsaw bayonets out there. We just think it's stupid for anyone to act as though they're commonplace, readily available, or used in any serious way.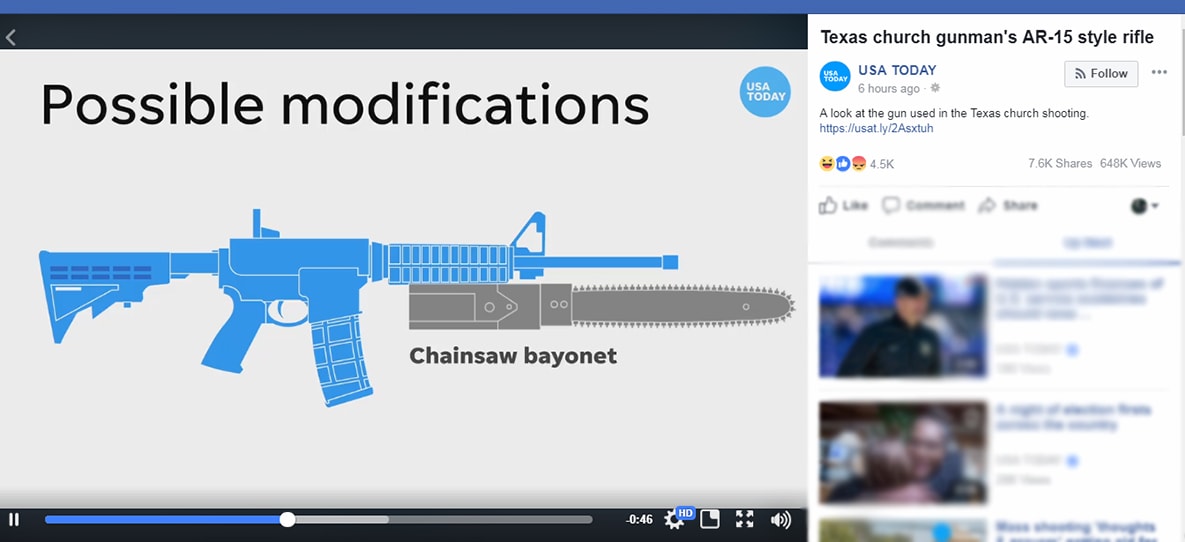 C'mon USA Today, and news media in general. If you want to have a discussion, let's discuss — but how about we be serious, and academic? This sort of disingenuous and inflammatory "reporting" just helps perpetuate the already entrenched tribalism of the gun control debate.
Seriously. The media has become a fucking caricature of itself.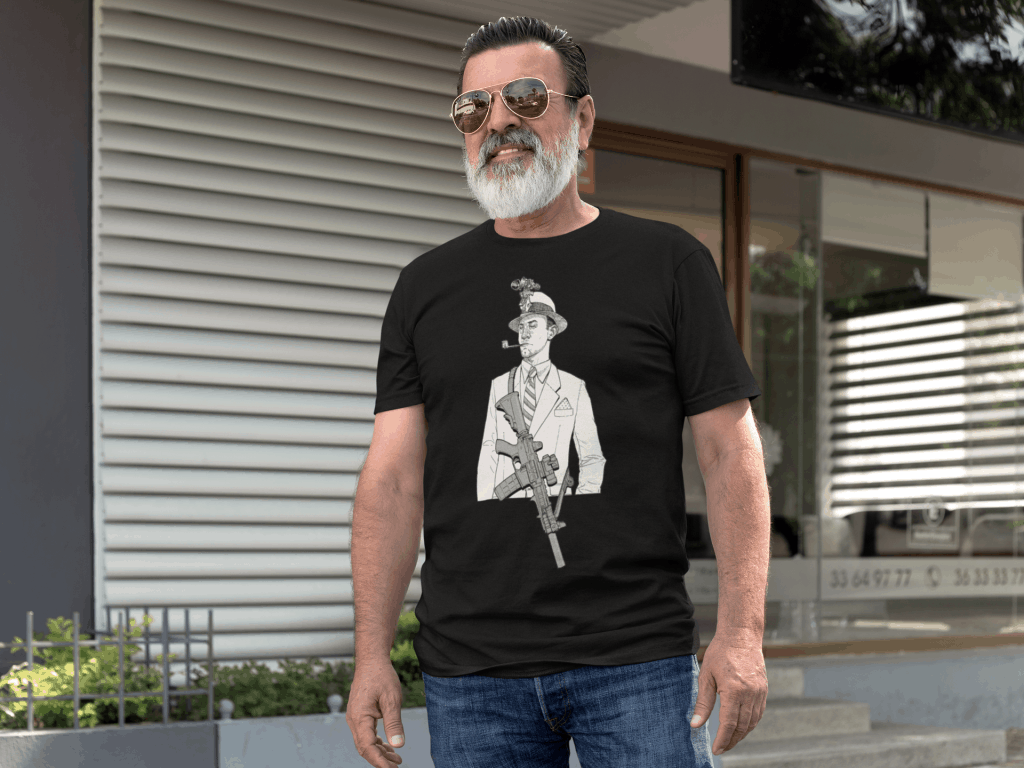 Find MadDuoCo on Instagram, @madduoco, or check 'em out on Facebook, /MadDuoCo/.
You can find the original video post here on Facebook.
But first, subscribe to the damn news letter. Every time you subscribe, a dirty hippie gets a bath.
---
---
If you wish to share or repost, please so kind as to follow our terms and conditions.
Mad Duo, Breach-Bang& CLEAR!
Comms Plan
Primary: Subscribe to the Breach-Bang-Clear newsletter here; you can also support us on Patreon and find us on Pinterest.
Alternate: Join us on Facebook here or check us out on Instagram here.
Contingency: Exercise your inner perv with us on Tumblr here, follow us on Twitter here or connect on Google + here.
Emergency: Activate firefly, deploy green (or brown) star cluster, get your wank sock out of your ruck and stand by 'til we come get you.
T&C: All original material published by Breach-Bang-Clear is the copywritten property of Breach-Bang-Clear, Inc. If you wish to repost, republish, or otherwise share our content, feel free to reproduce an extract of up to 225 words and one complete, unaltered image, preceded by attribution crediting the source and author's name, to include a link to the Breach-Bang-Clear home page, with a link back to the full article on our website, BreachBangClear.com. You do not require our permission to do this. Please do not reproduce our content in its entirety without contacting us first. We do allow full syndication on a case by case basis (credited, and posted with a canonical link, as is common practice and in good form) but only when mutually agreed upon beforehand. If you wish to reproduce a complete article, please contact us for permission to publish first.
About the Editors: The Mad Duo are the most renowned, scholarly, door-kickingest action figures since…well, ever. They, their wretched minions and other abject flunkies are an improbable (and awesome) tale unto themselves. Read more about them all here on the RUMINT page.