"Be the Grey Man" How many of us have heard that? Is it something you strive for, do you think its overblown paranoia or something in the middle? Here's one guy's take on it – note, you may agree or disagree, but we know the guy and he does have a good background from which to speak.  Mad Duo
Via Survival Think Tank. Urban survival…remember the riots in London and more than few bad times here in the US? This piece goes beyond our typical EDC/preparedness article and actually drifts what some might call 'prepper' category – that said, we hate the term prepper, in that it's so often used as a pejorative. (Grunts: pejorative.) As though you're someone to be mocked if you've considered what to do in an economic collapse or the onset of serious urban unrest. We're not the type to wear tinfoil hats, but this sort of article addresses some thing we thing smart people will have at least considered. Note: Personally we think there are several places in the US that are already in Phase 1, with a few teetering barefoot on the razor edge of Phase 2.
Grey man – an individual who possesses the skills, ability and intent to blend into any situation or surrounding without standing out, concealing his or her true skills, ability, and intent from others.
The grey man directive, some say, cannot be learned.  Some insist that being a grey man is just something you are–or you're not.  In this article and companion video, we take you inside the mind of a grey man, a man that understands the importance of blending in, careful to exist in the fringes between the pendulum swings of social paradigms.  In most urban survival situations we will likely face at home, being grey is your best course of action to avoid kinetic confrontation.  There is no complete manual on how to be grey; no written instruction to guide you.  It's instinctual, environmental, and situational dependent.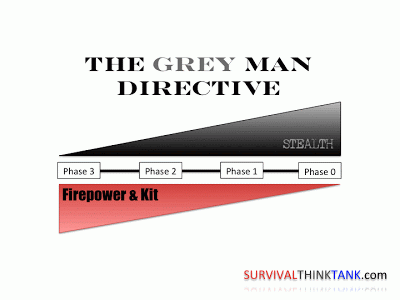 (fig. 1) – STT's graphical explanation of the Grey Man Directive phases (click to enlarge)
The Grey Man Directive is broken down into phases with Phase 0 being every day life in the United States and Phase 3 being an all out Road Warrior throw down in the streets.  The directive assumes you will be interacting with your environment outside your home.  We'd like to note that the term grey man refers to a man or a woman in context of this article.
In the first phase, or Phase 0 of the grey man directive (far right of fig. 1), there is little assessed clear and present danger to you, your loved ones or your property.  In most–but not all–areas of the United States, we currently remain at the Phase 0 level.  In this phase, we can afford to sacrifice firepower for stealth, as stealth is at the top of the grey man's lexicon.  Remember, generally the more "grey" you are, the less firepower and kit (equipment) you have on your person.  It's a trade off and a balance at the same time.
Warning: As of this writing, some regions of the United States are beginning to blur the lines of Phase 1 threat conditions.  Phase 1 will be explained later in the Grey Man Directive.
Agent – for the purposes of the Grey Man Directive, an agent is defined as anyone or anything that the grey man wishes to conceal his/her true skills, intent and survivability assets from.
Phase 0 (normal state) Apparel and Ethos
As you can see in fig. 1 above, Phase 0 is the most stealthy phase of the Grey Man Directive.  It is also the safest operating environment.  In this phase, your goal is to effect interaction with your environment and evade the detection of all agents as to what you really are–someone who will protect yourself and your loved ones with deadly force if threatened with congruent levels of force by a hostile agent (looter, rioter, thug, murderer, etc., etc).
A Phase 0 gray man will not wear compromising articles of clothing such as photographer's or tac vest (fig. 2 below), or any type of overt tactical clothing.  In this most strict phase of stealth, vests like in fig. 2, may cause unwanted delay and questioning by authorities (another type of agent). Clothing like this is a sure signal to authorities that you may be armed. Remember, you not only wish to avoid attention and contact with hostile agents, but also unnecessary contact with agents of the state.
(fig. 2) This tac vest is

not

recommended for Grey Man Phase 0 operations
Head gear: An unassuming ball cap is a great component of the Phase 0 grey man.  It is useful for keeping your face off  high mounted security cameras as it will conceal the upper facial features.  Remember, when choosing your Phase 0 clothing, stay away from target identifiers, like NRA insignias, Tea Party or Gadson Flag markings, firearms manufacturers, etc.  These insignias are an overt signal for the authorities to ask you questions like, "are you armed?" or my personal favorite, "Do you know why I'm stopping you?"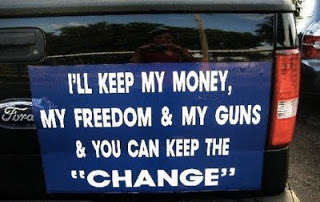 (fig. 3) Don't be tempted, leave the shallow bumper sticker politics to the non-greys
Overt political statements are not for the grey man.  We are men and women of quiet action, not bumper sticker politics.  Yes, this rule goes for your vehicle as well.  We recommend that you remove your target identifiers (fig. 3).
Upper body: Earth tones are always a logical choice in urban camouflage.  Avoid bright colors or faddish styles.  A earth tone or grey t-shirts with little or no brand markings are a good choice.
Belt: Don't skimp on your belt.  Purchase and wear a high quality full grain leather belt with tackle hardware, especially if you are carrying a concealed firearm.  In Phase 0, avoid wearing what we call in the firearms culture, "war belts."  They are thick tactical nylon rigger's belts capable of withstanding heavy lift loads, such as an emergency tactical helicopter extraction.  They are another clear sign that you might be carrying a firearm.  Besides, if you purchase a top quality leather belt from trusted manufacturers, you'll have all the utility strength you need for most survival purposes.  Belts have many uses besides holding your gun–and your pants–on.
Lower Body:  We recommend generic non-designer blue jeans or even khaki work pants, pending your operating environment.  Avoid expensive looking jeans.  People have been assaulted and murdered for less, even in the US.  In Phase 0, avoid pants advertised as "tactical" or "operator" as most of them have military looking pockets and zippers all over them, a dead give away that you are likely armed.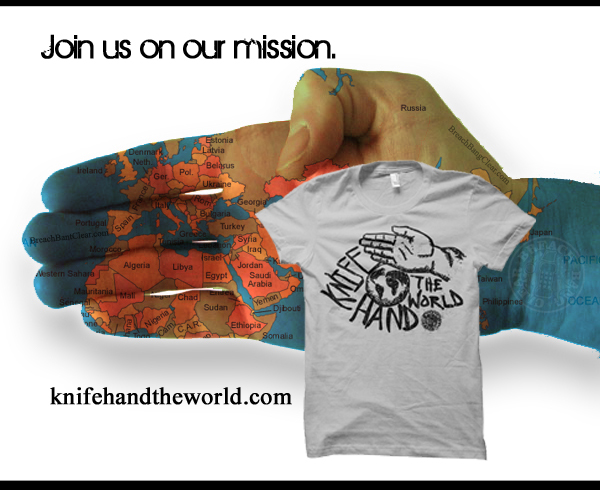 Shorts:  If it's hot outside, shorts are a good Phase 0 threat option.  No one said that being grey means you must be uncomfortable.  You will not blend well if you are the only one wearing jeans on a hot summer day.  Again, consider your operating environment.
Socks:  When applicable, we recommend wool socks.  Wool maintains warmth even when wet.
Footgear: Choose wisely.  We recommend comfortable tennis shoes or quality leather loafers with oil resistant soles (no leather soles).  In a survival situation, you may be walking many miles in your footgear, through bad weather.  When wearing shorts, the best option is something in which you can move quickly.  Flip flops offer no foot protection and slow you down.  Consider this when choosing footgear in Phase 0 operations.  Flip flops are not recommended beyond Phase 0.
Now that we've covered Phase 0 threat operation apparel from head to toe (literally) it's time to go over the kit recommended in a Phase 0, any-town USA environment.  Some of the Phase 0 kit will be applicable for future phases.
Phase 0 Kit
Note: follow all applicable federal and state laws pertaining to firearms.  We regret that many states do not recognize the Constitution of the United States and restrict firearms unconstitutionally.
Weapon system:  In today's day and time in the United States, we highly recommend any would-be grey man to legally carry a firearm for self protection.  As stealth is the hallmark of Phase 0 and the grey man's mantra, we highly recommend reliable polymer sub-compact pistols in 9mm, such as the very concealable Glock 26 shown in fig. 4.
(fig. 4) Sub-compact Glock 26 – 9mm
The Glock 26 is a favorite of many concealed weapon practitioners.  Its compact frame and respectable capacity, coupled with world renowned reliability (Gen III models) make it a solid choice.  You may carry the weapon in any concealed manor that you have trained and are comfortable.  We believe the stealthiest way to carry is inside the waste band (IWB) appendix carry (fig. 5, 6).  Grey men should note that this also adds a certain level of hazard. If you get your shirt caught in the trigger guard during reholstering, a negligent discharge could occur resulting in injury or death.  Be careful and train often if you intend to carry using this technique.  Remember, no one has ever won a gunfight by reholstering quickly!  Be quick to draw, but slow on your reholstering.
(fig. 5) A t-shirt and shorts Phase 0 Grey Man.  Is he armed?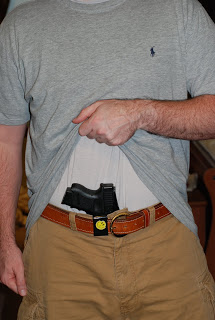 (fig. 6) Yep.
The grey man philosophy on carrying a firearm is simple and has been repeated throughout generations: "I'd rather have it and not need it than need it and not have it."
Smart Phone:  Many would argue that your communications device is your primary weapon in a Phase 0 environment.  Your smartphone is essential kit for Phase 0 for sure, but it won't save you from an active shooter, mugger, flash mob or over zealous Occupy Wall Street thug that wants to beat you to death for no apparent reason other than you being in the wrong place at the wrong time.  Some prefer the flexibility of Droid phones as you have the ability to use external flash storage, keeping survival manuals stored for viewing anytime.  Some like the Apple iPhone platform for their numerous reliable and vetted apps.  The choice is yours.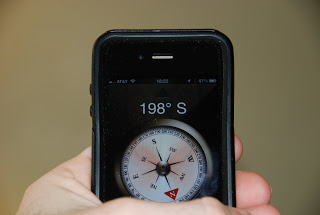 (fig. 7) Smart Phone running a compass application
Folding knife: Carrying a quality folding knife with you is a good idea, but use caution.  Many Phase 0 grey men have been made by friendly agents because of the knife clip showing visibly on the outside pocket.  Some agents may see your knife clip and make the mental link that you are likely armed (which you are).  Paint your clips to match your pants, or clip your knife in a location that isn't visible by any type of agents.  See fig. 8.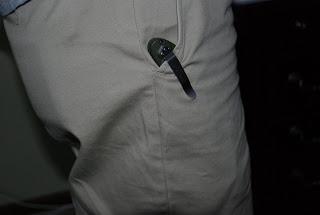 (fig. 8) Something as innocent as this visible clip can shift perceptions, and perception is reality!
Flashlight: Although many smart phones have a flashlight function, a high quality hard anodized aluminum flashlight should still be considered as part of your Phase 0 kit.  Both Fenix and Surefire make good every day carry (EDC) flashlights.  The Fenix E01 clips to your car keys and is hardly noticeable.
Backpack/Courier bag:  The backpack is not recommended for the grey man in a Phase 0 environment.  Remember, you are carrying less gear in order to attain a higher measurement of stealth.  How many suspicious glances might you receive from store clerks when wearing a backpack while walking into a department store or other retail area?  Why?  The employees have been trained to keep an eye on you, as your backpack is a sign that you might be a shoplifter.  You are now a security threat and have just lost your grey status.  Exceptions exist (colleges, hiking trails, etc.).  Bags also invite unconstitutional searches by agents of the state in some major US cities.
Remember, your ultimate piece of kit for this phase is your good judgement.  Use it.
Read the remainder of the article and the other phases at http://www.survivalthinktank.com/2011/11/grey-man-directive.html
What do you think?
Mad Duo, Breach-Bang-CLEAR!