Eyes On | UF Pro Striker HT Pants
Today the Norseman gives us his first impressions of the UF PRO Striker HT Combat Pants.
When I get a new product for testing, review or for myself I like to try and navigate the features without the instructions. It's probably my internal Indiana Jones fantasies driving me to explore new shit. So when I received my UF Pro Striker HT pants, and didn't look at the instructions, I thought my mail got mixed up with the Halo Master Chief.
I opened the box and found the pants in a green cloth bag printed with the company logo, a pair of flex protector knee pads, a pair of solid protector knee pads, and a windproof pants liner (the cloth bag is a nice addition because it provides a place to keep all the accessories together in the bottom of your go bag when not in use). All parts were packaged as sold, in pairs. After laying out all the pieces I put the entire system together without any trouble, and that says a lot. The UF PRO Striker HT Combat pants, while technically not an "instruction manual required" piece of kit, go together intuitively without confusing the user. Everything fit well and placements made logical sense. I would say that at first glance they are perfectly grunt proof.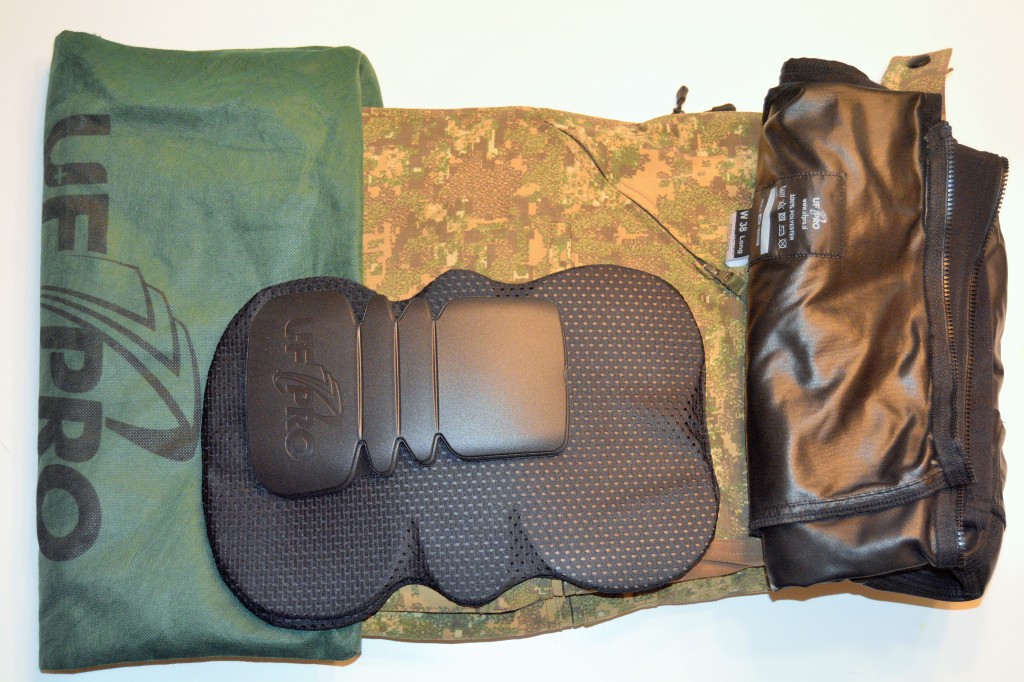 First impressions: looking over the features of the pants without any prior knowledge of the system was exciting. I tried to find all the features before paying a visit to the UF PRO® website; I've discovered about twenty pockets at last count. One thing I noticed immediately was the attention to detail on the seams. That may not reflect total quality but it does reflect attention to detail that can only come from a very meticulous QC at the factory.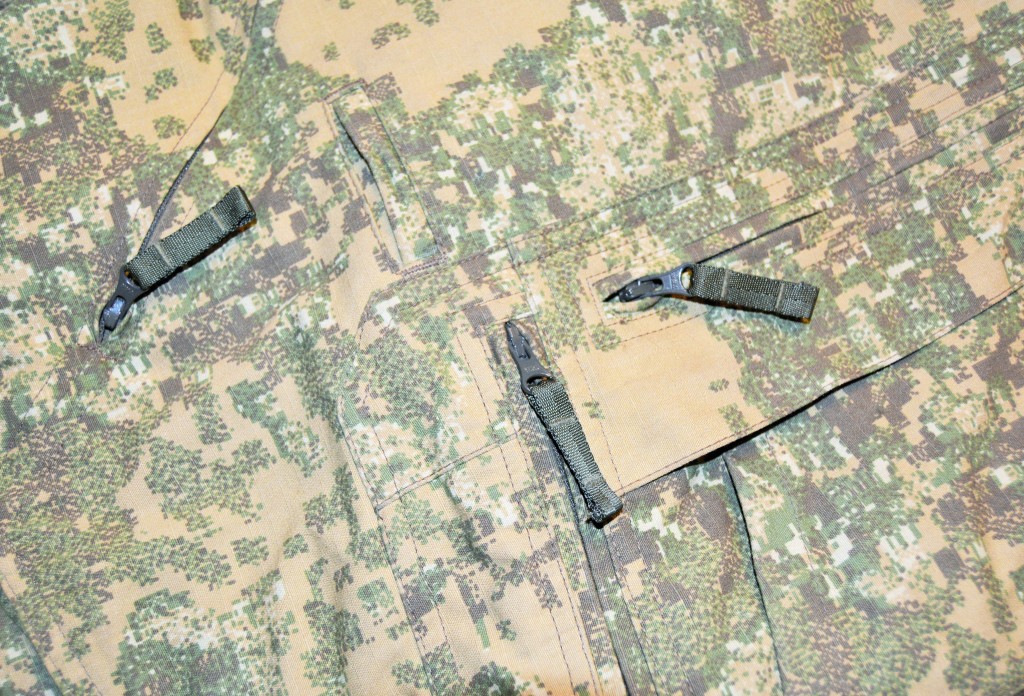 The pair I received came in a PenCott™ Badlands camouflage. If you're not familiar with PenCott™ line, you should be. It's a welcome addition to the ever-growing world of concealment patterns. My wife refers to these patterns as "nanodigiflage," and if you look at them closely you'll understand why. If these pants test out well I may have to invest in a shirt and jacket in the same pattern.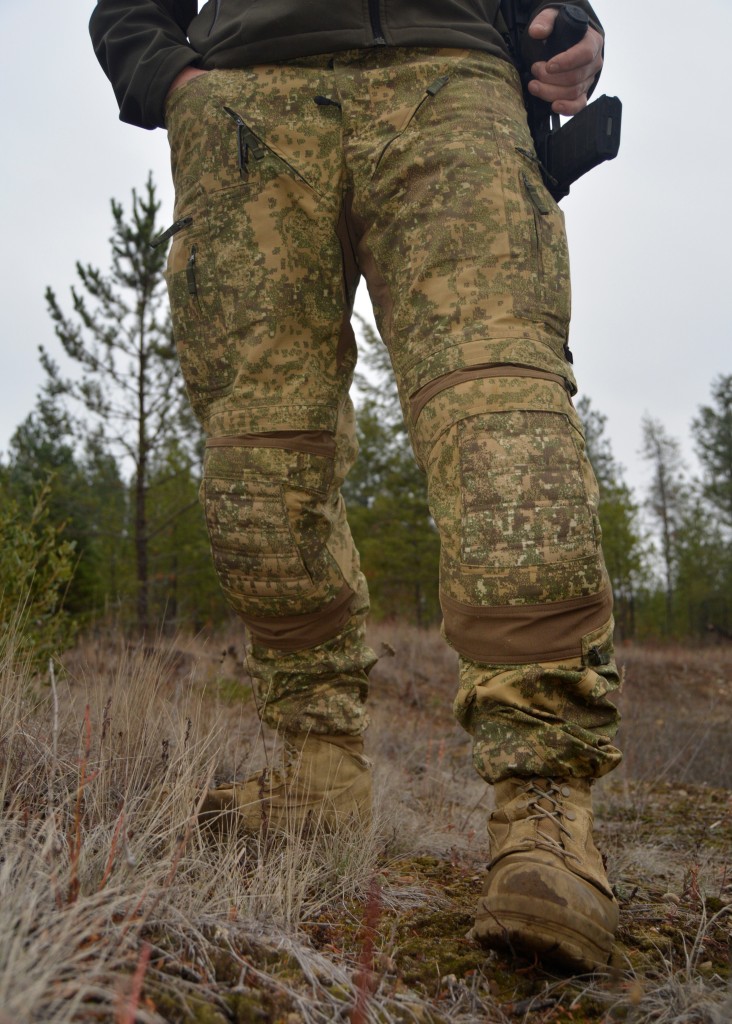 The pants are made of four primary materials. The main platform is 67% Polyester, 33% Cotton Ripstop fabric with accents in 100% CORDURA® on hard-wearing locations, and topped with a coyote brown Schoeller® Dynamic 92%Polyamide 8%Elasthan stretch material on key locations in the legs, seat and crotch gusset. The only other construction material is a soft mesh that covers the vents and bottoms of the two front slash pockets. This does not include the windproof liner which I'll cover in detail in the full review.
There are also the requisite hook and loop materials, snaps, hardware, and of course zippers. The basic platform weighs in at a 2lb 0.9oz without the knee pads and liner. Those accessories add another 1lb 0.7oz to the overall system. So 3lb 1.6oz is a bit on the heavy side for a pair of trousers but not too bad if all the accessories and material in the system are taken into account. The pair that I have are 38/33 so it takes a lot of material to cover my six in the first place.
The sizing is a bit different than standard US charts, so take a look at the adjustments on the web site before you order. My sizes translate on their chart to 38/31. I ended up with a pair for testing that is a 38/33 and they are slightly long but fit great. I prefer them a little long because I like the extra length to account for sitting on horseback, quads, and motorcycles. It just looks stupid if your pants are too short. I think their chart is spot on if you use it correctly and know what you want.
The quality, construction and materials are leagues ahead of the uniforms that I was issued. Only time will tell if these hold up to the rigors of continuous operations; I'm looking forward to putting them through a tough indoctrination and exploring the features more thoroughly. I'll put them through the paces and let you know how they hold up in the mountains. While my super cool operator days have come and gone, I still pound a fair amount of gravel on the goat trails of the rugged mountains of the North West. Like any good Marine, if I find a weakness in this system I'll exploit it. My first impression is that these pants will take my abuse and ask for more.
If you want to learn more about UF Pro or the Striker HT pants go HERE.
Keep calm and drink mead. Til Valhall!
~Norseman