UF Pro Invisibility Cloak | Camoshield
Meanwhile, in Slovenia…the guys working their tactical magin in Trzin would like you to know about Camoshield. So here ya go. 

Nightvision is becoming increasingly common. While hardly ubiquitous, advances in technology and manufacturing processes have definitely made it more accessible to more people in more places. While this not a Bad Thing, it can certainly be problematic for military personnel accustomed to owning the night. The same goes for law enforcement officers and units who must factor the possibility, or even likelihood, their quarry possesses NODs into their risk assessment and planning cycle.
To counter this difficulty, UF Pro has released Camoshield, a thermal infrared protection measure. They advise it will hide your near-infrared signature and your thermal infrared signature by bringing your surface termperature down to "…as little as as little as 10° C." (50° F)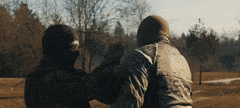 As UF Pro describes it,
Night vision is now so inexpensive and widely available that it's practically everywhere. As a result, military and law-enforcement field units have been clamouring for an effective countermeasure that can keep them concealed in the dark. Introducing Camoshield™, a new technology developed by SSZ Camouflage and Schoeller Textil AG that gives you:

•Permanent multispectral camouflage effect

•Maximum wearing comfort

•Minimal weight

•Superb protection against the elements
UF Pro's Camoshield can be "stacked" with other technologies they use in their uniforms, including Pyroshell flame retardancy and INZECTIC insect protection.
Alas, Camoshield is currently sold to military and LE units only, and then only in volume. Learn more about it right here on the UF Pro Camoshield website.

---
Declare for Morning Wood!
Come, stroll the awe-inspiring aisles of the Morningwood Bazaar.  Earn the right to wear our sigil and speak our words.
If you wish to cite, syndicate, or curate our material, or if you're wondering about our please be so kind as to read our Terms, Conditions, and Disclosures.
Take heed! We have advertisers, sponsors, and affiliate relationships with some of the companies you will be reading about (particularly, but not limited to, archival posts). If you purchase one of those items, we will get a small commission from the sale at no additional cost to you. A lot of work goes into Breach-Bang-Clear; by making your purchase through one of our portals you'll be supporting our work. This will help us buy beer, bullets, and barbecue, and we won't have to put pop-up ads and other such stupid shit into our articles to pay our expenses.