Tuffy Announces Model 335 Under Seat Security Drawer

Tuffy Announces Model 335 Under-Seat Security Drawer
Ashley Bunch
Tuffy Security Products recently made an announcement many of you will be interested in: the Model 335 Under Seat Security Drawer is now on the market. The Model 335 will fit under the seat of 2011 and any newer Ford Explorer SUVs, as well as any of the increasingly ubiquitous 2013 and newer Ford Police Interceptor SUV model vehicles.
Grunts: ubiquitous.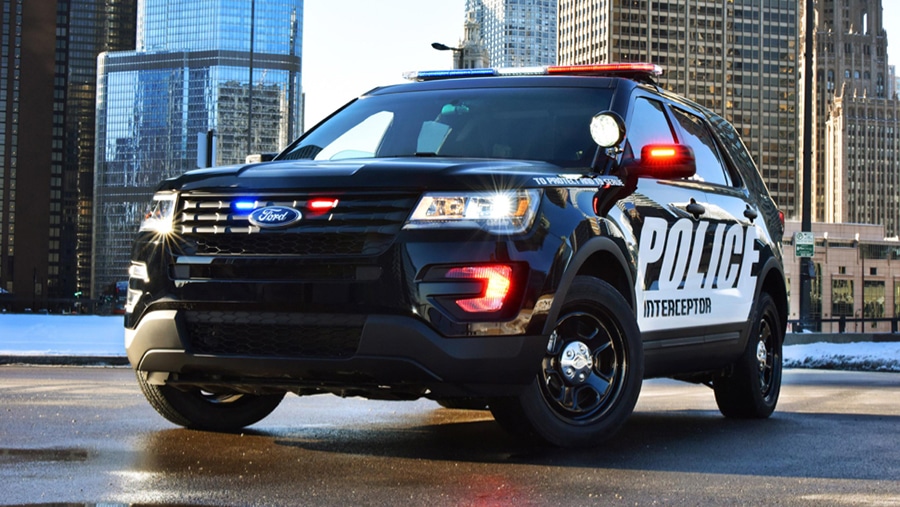 The most significant thing about the 335 security drawer is that it cannot be seen from outside the vehicle. This makes it not only suitable for law enforcement and other security services personnel, but also armed citizens for those occasions when there's just no option but to leave a weapon or something of similar importance in the vehicle.
They tell us it will provides more than 200 cu. in. of storage space, and that it's built with 16-gauge steel construction and a pick-resistant 10-tumber double-bitted lock (that features their Pry-Guard patented locking system). It will attach below either the driver or passenger seats without drilling of the floor pan, using OEM seat mount points and bolts. All you'll need to install it are basic hand tools.
Yet more good news is that the fully extending lockbox and drawer (which rides on a roller bearing slide system) have built-in weather seals — not because we think you might decide to do some underwater driving or anything like that (though some of you would no doubt try it), but because it helps mitigate (if not completely eliminate) everyday moisture and dust.
If your job or daily activity requires you to have an extra tool stowed away in this stealthy security drawer while maintaining ready access, you're be wondering about the locking system. Tuffy says it is 100 percent welded, with a formed enclosure rib for additional strength, and that you have the option of closing cover without locking it. This means you don't have to worry about fidgeting with a lock should fecal matter strike the oscillating rotary device. However, the drawer must remain locked while the vehicle is being operated. Tuffy says the black textured powder coat on the exterior is chip and peel resistant, and that it can be opened or closed easily with a conveniently placed pull lever.
There's and additional option of purchasing foam inserts and carpeted liners, so that precious cargo stays protected from your terrible driving (or if you try a PIT maneuver that devolves into rolling and tumbling vehicular intercourse).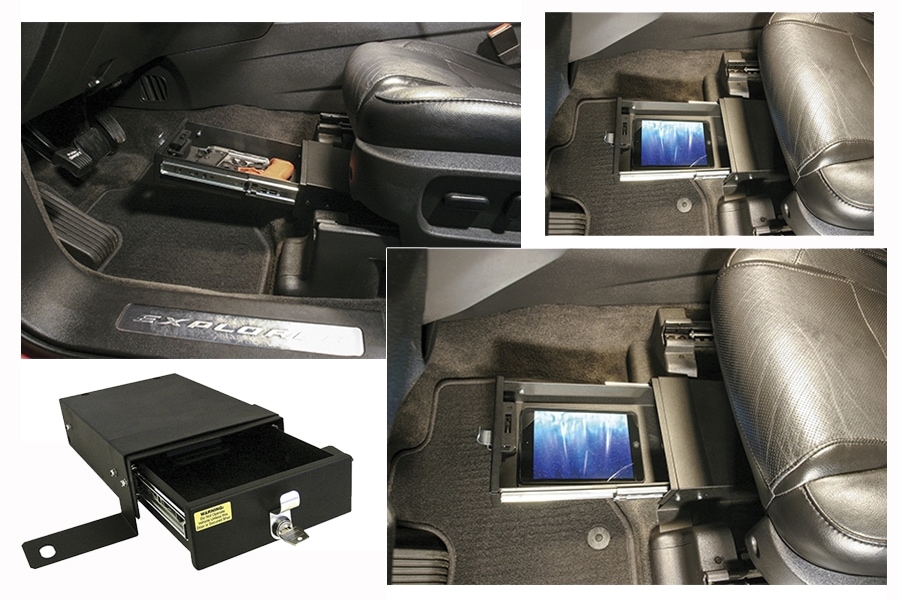 Says Tuffy's Security Products Marketing Manager Chip Olson,
"Our Model 335 Under Seat Security Drawer for the late-model Ford Explorer and Ford Police Interceptor SUV is perfectly suited to law enforcement and other security services use. The Model 335, and all of our other security storage products and accessories are made with top quality American craftsmanship…our vehicle storage solutions protect expensive law enforcement gear and supplies for as long as the vehicle is in service," 
Features include:
• Over 200 Cubic inches of lockable storage space.

• Exclusive 10 tumbler double bitted lock with built in weather seals.

• Pry-Guard locking system featuring 1/8″ thick welded steel components.

• Pull lever for easily opening and closing the drawer.

• Formed rib in the enclosure additionally strengthens locking system.

• Tuffy's exclusive bolt-blocker bracket is included for additional security.

• Stealthy design is hidden under the seat from prying eyes.

• Welded 16 Gauge steel construction.

• Easy install, no drilling.

• No need to reroute under seat wiring harnesses.

• Durable texture powder coat.

• Heavy duty smooth rolling ball bearing slides.

• Weather & dust seal.
Want to know and see more? You can visit the Tuffy Security Products website for additional pictures and details on this and other products. Check hashtag #tuffysecurityproducts on Instagram for candid photos of TSP offerings in use, in the field. Tuffy Security Products can be found on Facebook at /tuffyproducts/.
This article made possible in part by American Defense Manufacturing (@americandefensemfg), a member of JTF Awesome.

---
---
This article was lovingly prepared for you by the Breach-Bang-Clear News Team.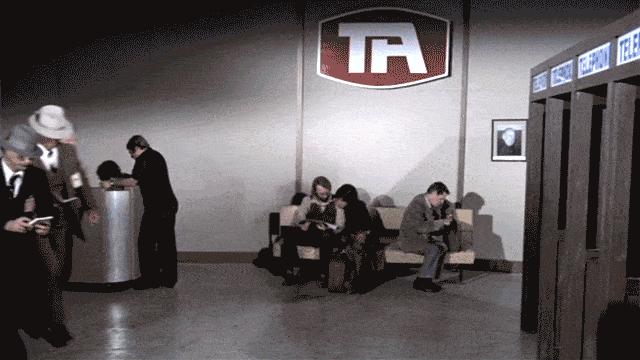 Mad Duo, Breach-Bang& CLEAR!
Comms Plan
Primary: Subscribe to the Breach-Bang-Clear newsletter here; you can also support us on Patreon and find us on Pinterest.
Alternate: Join us on Facebook here or check us out on Instagram here.
Contingency: Exercise your inner perv with us on Tumblr here, follow us on Twitter here or connect on Google + here.
Emergency: Activate firefly, deploy green (or brown) star cluster, get your wank sock out of your ruck and stand by 'til we come get you.