Trijicon Intros New Optics | NRAAM 2018
Headed your way later this Summer is a couple new bits of shootin' glass from Trijicon. Two versions of a long range optic, and a green dot MRO.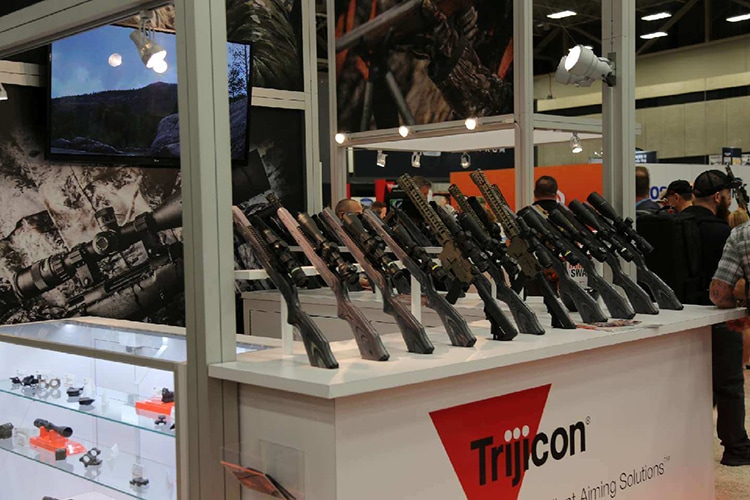 Trijicon RS50-C (-Etc.)
is the RS50-C-1900030 5-50×56 MOA and RS50-C-1900031 MRAD Dot Crosshair scopes. They're 505-x56 long rang optics that, according to Trijicon, "redefine extreme long-range performance." Lenses are anti-reflective, magnification is controllable and repositionable, and they have all sorts of cool features good for shooting long distances or creeping on that hawt chick the next county over.
• Extra Low Dispersion glass delivers true colors for exceptional target definition
• Fully multi-coated broadband anti-reflective optics virtually eliminate glare and loss of light
• 56mm objective lens for outstanding light transmission even in low-light conditions
• Precise tracking with crisp 0.05 MRAD per click adjustments
• Exposed 29.1 MRAD elevation adjustment range w/ Return to Zero & 14.5 MRAD capped windage adjustment range w/ optional Windage Restrictor
or
Precise tracking with crisp 0.125 MOA per click adjustments

Exposed 100 MOA elevation adjustment range with Return to Zero and 50 MOA capped windage adjustment range with optional Windage Restrictor
• Upgraded illumination control with 5 red and 5 green user-selectable brightness settings
• Smooth, controlled magnification with repositionable magnification lever that accommodates multiple platforms and firing positions
• Rugged, aircraft-quality, hard-anodized 34mm aluminum body offers all-weather protection
• Precise milling and hold-over illuminated second focal plane reticles designed for extreme long-range precision
• Reticle-etched FOV magnification ratios help keep user's eyes on target
• Reticle with illuminated open center dot offers pinpoint target placement at high magnification
• 0.2 MRAD wind hold dot system for acquisition of moving targets and follow-up shot corrections
• Alternating 0.1 MRAD and 0.2 MRAD stadia heights provide quick target ranging
or 
MOA reticle offers

uncluttered

design that maximizes

field

of view

Alternating 0.5 MOA and 1.0 MOA stadia heights provide quick target ranging

Thin 1/32 MOA stadia lines enhance target visualization at high magnification
RS50-C-1900030: AccuPower 5-50×56 Extreme Long Range Riflescope w/ Red/Green MOA Crosshair Reticle, 34mm Tube .
RS50-C-1900031: AccuPower® 5-50×56 Extreme Long Range Riflescope with Red/Green MRAD Dot Crosshair Reticle, 34mm tube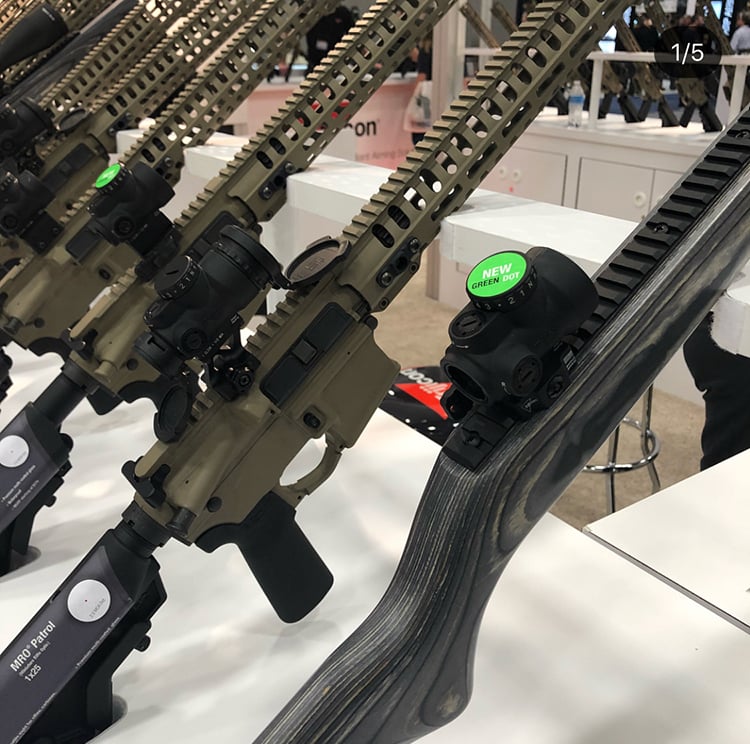 Trijicon MRO-C-22000 (etc.)
The new MROs are all 2.0 MOA Adjustable Green Dots. One version has a low levered quick release mount, another has a full co-witness levered QR mount, the last one has a lower one-third co-witness levered QR mount.
Here's what they tell us.
The Trijicon MRO with green dot continues the legendary dependability of the MRO,  featuring an adjustable 2.0 MOA green dot and exceptional lens clarity with a reticle that has a greater contrast against forest, grassland and tropical environments. This is because the human eye is more sensitive to this green color, making this MRO especially effective for fast target acquisition in low light and transitional lighting conditions.
The large aperture and tapered light path maximizes the viewing area in such a small optic, allowing for fast target engagement – especially from non-standard shooting positions. Advanced lens coatings and electronics produce a crisp green dot.
The brightness control dial on the MRO is specifically designed for ambidextrous usage. With a mid-adjustment "off" position and eight discernible brightness settings, this brightness dial allows for quick and ergonomic adjustments.
The MRO features fully protected adjusters that maintain zero even during rough handling, and can be adjusted without the need for special tools.
Hard-anodized, forged 7075-T6 housing is fully sealed and waterproof, providing durability in demanding conditions.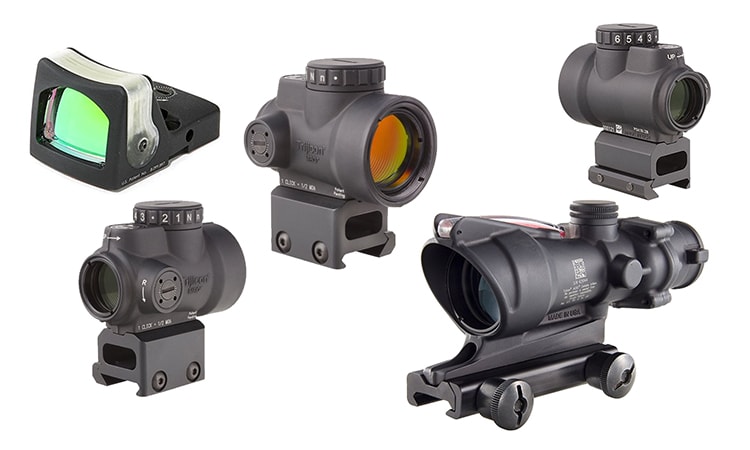 Quick price comparison below.
This is why we recommend a monthly membership if you spend more than a couple hundred bucks a year on gun parts and ammo. Big Daddy Unlimited is effectively a buyer's club. You buy at distributor rates.
Don't want to wait on the new green dots or the older red dots either? Lots of Trijicon optics are available via Prime. There is also a wide selection on BDU as well (and the price is better there, as you can see).
Are you at NRAAM 2018 in Dallas? Go see Trijicon yourself.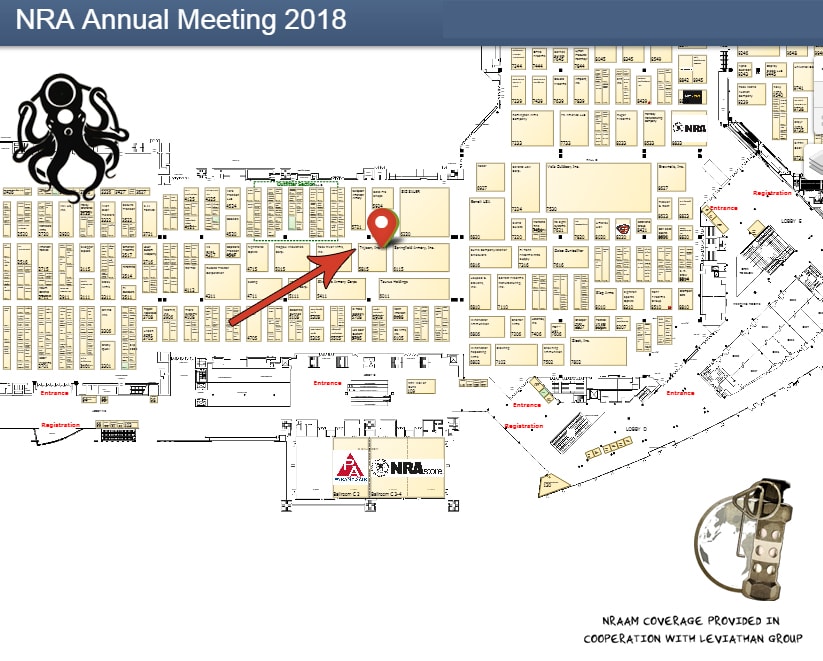 Breach-Bang-Clear coverage of NRAAM 2018 brought to you in part by Leviathan Group (@leviathangroupllc) | Unrivaled Marketing. Power Without Equal.

---
Declare for Morning Wood!
Come, stroll the awe-inspiring aisles of the Morningwood Bazaar.  Earn the right to wear our sigil and speak our words.
If you wish to cite, syndicate, or curate our material, or if you're wondering about our please be so kind as to read our Terms, Conditions, and Disclosures.
Take heed! We have advertisers, sponsors, and affiliate relationships with some of the companies you will be reading about (particularly, but not limited to, archival posts). If you purchase one of those items, we will get a small commission from the sale at no additional cost to you. A lot of work goes into Breach-Bang-Clear; by making your purchase through one of our portals you'll be supporting our work. This will help us buy beer, bullets, and barbecue, and we won't have to put pop-up ads and other such stupid shit into our articles to pay our expenses.