Top 10 Coolest Inventions of the IDF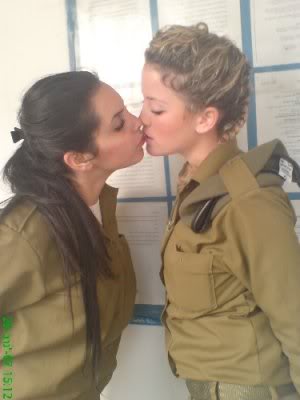 10 ההמצאות הישראליות- צבאיות הגדולות אי פעם
אנחנו אוהבים את ישראל מכמה סיבות-גם בגלל הפוסיקט בתל אביב וגם בגלל בר רפאלי
Yup.
In any case, since that translation may be way off, what we're talking about are the Top 10 Coolest Ever Israeli Military Inventions (according to Buzzfeed anyway).
They include Amos Golan's "Corner Shot", the "Human Backpack" IPC from Agilite (see below), the fighter pilot HUD (Heads Up Display) from Elbit Systems, Rafael's rocket protection system for vehicles (the "Trophy"), the Micro Tavor from IWI, Bernard Bar-Natan's Israeli Bandage, the Mitzfenet, the Davidka (a mortar that shoots garbage, which is pretty kewl), Krav Maga and genuine X-Ray vision from Camero.
That's what you'll find in this article on Buzzfeed.
We would like to add the girls of the IDF to that list.