Tom Brown Tracker #3 | TOPS 20th Anniversary
Here's a survival knife we'd like to get our hands on.
Known as one of the most iconic survival knife designs on planet Earth, the Tom Brown Tracker has been one of the highest selling TOPS models in their 20 years of business. So they decided that one of the TOPS' 20th-anniversary limited edition knives should be a Tom Brown Tracker. They chose the Tracker #3 specifically because it has features that have been upgraded. For instance, the steel was upgraded from 154cm to S35Vn, the Black Linen to Brown Burlap Micarta, and standard Kydex was upgraded to custom quality burgundy leather. This makes it a perfect collector's piece.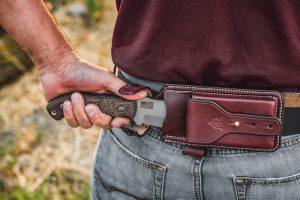 Pick up the Tracker #3 20th Anniversary Edition from a TOPS authorized dealer or directly from TOPS at www.topsknives.com/20th-anniversary-tracker.
Features:
Overall Length: 10.75"
Blade Length: 5.75"
Cutting Edge: 5.5"
Blade Thickness: 0.19"
Blade Steel: CPM S35VN
Blade Finish: Tumble Finish
Handle Material: Burlap Micarta
Knife Weight: 14.4oz
Weight w/ Sheath: 22.3oz
Sheath Material: Burgundy Leather
Sheath Clip: Belt Loops
MSRP: $400