The Harsh Truth About Timney Triggers | PSA
It pains us to have to make this announcement, but there is something you need to know about Timney Triggers. Breach-Bang-Clear
The Harsh Truth About Timney Triggers
A Public Service Announcement From Breach-Bang-Clear
News Desk
There are two new triggers from Timney available now for pre-order at Rainier Arms. One is a two-stage trigger for SIG SAUER's MPX, the other is a single stage trigger for the SIG MPX. Both are available in curved and straight shoe versions. Now, under most circumstances that would be good news. Timney builds an excellent product, one of the best triggers ever.
However, because of some things we've read on the interwebz, we find ourselves in the unusual position of having to issue something of a warning, to wit:
If you purchase a Timney Trigger, you need to use them in the specific weapon it was designed for.
Shocking, right?
That might seem unfair, but that's the way it is. If you buy a Timney MPX 2 Stage, it's very likely not going to work in an IMBEL. Similarly, a Timney MPX single-stage trigger will almost certainly fail to function (at least with any consistency) in a SCAR.
We have put together a couple helpful charts for those who remain confused about this. Please consider sharing with the crayon-eaters of the world.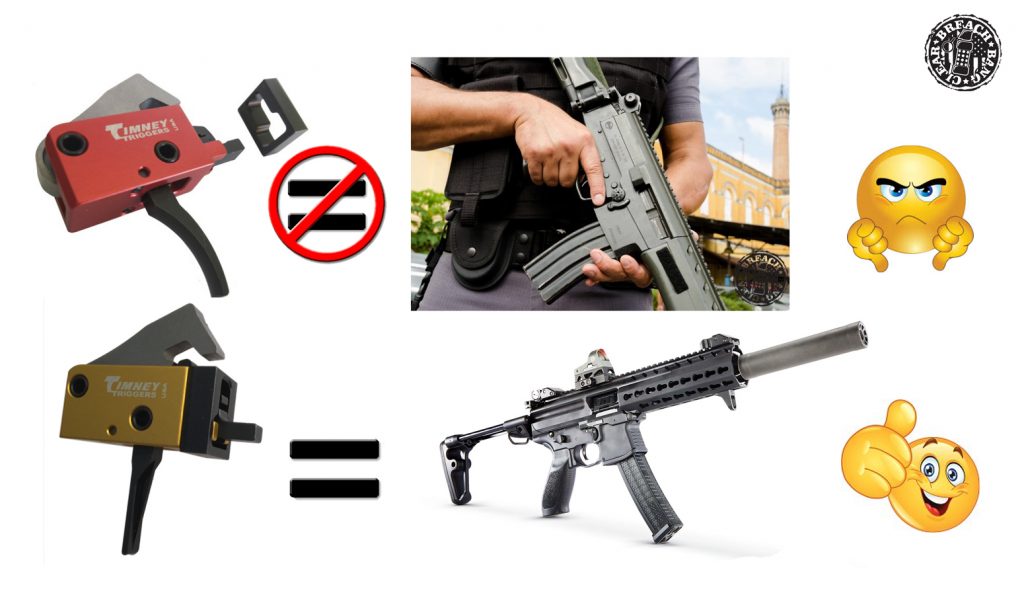 We feel fairly confident saying this will hold true for most triggers vs. weapon types, i.e. one cannot expect a Timney Targa 2-Stage Long 1st Stage Trigger to be the best choice for a Micro-Uzi, etc.
We hope this has helped. For those who failed to catch one, well…caveat emptor. (That's Latin for Seize the Day.)
Now, a few words from Timney Triggers.
Description:
The Timney replacement trigger for the SIG MPX carbine rifle is the latest in the Timney lineage of AR-style, semi-automatic, replacement triggers.  Timney is offering two models for the MPX curved and straight shoe options for each model.

The trigger, hammer, and bridge are constructed of heat-treated steel.  The housing is machined 6061, T6 anodized alloy and the trigger is factory calibrated for a pull weight of four pounds with a  two-pound first stage and two-pound second stage for the two-stage model. 

The trigger is a self-contained, 100% drop-in trigger ready to install in your rifle for an exceptionally smooth, crisp, trigger pull with no gunsmithing, fitting, or adjusting required.
Tech Tip:
The new Timney Trigger for the SIG MPX trigger is a 100% drop in replacement that features a hardened steel bridge to protect the trigger components from the vigorous bolt blow back characteristics prominent in Pistol Caliber Carbines. 

The single stage trigger features a non adjustable trigger pull weight of 3 pounds. 

The two stage trigger features a non adjustable trigger pull weight of 2 pounds + 2 pounds. 

Drop in installation is simple once the SIG Factory trigger is removed, you will reuse the factory Hammer and Trigger pins. Set screws are located in the housing to lock the trigger in place and prevent the pins from walking out of place. 

The Timney drop in SIG MPX trigger works with the factory safety as well as many aftermarket replacements.
You can find all Timney products carried by Rainier Arms in the Timney Trigger section of their website. Follow Timney Triggers on Instagram, @timney_triggers.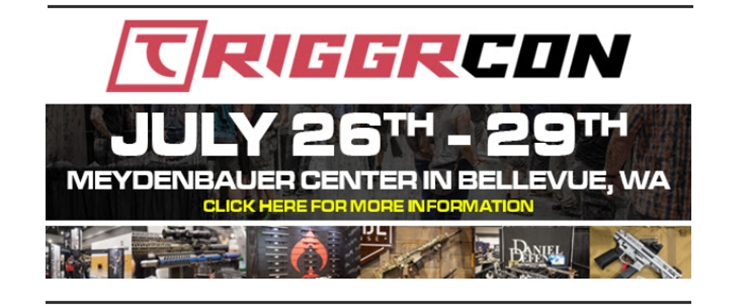 If you wish to cite, syndicate, or curate our material, please be so kind as to read our Terms and Conditions.
---
From the News Desk…
Breach-Bang & CLEAR!
We're not comparing ourselves to these folks at all — hell, we'd be more qualified to join the Justice League. We're just saying these are people you should know.