If you don't like violence, or don't want to shoot people, it's okay. You can do a presence patrol instead. Oh, and you don't have to use explosives – you can leave the decision to a platoon vote. Also, you're not allowed to shoot at them before they shoot at you. You'll have to just use your flashlights. Hooah battle?
Big Sarge has a great delivery.
"The Sarn'nt Major has really done a bang-up job enforcing standards in the Battalion."
"We need to turn back in, there is too much alcohol involved in this evening."
"I don't think women in Battallion would be that big of a deal; they're our equals."
"I think they should start with Ranger Battallion, and then if they were good enough, maybe they could be come Navy SEALs."
"I'm not drunk enough to sleep with her."
Note: the shirts are from Blackside Concepts; check 'em out, support the business.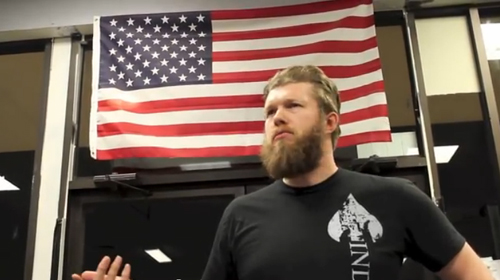 Mad Duo, Breach-Bang & CLEAR!