Then Someone Took The Chris Kyle Mythos Too Far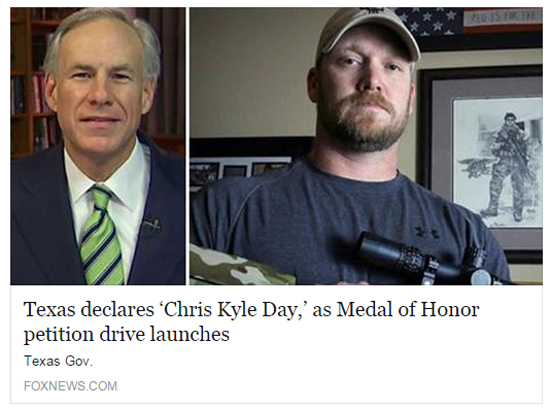 There's a proposal out there to award former Navy SEAL CPO Chris Kyle the Medal of Honor, our nation's highest award for valor. Kyle and his neighbor Chad Littlefield were murdered 2 years ago yesterday by a former Marine allegedly suffering from PTSD. In addition to making the national news, the movement is trending across almost every social media platform. Lots of people are hitting the 'thumbs up' button, sharing, retweeting, etc.
That is not my reaction. My initial reaction is anger bordering on disgust. Let me explain why.
American Sniper is now apparently the #1 grossing "war movie" to ever hit the box office. It may end up as the second highest grossing movie ever made about a real person. Ever. That, to my mind, is a Good Thing – regardless of your stance on the mythos of Chris Kyle (and rest assured, it is a mythos), one cannot deny it has done much to bring 'the war' and veteran issues to a depressingly capricious and largely uninvolved public. Just about anything that bridges the gap between the warrior class and the remaining 97% of the population should be welcomed. We are, after all, living in a time when a reported less than 1 in 3 citizens has a direct connection to anyone who served in the military (parent, grandparent, sibling, child, spouse). Compare that to more than 3 in 4 in the 50s and 60s.
That said, we cannot conflate the story of Chris Kyle as portrayed in the movie with the overall story of the Iraq War (as some jackasses seem to do) or with any form of partisanship. Most importantly we must avoid taking what has become the man's elevation to pop culture status and making it something it's not. To do so cheapens and distorts not only his actual service, but that of everyone who served. An example of this comes from Allen West, who recently expressed tacit support for the current whitehouse.gov petition while simultaneously taking a shot at POTUS.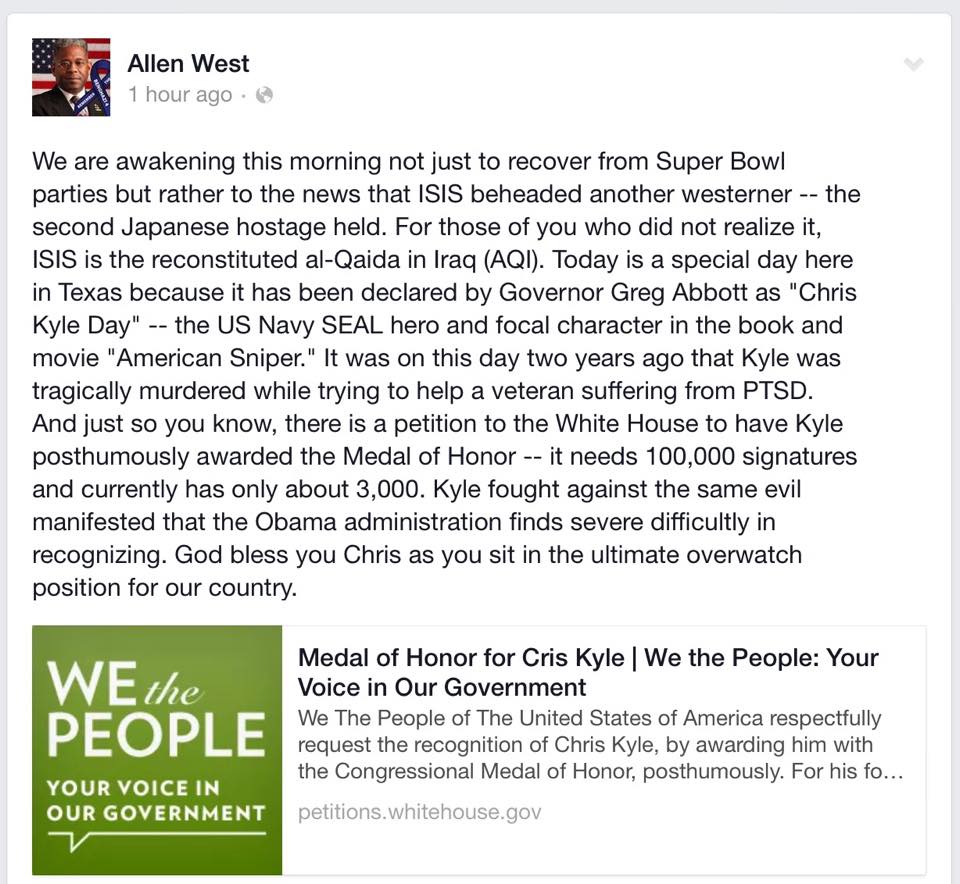 Think about that. Not only has someone taken the cresting pop culture identity of Chris Kyle and used it in a fashion completely inconsistent with the standards and lore of the nation's highest award for valor, a former military officer turned politician has cheapened it (and himself) even further by publicizing what otherwise might have slipped under the radar (as it should have). The idea that the Medal of Honor should somehow be 'voted for' in a petition, then awarded, because of any soldier's mainstream visibility is beyond contemptible. It defiles not just the measures by which the Medal of Honor is weighed, but every soldier who has ever been its recipient. To use it for political gain is just as sickening.
One might argue this was a heartfelt nod by former Representative West toward an effort he deemed righteous and praiseworthy, or that this is no different than Governor Abbot declaring 02 FEB "Chris Kyle Day" in Texas – but one would be wrong. West, a former Lieutenant Colonel in the Army, has either forgotten what he learned while serving (doubtful) or he's contriving a reason to wax melodramatic on a future episode of the Hannity Show. Call me a cynic, but it's pretty clear which is more likely. And that makes it all the more abhorrent.
The Medal of Honor is a terrible and solemn matter of tremendous import. It is not, nor should it ever be, a popularity contest or political matter. It should not be treated like a Daytime Emmy. It should never be leveraged for any partisan purpose.

As for Chris Kyle Day – well, he was a son of Texas. That sort of honorific at the state level is utterly acceptable, even exemplary. I wish we had an Ernest Childers Day in Oklahoma, or at least in my hometown.
I did not know Chris Kyle well – I had a few beers with him on exactly two occasions, which qualifies me to opine upon Kyle the man about as much as those who never met him at all. Some friends I hold in great regard did know him, however, and thought him admirable and honorable. That's plenty good enough for me. While I wish the movie had been done just a little bit differently, I do think as films go it will help educate otherwise clueless if well-meaning Americans. (Note that none of my issues with the movie were huge, but they were enough to nag at me – apparently no one involved in the making of the movie ever heard the name Chad Littlefield, I didn't care for how they flavored conventional troops, and I still don't understand why Bradley Cooper As Kyle was waving a revolver around and pointing it at Taya's character near the end….but I digress.)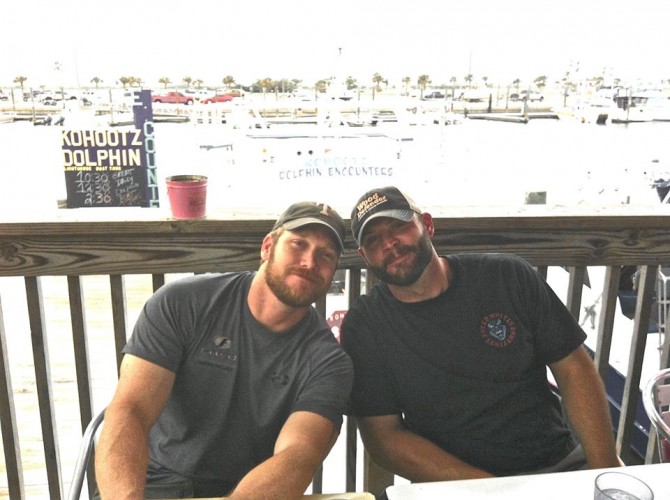 I don't know whether Kyle was a torn and troubled man who did what he had to despite how "terrible" it was. Nor  do I know if he was a functioning and patriotic sociopath (as some have alleged) who was in the perfect billet to utilize his skills effectively on the battlefield. If the latter, I don't care. Neither of those is a Bad Thing, as I see it. Both conditions have their place in the noble profession of arms and prosecution of war against our country's enemies; neither has anything to with the issue at hand.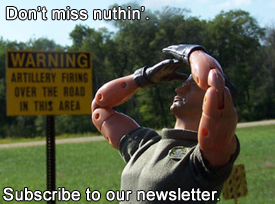 What I do know is that a petition to award Chris Kyle the Medal of Honor based on pop culture status, or not-so-veiled political legerdemain, is ludicrous. This should not be confused as an attempt to minimize what Kyle did in the service of his country (which was more in a fraction of just one tour, I'm sure, than I did in the entire two decades of my career). It's just common sense. In fact, if Chris Kyle was anything at all like the movie portrayed and his friends (including our mutual friends) describe him, he'd be the one telling you this. You can admire a man without canonizing him. Rest assured, if the Naval Special Warfare community and or the Secretary of the Navy reckons Kyle should be considered for The One They Hang Around Your Neck, they'll say so.
Honoring this man's memory and service, if that is your inclination, should be enough. Allowing this movie to proselytize issues we want people at the mall to know more about is sufficient. But taking the burgeoning mythos into farcical adulation is as disgusting as the vitriol and banal stupidity spewed by the likes of Michael Moore, Seth Rogen, Ayman Mohyeldin and Matt Taibbi.
If you want to do something positive, don't craft stupid petitions or make an ass of yourself with self-serving comments about a dead man's patriotism. Go volunteer at a Veteran's Senior Center (this one is closest to my house). Donate some money to America's Might Warriors or the Chris Kyle Foundation itself (now there's an idea). However good it might feel to support a petition like this one, it's wrong, and it's not a valid substitute for "supporting the troops" much less furthering Kyle's post-Navy mission.
I don't like the idea that some dumbass could ruin a good thing. I don't like the proposition that media popularity might besmirch or minimize the service and sacrifice of our soldiers, and not just that venerated few who have been awarded the Medal of Honor.
It's possible however I'm just being reactionary. I would be interested to hear what you think.
Featured image courtesy of Brian K. Sain. 
 Some hyperlinks in this article may contain affiliate links. If you use them to make a purchase, we will receive a small commission at no additional cost to you. It's just one way to Back the Bang. #backthebang