Winchester M1876 – a Tribute to Tom Horn
A little history of the Winchester Model 1876; classic, expensive and iconic.
Winchester Model 1876 – the Cimarron Arms Tribute to Tom Horn
Steve McQueen's penultimate film (second to last for you non-literary minded types) was Tom Horn in 1980, and in a rare twist for a Western, the focus was on the cowboy's rifle as opposed to his six-gun. This was no pistol-caliber lever action carbine, nor was it a long-range Sharps rifle. It was somewhere smack in the middle, in the form of a Winchester Model 1876.
An original Model 1876 in decent condition will set you back a few thousand. These were probably the world's first repeater express rifles, for lack of a better term, yet Cimarron Firearms is offering up a replica made by Uberti that is a dead ringer for the Tom Horn movie rifle.
History on the Winnie
Winchester introduced the Model 1876 Centennial to celebrate the American Centennial Exposition. Unlike its previous lever action rifles, the Model 1876 was designed to be a powerful big bore hunting rifle as opposed to a lever action repeater which fired handgun-type rounds.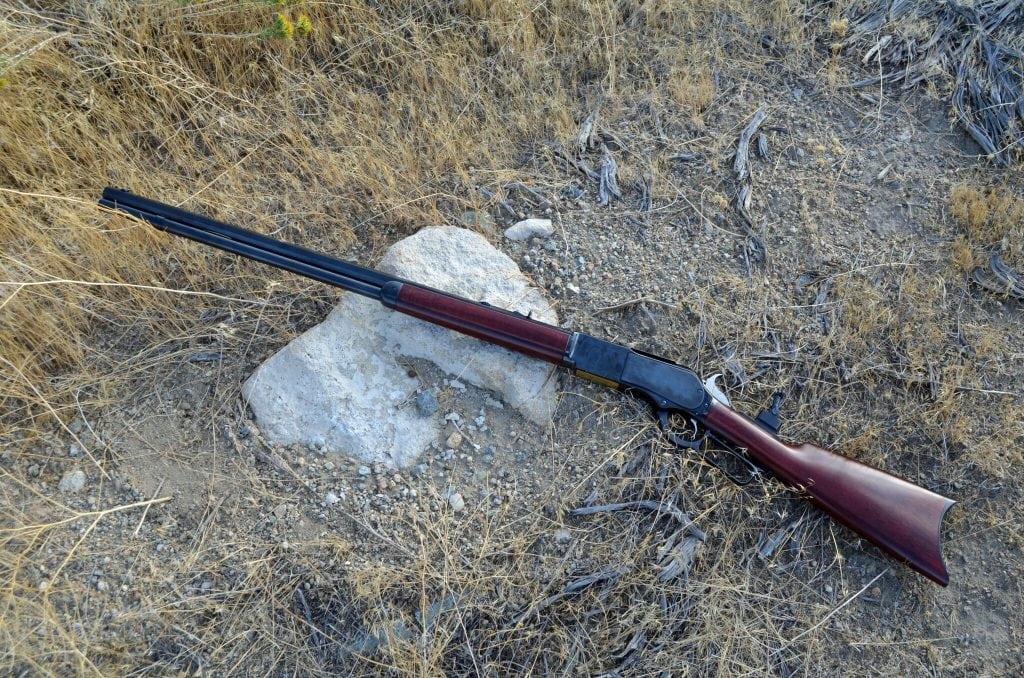 Standard versions of the rifle had a blued finish, and deluxe models featured a case hardened receiver. Four versions were produced: a 22-inch barrel Carbine, a 26-inch barrel Express Rifle with a half-length magazine, a 28-inch barrel Sporting Rifle, and a 32-inch barrel Musket. There were three iterations of these models: The first model had no dust cover, the second had a dust cover attached by a screw, and the third incorporated an integral dust cover.
The receiver was too short to accommodate the popular 45-70 cartridge of the day, so Winchester chambered the rifles in shorter rounds intended to replicate the 45-70's ballistics. The initial offering was in a round called the 45-75 Winchester Centennial and was followed by 40-60 Winchester, 45-60 Winchester and 50-95 Express (only the Express Model was offered in this caliber, and it was the only caliber available for the Express).
With more powerful smokeless powder cartridges on the rise, sales for the Model 1876 began to taper off toward the end of the 19th century. It was also bumped aside by the introduction of Winchester's Model 1886 that was chambered in the more easily obtainable 45-70 Government round. Production of the Model 1876 ceased in 1897, with a total of 63,871 models built over its 21-year run.
Tom Horn
If you haven't seen the movie or never cracked open a book about the Apache Wars, Tom Horn was a scout and interpreter for the US Army during the Geronimo campaign. He led a colorful life as a rodeo cowboy, detective, Rough Rider, and rancher.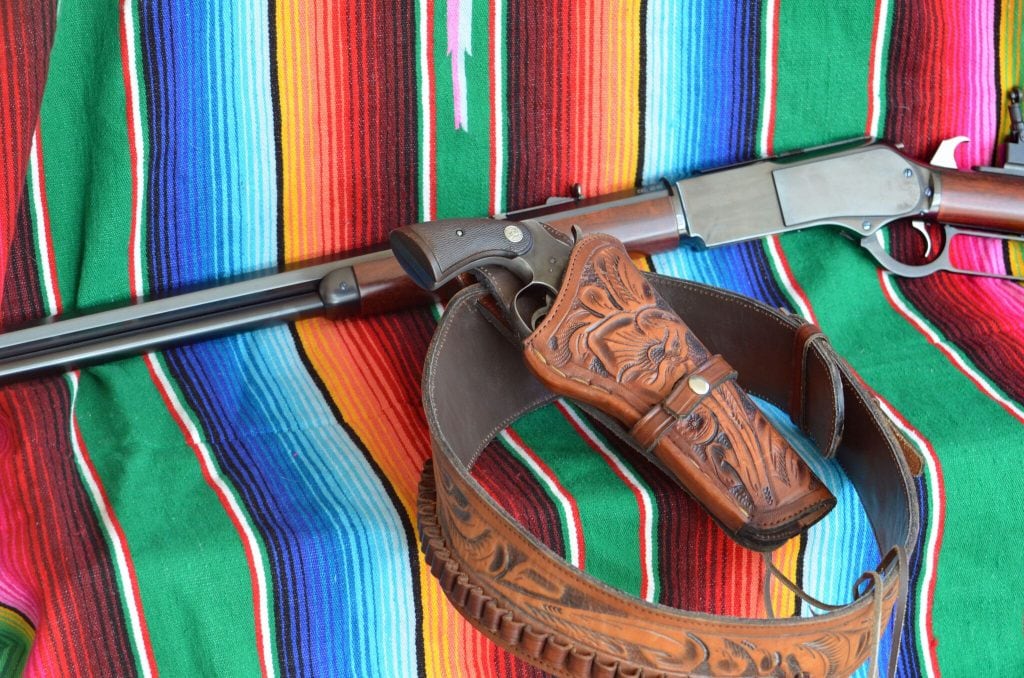 He was infamously known for the murder of a 14-year-old boy named Willie Nickell, the son of a sheep rancher involved in a range war with Horn's employer, Jim Miller. On July 18, 1901, Willie Nickell was found murdered near the gate to the family's homestead. He was wearing his father's hat and coat, and it was believed that whoever shot him mistook him for his father. Six months later Horn allegedly confessed to killing him with his rifle from 300 yards, which he boasted as the "best shot that [he] ever made and the dirtiest trick that [he] ever done." Horn's trial went to the jury on October 23, 1902, and they returned a guilty verdict the next day.
Horn was hanged on November 20, 1903, by a water-powered gallows known as the "Julian Gallows." James P. Julian, a Cheyenne, Wyoming architect, designed the contraption in 1892. The trap door was connected to a lever which pulled the plug out of a barrel of water. This would cause a lever with a counterweight to rise, pulling on the support beam under the gallows. When enough pressure was applied, the beam broke free, opening the trap and hanging the condemned man.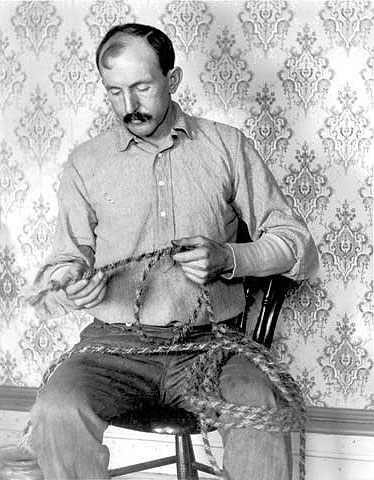 Despite his confession and his very limited trial defense, many people did not believe he was guilty of the murder. He had numerous alibis and witnesses putting him far from the scene on that day.
But back to the rifle
Cimarron knocked this design out of the park. We've been fortunate enough to examine a few Model 1876 rifles over the years, and every last detail is there. Most notably, it's got the iconic sight used in the Tom Horn movie. Mounted to the tang, it flips up when you need an extra precise shot at long range.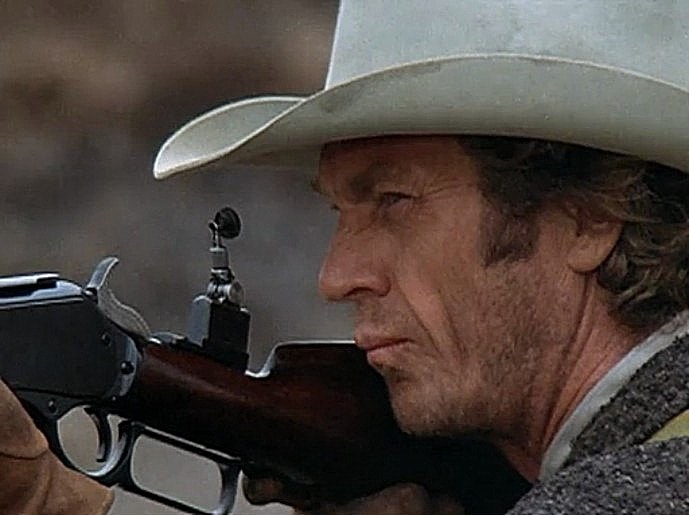 The workmanship on this rifle, from Horn's signature engraved on the rifle's side plate to the fire blued screws and safety catch on the butt of the lever, is impeccable.
The Cimarron Tom Horn rifle is chambered in 45-60 Winchester. While it's not exactly a caliber you will find in the average gun shop or sporting goods store, ammunition actually is available.
We went to Buffalo Arms for some authentic black powder rifle ammunition. They offer a smokeless variant too, but we wanted an experience close to the real thing.
Buffalo Arms specializes in other types of black powder ammo as well as old, obsolete, and hard-to-find ammunition for cowboy action shooting, black powder rifle target shooting, silhouette shooting, and plinking. All their ammunition is manufactured in fully reloadable boxer primed cases.
The ammunition was loaded with 300-grain bullets and Swiss-made black powder. Shooting cartridges with real black powder as opposed to a substitute is one of life's simpler pleasures with regard to sound, smoke, and the reduced recoil. While 45-60 Winchester is similar ballistically to 45-70 government, we found it much more pleasant to shoot.
At 300 yards we were hitting pie-plate sized targets and keeping everything within 4". We got even more satisfaction ringing steel. Should you purchase one of these rifles, don't feel it has to be a safe queen or wall hanger. Take it out and shoot the damn thing.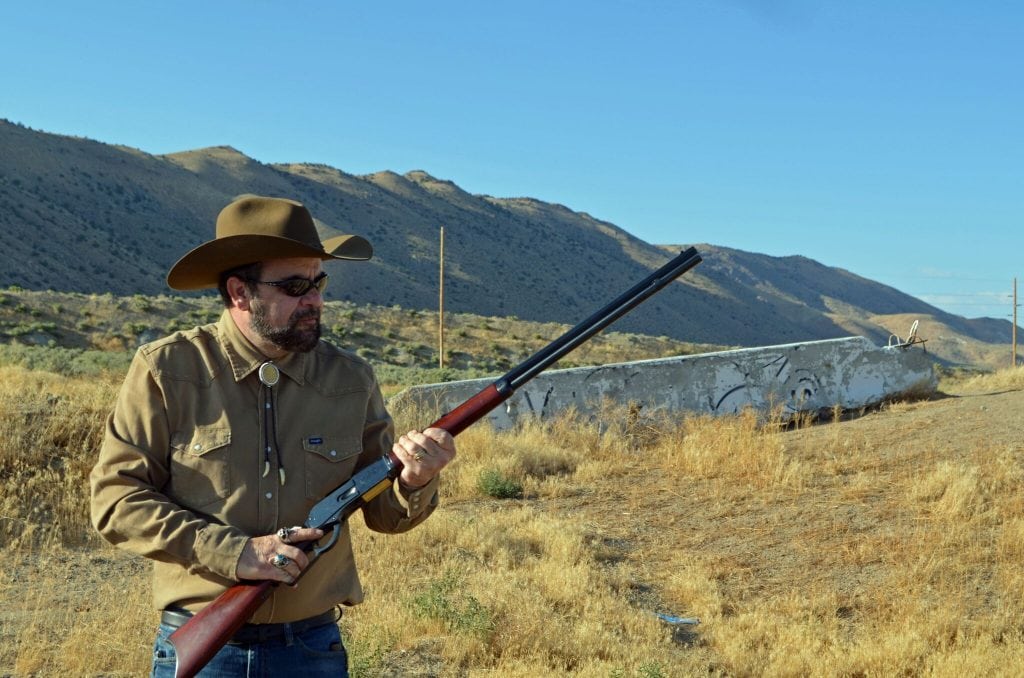 As much as we'd have liked to have kept this one, it went back to Cimarron when our evaluation period was over. It is, however, for sale in their retail store as a slightly used rifle. In a perfect world, we would've bought it for ourselves, but someone else can enjoy the very rifle we got to test drive.