The 'Rival': a polymer-steel fixed blade knife from Anglesey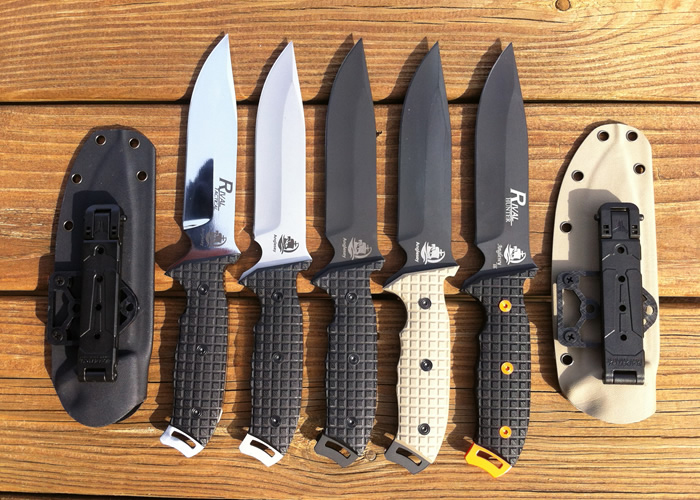 There are always a lot of cool new knives at the Blade Magazine Blade Show. But once you've seen one fixed blade, it starts to feel like you have seen them all.  Walking the aisles, we stumbled upon a unique blade design that practically jumped off the table and buried itself in Slim's neck! The Rival from Anglesey LLC is a new approach to a classic design. The Rival is a full size, 6" blade hunter/fighting/survival type knife that features a 440C stainless steel blade. Simple enough, right? Wrong. This knife is fully skeletonized, with keeping the weight down as it primary goal. Weighing in at only 5.2 ounces, this razor sharp beauty is a complete featherweight!  Anglesey has accomplished this task by the "heavy" use of reinforced polymer throughout the knife's construction.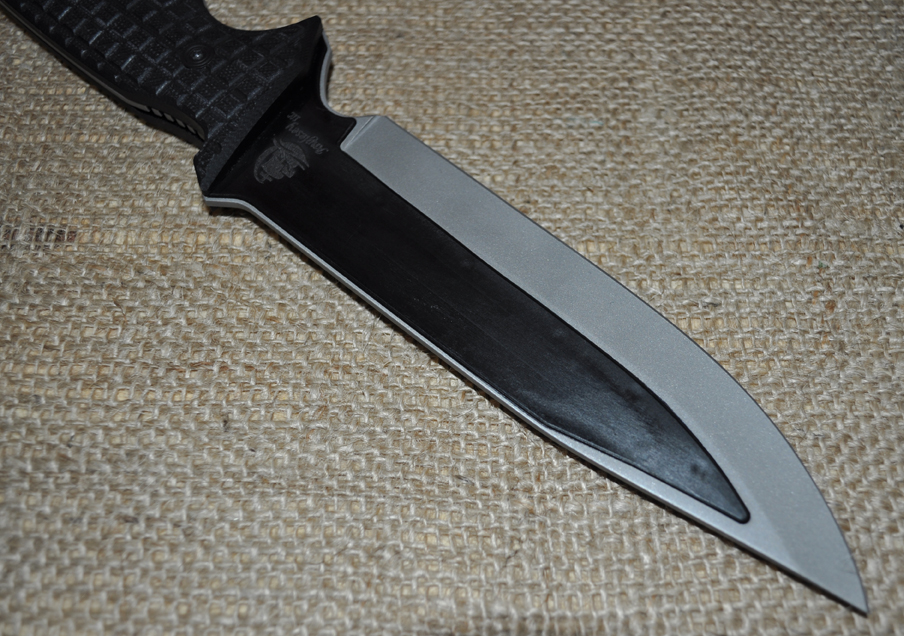 The blade is Cerakoted black and then fully uncased in polymer. The blade has the polymer in, around and over the steel section to stiffen and strengthen the design, while saving the ounces which can easily add up to heavy pounds (and we know what pounds equal, right?).  This knife won't be for everyone, but there are plenty of  people out there that want a full size blade but cannot afford the weight that comes with the size.
When handling the knife you will immediately notice the balance and deceiving lightness.  It almost feels like a plastic trainer – seriously, you won't believe it's real until you cut something with it. There were people who hefted it, thought it was a trainer and carved off a chunk of their finger. The polymer over mold and steel color- match perfectly, so it doesn't look like a toy, but a professional quality knife.  While the 3.5mm thick blade is stiff, there is a slight flex to the blade if you carefully bend the blade. It returns true, and it requires quite a bit of force to accomplish. We view this as a non-issue, and perhaps even a benefit of the design in some cases.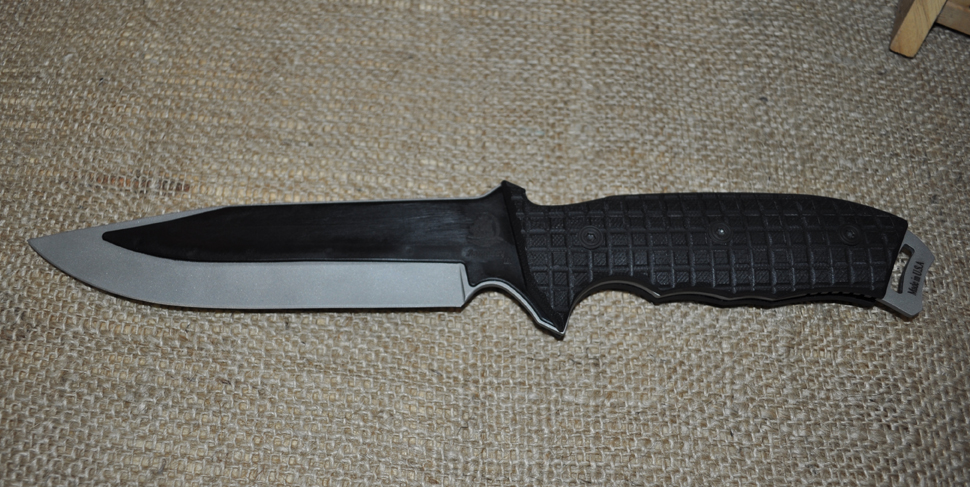 The overall length of the knife is 11 ¾ "and features 'grenade' style grips that fill the hand and provide good traction. The grips are also skeletonized on the backside to further save weight.  The design is currently patent pending and is in full production. Lastly, the knife comes with a simple but effective kydex sheath, with great retention which doesn't reduce speed. It is receiving positive feedback from the field, particularly with the hunting community.  Although the company says they developed the Rival to fill the needs of certain military and law enforcement members, it's equally at home by a wide array of sport users and outdoorsmen and -women.  You can check out the Rival HERE, and if you happen to pick one up please let us know what you think of this cool new lightweight blade. We want to see if you like it as much as we did.
#bladeshow #knife #fixedblade #angleseyllc #knife #outdoors #madeinusa #survivalknife #survivalgear #shtf
Mad Duo, Breach-Bang & CLEAR!