Granted, this "breaking news" may not be terribly breaking. In fact, it's probably as obvious as a bad boob job with cross-eyed nipples, but we felt like it was our duty to let you know what we've been advised.
It would appear the Army, predictably, has chosen the OCP pattern from the four finalist patterns (OCP/Crye Precision, ADS Inc./Cramer, Kryptek and Brookwood). We know, the suspense was killing you, and nobody could have see that coming. [Insert sarcastic tone.]
Yep. Soldier Systems Daily is advising that SMA Chandler has all but made the formal announcement – MultiCam stays. This pretty much confirms what our sources have told us. They're all involved camouflage industry, but not in the actual US Army Camouflage Improvement Effort. According to them, all the companies involved were informed sometime over the weekend of the 14th.
Unlikely and/or improbable assertions? Possibly so. The formal announcement won't be made until AUSA. However, given how much of a goat rope this has been since the git-go, we're not inclined to dismiss it as idle speculation. Especially after the recent solicitation to "negotiate and procure government purpose rights for the Operation Enduring Freedom Camouflage Pattern (OCP) from Crye Precision LLC."
That certainly didn't make the OCP prediction a difficult augury, did it? (Grunts: augury)
Remember our not-so-prophetic poster from last week?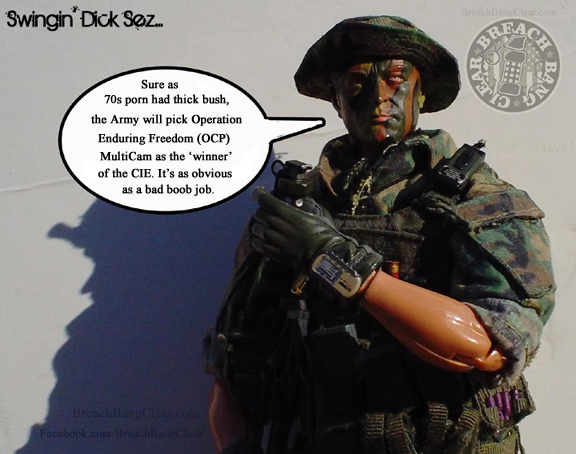 Maybe we'll get a formal notification prior to the the AUSA Conference next month. That's when Secretary of the Army John McHugh was allegedly going to announce the winner. Who knows, maybe the whole thing is complete bullshit and they've decided to go back to olive drab across the board (which is actually our preference – bonus points for nostalgia!)
We also don't know what if any impact the CIE choice might have on the legislation directing camouflage commonality among all branches of service. Maybe they figure their choice will sway that decision. Maybe they're afraid their choice will be rendered moot by later debates with the other services about a standard. Maybe the whole thing has been an unecessarily inefficient clown show from the beginning.
Maybe they should quit stalling and make a forimal announcment about their damn decision. The whole thing isn't just an exercise in fraud, waste and abuse, it's having one hell of an impact on the US textile industry. There's a lot of shenanigans and it makes our head hurt trying to figure it out (which is why we read Soldier Systems Daily to make sense of it all in the first place).
If we hear of a formal announcement, we'll let you know ASAP.
Mad Duo, Breach-Bang-CLEAR!