The 4th Annual Green Beret Foundation Pro-Am
What an awesome way to spend Veteran's Day – watching them jump a flag in, then turning gunpowder and bullets into smiles.

This year we had the chance to addend the 4th annual Green Beret Foundation Pro-Am Shooting Competition, held at  37 Public Shooting Range and Gun Club. Located a short distance from Ft. Bragg, the range is located on Loop Rd, in Bunnlevel, NC and is definitely one of the redeeming features of Fayette-nam. 37 PSR Gun Club is owned and operated by a former Green Beret, and a natural place to host an event like the Green Beret Foundation Pro Am, especially considering how close the facility is to active 18 series pipe hitters based there.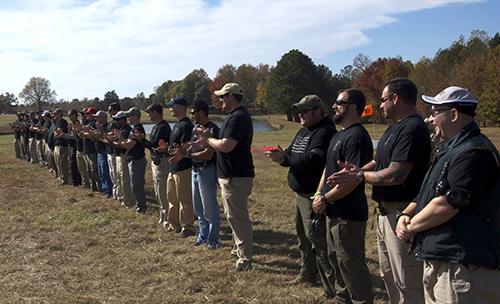 Each year the range hosts the event and raises money for the Green Beret Foundation, which itself has a nearly flawless record of supporting steely-eyed snake-eaters in need. The facility is a well laid out, modern style range which hosts similar shooting competitions through out the years, and offers memberships to soldiers and civilians alike. The event kicked off with the American Flag being jumped in via parachutist and a beautiful rendition of the national anthem. This was a damned fitting start to the day since the event was being held on Veteran's Day!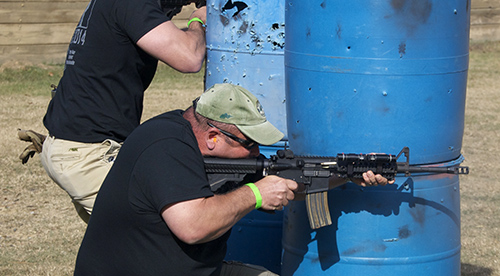 There was a great turnout of competitors, who were grouped into two-shooter teams. Since this is a "Pro-Am" type event, it made sense that the teams were stacked with local professional warriors partnered with novice shooters. Pro-Am type events get their name from a common form of friendly, often charity driven sporting events. This mix of professional and amateur competition always makes for an interesting spectator point of view, especially when shooting is involved!
The range went hot and the competitors began to run the courses of fire, which where based off speed, accuracy and skill. With reactive targets such as steel and military UKD style resetting "Ivans", you could feel and see the excitement. We spent the day walking around, watching the various teams shoot and also with meeting different vendors who had set up tables to show their wares.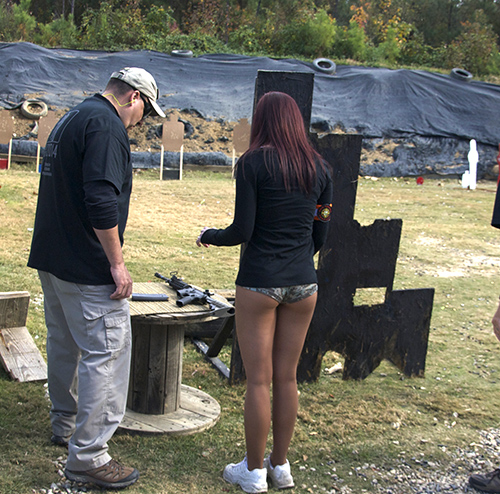 We were pleased to get a look at the brand new Grey Ghost Precision line of rifles (the "Specter" series), which were being released to the public that very same day. With both 5.56 "light" and .308 "heavy" options available for review, we were very impressed with the Specters. Our friends from Tactical Tailor, OP Tactical, and Tun Tavern Tactical were also there to show off their goods. There were several other unique vendors in attendance, to include the custom pistol-smithing shop RTD Precision (which does awesome work). Their high-end, hand tuned 1911 handguns were the envy of spectators and competitors alike. The day ran on, with several boobalicious representatives of Hooters providing some local talent for photo opportunities and cheerleading for the charity raffles. Periodically through out the competition there would be a short break as various donated items were auctioned off to the highest bidder. Grey Ghost Precision donated one of their very first production rifles to the raffle as well as one to the winner, and most of the other companies in attendance were similarly generous (see below).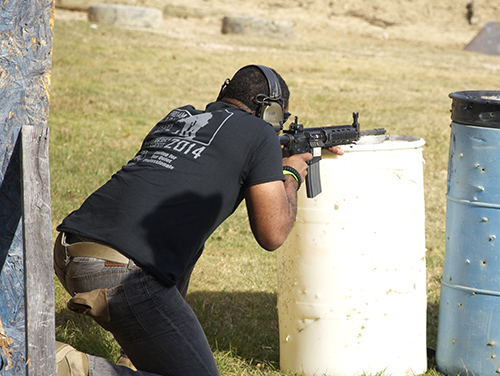 At the end of the day, the range went cold and the awards ceremony commenced. The prizes were awarded to the shooters as the crowd cheered in unison. Obviously the majority of shooters attending were from the Army Special Forces community, and the same went for the spectators. This assembly of incredibly patriotic, selfless and supportive people managed to raise over $60,500 for the Green Beret Foundation in a single day of friendly shooting!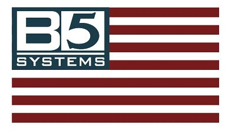 1st place for the day was awarded to a humble pair of gentlemen who shot under the title "Team Lunch Money" They not only took home the gold, but also their own Grey Ghost Precision Specter Light AR-15 and a sweet Spartan Blades custom fixed blade knife. It was a great event, and we felt fortunate to be able to attend this year. The SOF community as a whole is a very loyal and supportive, but they are also aware of the obstacles our warriors must so often overcome.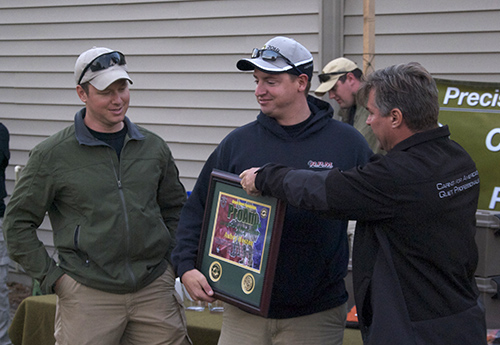 The Green Beret Foundation has been working tirelessly for decades to support and advance some of America's hardest dudes, as well as supporting their families. If you would like to help them with their cause, please check out their website, and donate however you can. It doesn't have to be money, it can be your time or some prizes for similar events. If you would like to compete, sponsor, attend or donate to next years Pro-Am, please contact Range 37 PSR and we hope to see you there next year!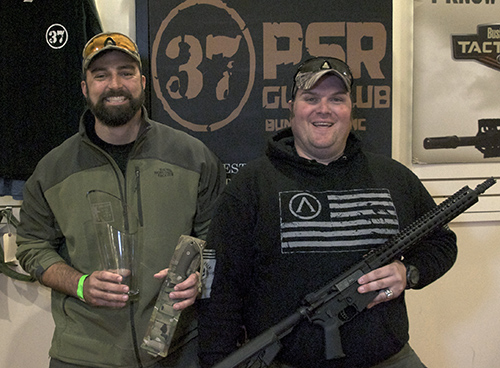 List of sponsors for the 2014 Pro-Am:
Name                                  Organization
CJ Dugan                           DuganBriggs
Shane Johnson                 Hooters
John                                   ZSA
Mike                                  Hooters
Chris Kropp                     Operationally Proven Tactical
Carl Beene                       TSE
Brian Lachey                   TUN TAVERN TACTICAL
Jessa Carey                      Dell Computers
Curtis Iovito                    Spartan Blades
Nina                                  Southern Thunder
Adrian                              Larry The Cable Guy
Stanley Kenneth
"Bo" CJ                              DuginBriggs
KJ Middleton Foundation
Mark                                   Oakley
Mike Farrior                    Pepsi
Stehanie                           XS Sights
Patrick Carruth               ATA Defense
John Wier                        Larue Tactical
Jerry                                  Recognize Designs
Jessica Taylor                  Marriott
Erik Morrison                 Total Body Therapy and Wellness
Denise Mercado             HBOT
Nikolay Gekht                 Gehtsoft USA
Timothy Jernigan          Apex Predator Arms
Mike Brown                     Flat Branch Ranch Fire Dept
Ricky Denning                 Harnett City EMS
Jeremy Khan                   Kahntrol Solutions
Mack Gwinn                    MGI
GW Ayers III                   Grey Ghost Gear
Nate Smith                      Tactical Taylor
Monica Ward                  Cover Six Tactical
Timothy Cutter              Weaponstickers
Don Alexander               Surefire
Jimmy Keefe                   The Trophy House
Art Salisbury                  ADS Medical
Real Man Cave Gear
Corey                               Field & Stream
Tony Lacey                      Harris GCSD
Jerry Fonke                     Fayetteville Family Chiro
Chris Bryan                     Jerry's Painting Service
SKB cases
Michael Rodriguez         Green Beret Foundation
Megan Holly                    Grey Ghost Gear
Rob Tackett
Emmet Ryder                  Gehtsoft USA
Cameron Martz                TwangNBang
Krissy Jones                      Defender Ammo
Jessa Carey                      Chi Town Tactical
Tim Davis                        RTD Precision
Denzil Ames                    Green Beret Foundation
Wayne Paterson             Glass Marble Granite