MNKF: Tanimboca Puukko – A New Take on a Classic Design
TOPS Tanimboca Puukko: A New Take on a Classic Design 
Mike the Mook
TOPS Knives, more known for their tactical fixed blade designs, has produced a knife of the puukko style in collaboration with Goran Mihajlovic. The puukko is a traditional Finnish knife design which spread throughout Scandinavia in the 19th century. It sports a thick, round wooden handle and what is known as a Scandinavian grind on the blade.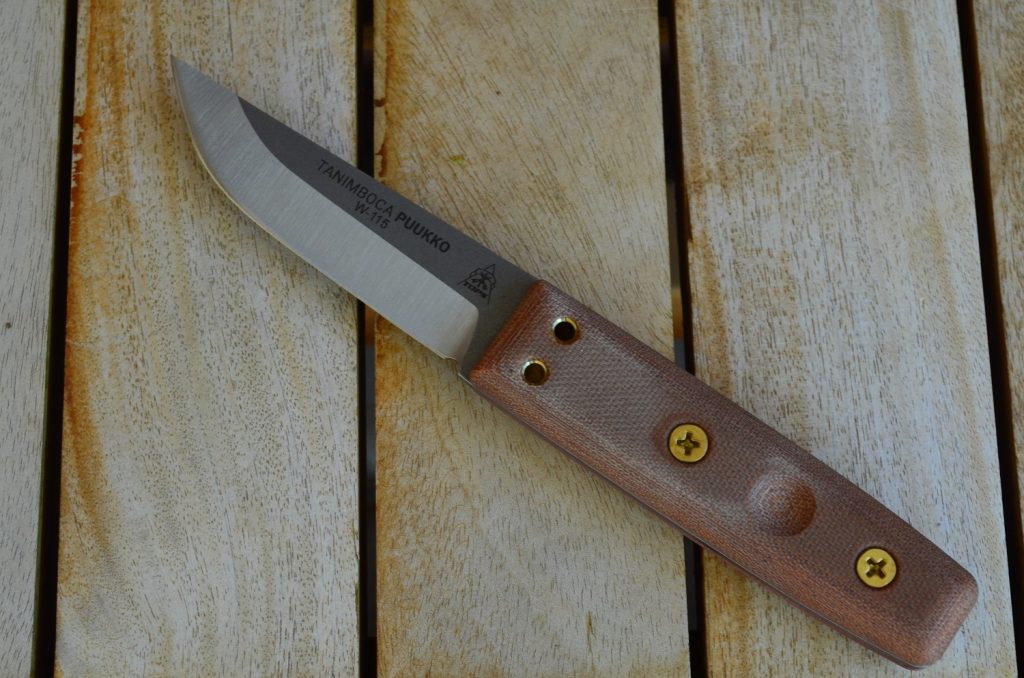 This grind, sometimes shortened to Scandi grind, starts below the halfway point and has no secondary bevel on the edge. Scandi-ground blades are ideal for whittling, woodworking, and bushcraft. The high bevel was desired so that the user could keep an eye on the wood grain while carving. There are no choils or finger guards on these knives, which allows them to be cost effective and efficient to make while allowing the user to get their hand as close to the cutting edge as possible.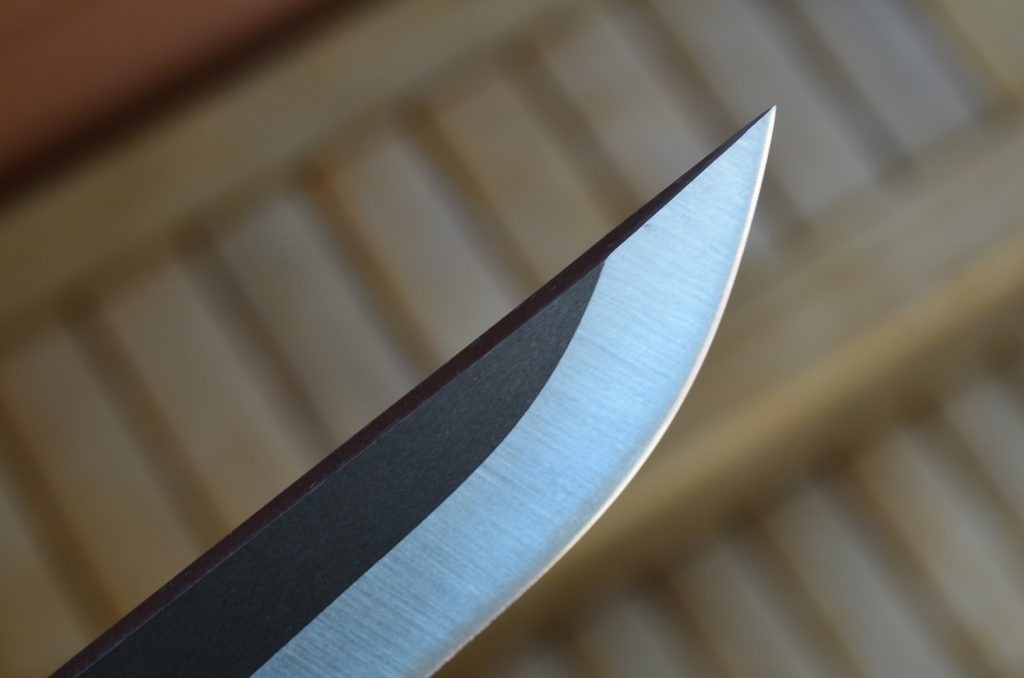 TOPS collaborated with Goran Mihajlovic on the design of the Tanimboca Puuko. Mihajlovic owns a nature reserve called Tanimboca in Columbia and forges his own knives at his forge in the heart of the Amazon rainforest. With his experience in the Amazonian bushcrafter's paradise, Mihajlovic prefers the puukko due to its history of performance.
The TOPS Tanimboca Puukko has a traditional Scandi grind puukko blade with a very slight clip point. TOPS ground the spine at 90 degrees for scraping tasks. Instead of wood, TOPS went with rounded Tan Canvas Micarta handles with red liners to improve durability and maintain the original look of the puukko. They didn't stop there, either. Most, if not all, traditional puukkos are assembled with a stick tang in a round handle. TOPS went with a full tang design to make the knife that much stronger.
We can't remember if the Finnish Valmet "Puukko Bayonet" was full tang or not, but it was an exceptional bayonet.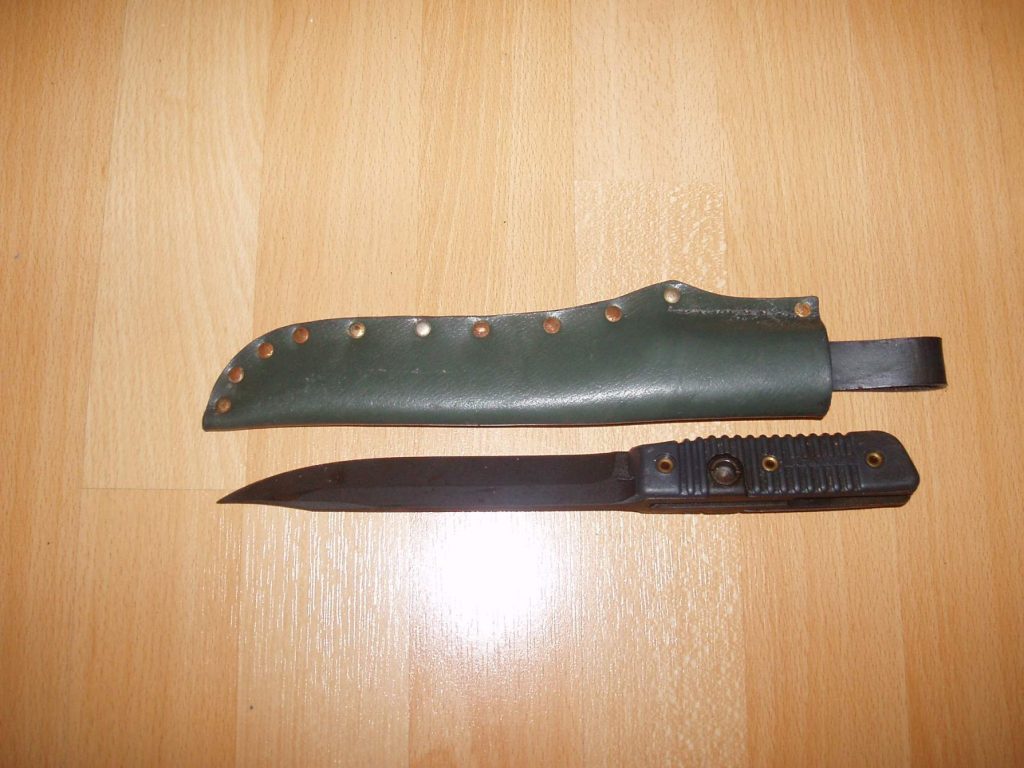 Like a traditional puukko, the Tanimboca  sits deep in the leather sheath which can be worn on the belt or optionally attached to a dog-tag chain or paracord for a neck knife effect.
Puukko's are more of a carver than a chopper and the Scandi grind requires frequent stropping to maintain its sharpness. Using any other type of sharpener will ruin the edge or at least change the grind by adding a secondary bevel.
We put this one to use shaving down rounds of seasoned oak firewood for use in our smoker over a period of several weeks. It saw some service trimming fat from meat and even some slicing duties. Edge retention has been excellent.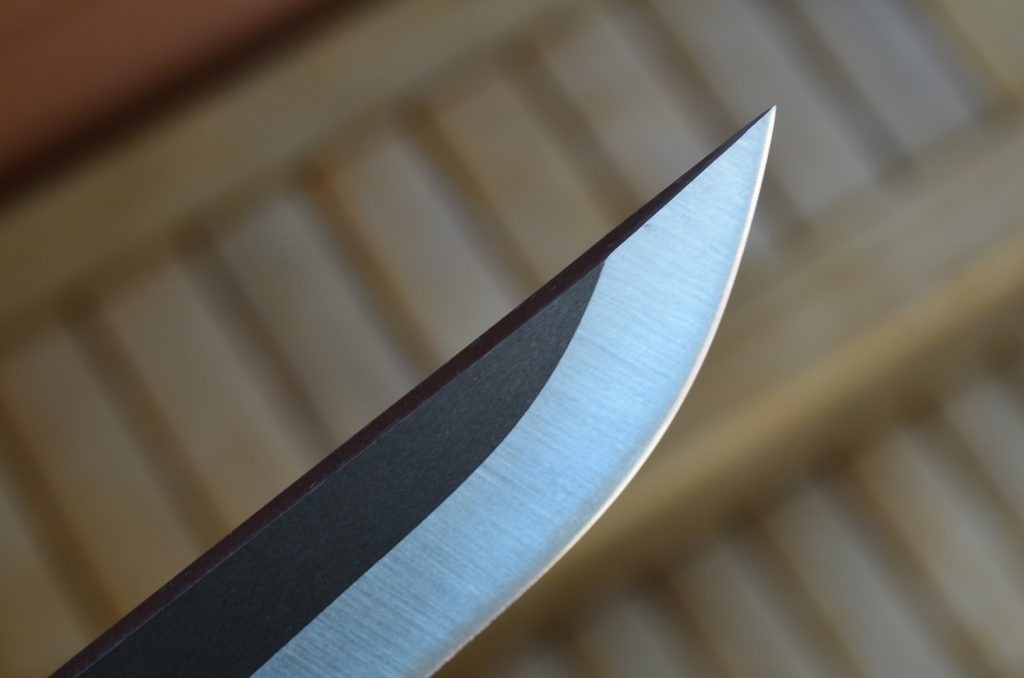 Final thoughts
Having married a Finnish beauty twenty years ago, I've grown to appreciate the puukko blade over the past two decades. Prior to that I had seen many mediocre puukko knives as a knife collector, and the vast majority struck me as semi-disposable while some of the fancier ones were works of art in steel and wood.
The TOPS Tanimboca, on the other hand, is the first I would consider a serious working knife.
Specifications
Knife Type     Fixed Blade
Overall Length     7.75″
Blade Length     3.63″
Cutting Edge     3.50″
Blade Thickness     0.130″
Blade Steel     1095 RC 56-58
Blade Finish     Tumble Finish
Handle Material     Tan Canvas Micarta
Knife Weight     5.1oz
Weight w/ Sheath     7.6oz
Sheath Included     Yes
Sheath Material     Brown Leather
Sheath Clip     Belt Loop
Designer     Goran Mihajlovic
Find it here online: https://www.topsknives.com/tanimboca-puukko
Armageddon Gear (@armageddongear) is a part of JTF Awesome.

---
---
If you wish to share or repost, please so kind as to follow our terms and conditions.
Mad Duo, Breach-Bang& CLEAR!
Comms Plan
Primary: Subscribe to the Breach-Bang-Clear newsletter here; you can also support us on Patreon and find us on Pinterest.
Alternate: Join us on Facebook here or check us out on Instagram here.
Contingency: Exercise your inner perv with us on Tumblr here, follow us on Twitter here or connect on Google + here.
Emergency: Activate firefly, deploy green (or brown) star cluster, get your wank sock out of your ruck and stand by 'til we come get you.
T&C: All original material published by Breach-Bang-Clear is the copywritten property of Breach-Bang-Clear, Inc. If you wish to repost, republish, or otherwise share our content, feel free to reproduce an extract of up to 225 words and one complete, unaltered image, preceded by attribution crediting the source and author's name, to include a link to the Breach-Bang-Clear home page, with a link back to the full article on our website, BreachBangClear.com. You do not require our permission to do this. Please do not reproduce our content in its entirety without contacting us first. We do allow full syndication on a case by case basis (credited, and posted with a canonical link, as is common practice and in good form) but only when mutually agreed upon beforehand. If you wish to reproduce a complete article, please contact us for permission to publish first.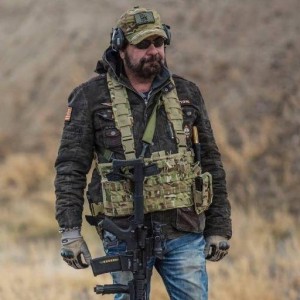 About the Author: Mike "the Mook" Searson is a veteran writer who began his career in firearms at the Camp Pendleton School for Destructive Boys at age 17. He has worked in the firearms industry his entire life, writing about guns and knives for numerous publications and consulting with the film industry on weapons while at the same time working as gunsmith and ballistician. Though seemingly a surly curmudgeon shy a few chromosomes at first meeting, Searson is actually far less of a dick and at least a little smarter than most of the Mad Duo's minions. He is rightfully considered to be not just good company, but actually fit for polite company as well (though he has never forgotten his roots as a rifleman trained to kill people and break things, and if you look closely you'll see his knuckles are still quite scabbed over from dragging the ground). You can learn more about him on his website or follow him on Twitter, @MikeSearson.