Patrick Ma: the Force Behind Triple Aught Design
We love us some TAD Gear, though not as often as we would if we didn't spend so much money on single dancing moms and Ramen noodles. Patrick Ma is someone we'd like to meet and interview someday.
Says Ma:
"I spent most of my childhood in the outdoors so I thought about jackets and field tools a fair amount – what I wanted to keep me warm, dry and yet vent well when I was slogging it through the snow or splitting firewood, and what tools to have with me in the event I got lost in the woods. I would say one of the "first" pieces I ever designed that could qualify as a "technical drawing" was a jacket that used something like a water resistant Cordura for the shell, when I was 16.
Also, since getting lost in the endless woods was always a possibility, I practiced a lot of bush craft, building shelters, navigation, identifying edible plants, etc. An indispensable tool for anyone, even kids, living in these environments was a sturdy, practical knife. I think I was more excited about my first knife that my dad gave me than any typical "toy" I might have received. I spent a lot time sketching pocket and utility knives before drawing up my "first jacket'…"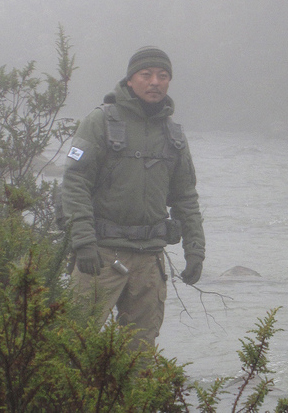 Read the rest of the article.It's pretty kewl.
http://almanacofstyle.com/2012/11/20/patrick-ma-is-the-force-behind-cult-favorite-triple-aught-design-tad/
Mad Duo Clear!
About the Authors: Richard "Swingin' Dick" Kilgore and Jake "Slim" Call are the HMFICs at Breach-Bang-Clear (breachbangclear.com). They write for current and former military, LEOs, contractors and trained and educated responsible armed citizens. They are the most door-kickingest, trigger-pullingest action figures in the tactical operator tactically operational world. Subscribe to them and stay informed about TTPs, new kit, and latest in what's stoopid (and occasionally inspiring) in the military and modern society or check them out on Facebook.