Tactical Game of Thrones – Stannis, Ygritte and Arya
It's time again for the Tactical Game of Thrones. TGoT is the ongoing Breach-Bang-Clear series wherein we (mostly) cast people in the firearms industry as characters in our favorite series. Sometimes we cast them as characters from the HBO show, sometimes the way they actually were in the book, sometimes just the way we want to. Sometimes we just make shit up because it suits us.
Today we're casting Stannis Baratheon, Ygritte "Kissed by Fire" and young Arya Stark.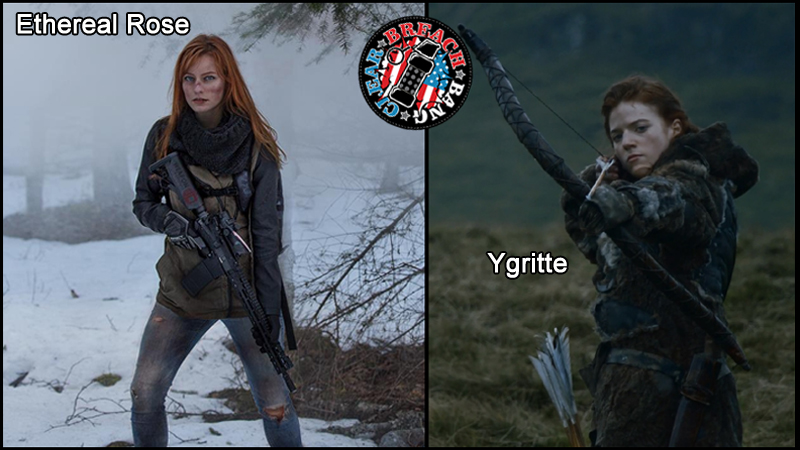 Ygritte. It's important to know that you don't know what you don't know. Jon Snow knows nothing, which Ygritte is fond of telling him. A Wildling woman (though she'd prefer the term Free Folk) she is a hot redhead, has good fieldcraft and is a great shot. As such she seemed like the perfect character for Ethereal Rose, a model we know and like from the PNW (note: yes, Ethereal Rose is her nom de guerre – she has a day job, so we're not gonna broadcast her real name). You can read more about her below.

Next up, Stannis Baratheon. For Stannis we decided to cast Bill Coye of Coye Knives. Stannis is a serious guy. So is Bill. Stannis looks hard, uncompromising and severe. Stannis is judgmental and not too friendly – which is of course where they differ, 'cuz in addition to being one of the most patriotic dudes to ever breathe American air, Bill is sincerely one of the nicest guys we've ever met. Ladies and gentlemen, we give you Stannis Baratheon of the House Baratheon, First of His Name, King of the Andals and the First Men, Lord of the Seven Kingdoms and Protector of the Realm – and craftsman extraordinaire from Coye Knives.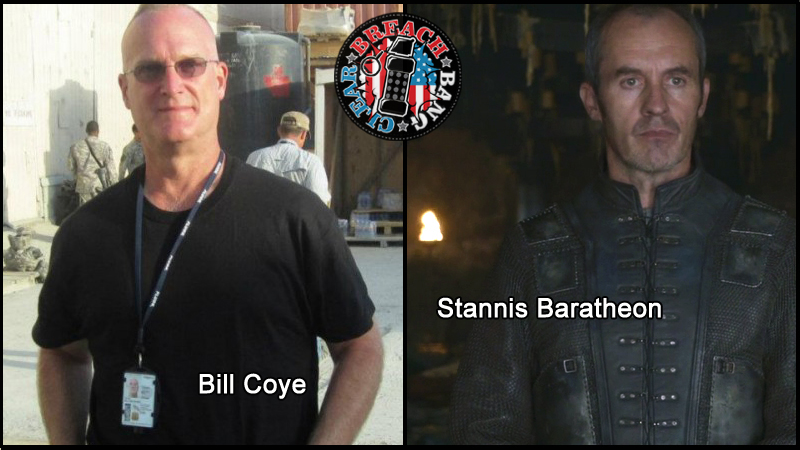 Lastly we present Arya Stark, youngest daughter of Eddard Stark and one of the surviving heirs of Winterfell. For a long time we debated about who should play Arya Stark, but when one of our minions said, "Who do we know that is small but ferocious?" The following epiphany is why we chose to cast Tatiana Whitlock as Arya Stark. She's absolutely perfect for the role of a warrior waif.
"Joffrey…Cersei…Ilyn Payne…the Hound…Polliver…the Mountain…"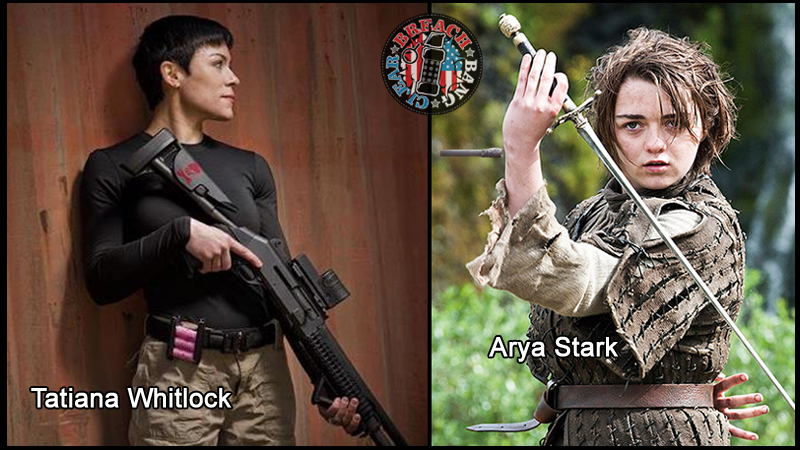 Learn more about Ethereal Rose here or check out what she does for Weapon Outfitters here. Check out Coye Knives here and here. Tatiana Whitlock's NRA page is here; her other professional page is here.
More to follow. Join us next week for the next installment of Tactical Game of Thrones.
Read up on other characters:
https://www.breachbangclear.com/tactical-game-of-thrones-the-mountain-the-bastard-of-bolton-and-samwell-tarly/
https://www.breachbangclear.com/tactical-game-of-thrones-cersei-joffrey-and-that-oberyn-dude/
https://www.breachbangclear.com/tactical-game-of-thrones-kyle-lamb-pays-his-debts/
https://www.breachbangclear.com/tgot-a-clegane-a-mormont-and-that-naharis-guy/
https://www.breachbangclear.com/tactical-game-of-thrones-review-from-last-season/
Mad Duo, Breach-Bang & CLEAR!