Whether you're using tactical condoms, regular condoms, or just some kind of saran wrap under your ghillie suit, nothing says you mean business like the DICK: the Dynamic Intervention Contraceptive Karrier from Off The Grid Concepts. Says OTG, "Ever had that awkward time where you don't have a resilient condom carrier and realize your wallet isn't enough? Too much wear and tear on your "safety" mechanism? Have you ever been at the range and taken a bad shot you wish you could take back? Owning one of these has the potential to change your life as you know it."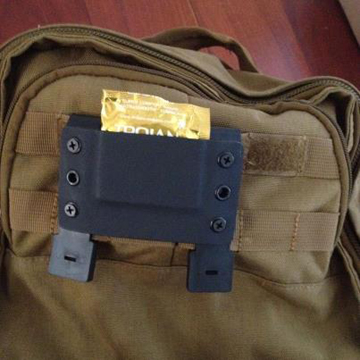 This is a high speed, low drag piece of necessary kit for any doorkicker's armor or war belt (insert mandatory negligent discharge comment here).
Though this is piece of contingency kit only, you can bet there will be double and quad stacks coming for the younger (faster) shooters – you know who you are – and the obligatory trade shows in Vegas. It's entirely possible we'll soon see a COCK to defend against Desert Princess indiscretions while deployed (Combat Operations Condom Keeper).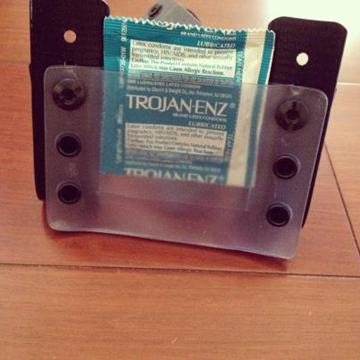 There will be IWB, OWB and MOLLE compatible versions of the DICK for any conceivable loadout.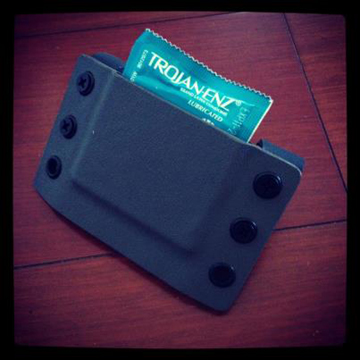 Mad Duo Clear
About the Authors:
Richard "Swingin' Dick" Kilgore and Jake "Slim" Call are the writer-editor HMFICs here at Breach-Bang-Clear. They are the most door-kickingest, trigger-pullingest action figures in the tactically operational tactical operator world.
Subscribe to them
and stay informed about TTPs, new kit, and latest in what's stoopid (and occasionally inspiring) in the military and modern society or
check them out on Facebook
.