TacLace: Combat Boot Lacing System
The TacLace. No – this is not about adding in side zippers. You know us better than that.
TacLace: Combat Boot Lacing System
Often we all get so wrapped up about which sexy gear to buy, that we forget about the little things that matter. In the military, this is called Attention to Detail, and is ingrained into almost every aspect of the services. If you overlook the little things, but excel at the big ones, what good is that? The little things have a way of turning into big things, quick fast and in a hurry. Recently at the Great American Outdoor Show, we had the chance to meet up with former USMC Captain Andrew Williams, and check out his interesting invention: the TacLace.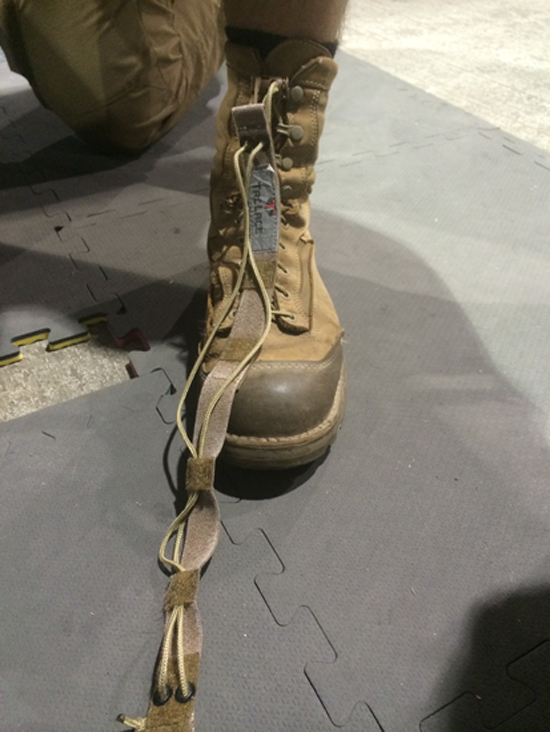 The idea came to Mr. Williams while on a deployment to Afghanistan. Along with another officer, they started developing the TacLace soon after arriving in theater. He explains,
"We were seeing frequent Indirect Fire Attacks on our base, forcing the base defense operations center to 'sound the alarm' on a regular basis. Everyone has a unique schedule, some are asleep, some operate on shifts, and some are QRF and have to get out the gate ASAP. On other bases we were in and out of, the Marines needed to get their boots on in a hurry to take cover, return fire, or even walk to the head. Everyone had a different scenario, but the one thing they all had in common was that the boots were the "choke point" when getting geared up for whatever was next. Grabbing your flak, Kevlar, and rifle was a fluid motion, but boots take time and concentration."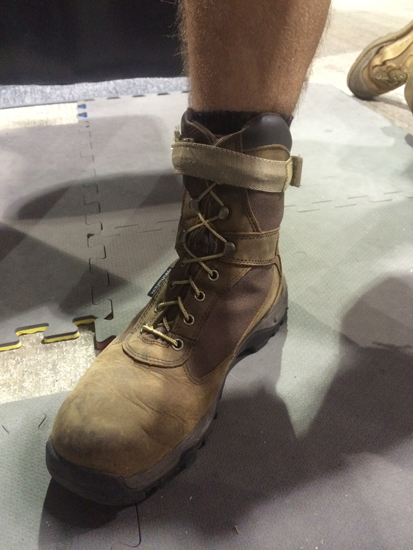 This small detail of throwing your battle rattle on isn't something to be over looked. We cant tell you how many times we ran out to a humvee for QRF, a bunker when under fire or bubble-guts induced shitter run in the middle of the night. Almost always the last thing you did, if you had time at all was tie your boots. When every second counts, the trip hazard is secondary to your rapid response.

The Marines developed an early concept of TacLace on the spot, during this Afghan deployment. This simple device is geared towards cutting down on those critical seconds and getting yourself squared away ricky tic. While at Camp Leatherneck Williams and his partner used their down time productively. Using some scrounged material, they found a local national to stitch together the prototype. That first rendition is not identical to what it is now, but with some modifications the Marines got close to where they wanted it. Two years after creation, after extensive field testing and user feedback, they settled on the design. Now the TacLace will work universally with all issued boots in the armed forces, and even the majority of civilian hiking, camping, and mountaineering boots.
Constructed of rugged nylon and Velcro, setting your boots up with the TacLace only takes a few minutes. After you have it connected, they live on the boot and only take a few seconds to cinch down securely. Due to the construction it's actually likely that the TacLace will outlive several pairs of boots. Sometimes the devil is in the details, and this is one of those small things can turn into a big thing. Overall we think the TacLace will appeal to a lot of dudes in uniform, and offer an unique, rapid way to get your boots on tight. Check out the video below to see just how quick this system is. Get your TacLaces here.
Mad Duo, Breach-Bang & CLEAR!