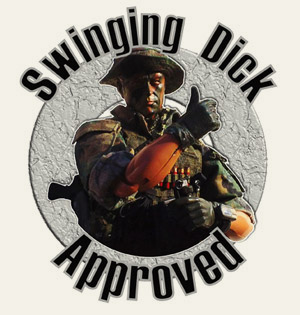 ALCON: On this page you will find links to books—predominantly fiction, but containing some non-fiction. All of them are written, co-written or edited by members of the Breach-Bang-Clear writing and evaluation team. Watch for the 'Swingin' Dick Approved' logo on the cover of your books, and suggest it to your favorite authors!
"The Nation that makes a great distinction between its scholars and its warriors will have its thinking done by cowards and its fighting done by fools." An excerpt from The Peloponnesian War, by Thucydides
We can train on the range and train in the field;
We can toughen our body and our brain not to yield;
You can shoot them and frag them and leave them there bleedin';
But the good doorkickers know they should spend some time readin'.
An excerpt from Ode to Trigger Pullin' by Richard "Swingin' Dick" Kilgore