SureFire Launches MasterFire
SureFire, a company that should need no introduction to our readership, has a new holster system out. This might seem odd, coming from a company primarily known for manufacturing handheld lights, WMLs, and suppressors. But, since it's a holster made for pistols that have a suppressor attached, it sorta fits.
The new rig is called…
MasterFire!
The MasterFire "Rapid Deploy System" is, as SureFire describes it, a "…one-of-a-kind retention holster that uses an open top design to securely retain almost any handgun or handgun configuration."
This includes weapons equipped with suppressors and red dot sights.
How does SureFire do this? Glad you asked. They use a proprietary lug-and-cam system to lock the weaponlight and handgun in place with Level III retention.
Says SureFire,
"Unlike most holsters, the MASTERFIRE is indexed to the WeaponLight, so it can be used with virtually any handgun with a mounted H-Series SureFire WeaponLight. Its unique light-activation switch can be set to automatically activate the H-Series WeaponLight or laser when the gun is drawn, saving valuable time in high-stress situations and making one-handed manipulations easier."
To make the holster a little more versatile SureFire has given it some customizable features, including the ability to scale to different size hands and duty belts.
Oh, and FYSA the WMLs they're referring to include the XH15, the X300UH-B, the X400UH-A-RD, and the X400UH-A-GN. They can all be found here online.
If you're not quite spun up on how holster retention is "measured", Gun Digest defines Level III thusly:
"By adding a second active element to a holster, plus passing the tension or friction test of Level 1 security, you get to Level 3 retention. Examples include Blackhawk's Level 3 rig, which features a push-button activated hood shroud to shield the handgun from a grab attempt coming from the front or back. This level is almost never used for concealed carry as the doohickeys just make the thing too big and bulky for mere mortals to hide well. It is, however, used by law officers and open carry advocates, where the gun is exposed."
You can learn more about the new holster here online, or see what they post about it on Instagram, @surefire_llc.
You might also read What Cops need to know about holster retention levels, or just hear from The Man himself.
SureFire is a member of Joint Task Force Awesome — the advertisers who keep Breach-Bang-Clear in business.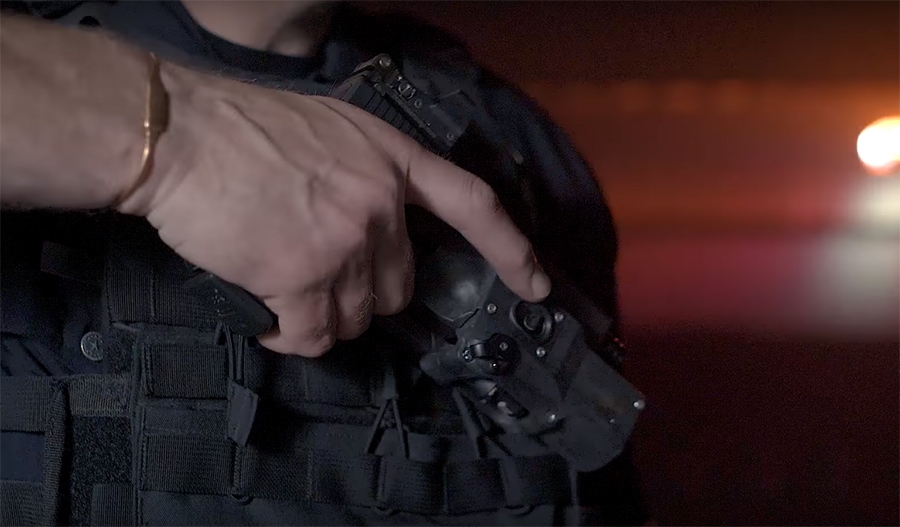 [arrow_feed id='47188′]
---
---
Mad Duo, Breach-Bang& CLEAR!
Comms Plan
Primary: Subscribe to our newsletter here, get the RSS feed and support us on Patreon right here.
Alternate: Join us on Facebook here or check us out on Instagram here.
Contingency: Exercise your inner perv with us on Tumblr here, follow us on Twitter here or connect on Google + here.
Emergency: Activate firefly, deploy green (or brown) star cluster, get your wank sock out of your ruck and stand by 'til we come get you.