SureFire Freedom Alliance 25th Anniversary Flashlight

Yes, that is a red, white, and blue Surefire. No, it's not just for no reason. This isn't like the commemorative 'Birds of Mississippi Dinner Plates' grandma bought last year on QVC. Mad Duo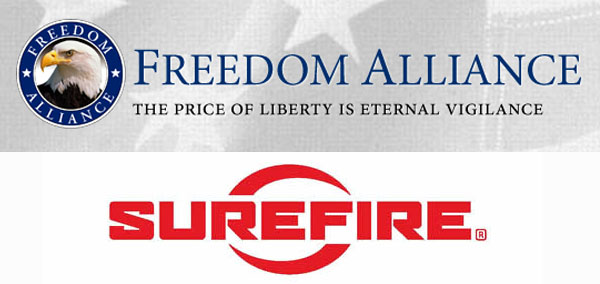 Normally we're not into this kind of thing. We openly scoff at gaudy commemorative weapons advertised in gun rags–but this one piqued our interest and we think it may do the same for you. Part of the mission statement of Freedom Alliance is, "…. to advance the American heritage of freedom by honoring and encouraging military service, defending the sovereignty of the United States and promoting a strong national defense" and that's what they've been doing for a quarter century. They have programs that assist service members in need, have a scholarship fund for the children of warriors who have fallen or been permanently disabled in service, and have educational public policy outreach stressing the importance veteran's issues and national sovereignty.
Oh yeah, Freedom Alliance was founded by mf'ing Ollie North.

So Surefire made this commemorative flashlight, in which part of the proceeds go directly to the Freedom Alliance. Here's what they have to say about it:
A Brighter Future for the Children of Our Military Heroes

In celebration of Freedom Alliance's 25th anniversary, SureFire is honored to provide its first ever commemorative flashlight with a portion of all proceeds going to Freedom Alliance.

SureFire is a proud supporter of Freedom Alliance and its mission to provide college scholarships to the sons and daughters of the wounded and fallen heroes of our Armed Forces. Freedom Alliance Scholarship Funds not only help mitigate the high cost of a college education, but also sends a clear message to the children of heroes that their parents' sacrifice will never be forgotten.
It won't be shipping until May, but you can pre-order one here. For more information about Freedom Alliance or to donate directly, check them out here.

You can also visit Freedom Alliance on Facebook here
Comms Plan
Primary: Subscribe to our newsletter here or get the RSS feed.
Alternate: Join us on Facebook here or check us out on Instagram here.
Contingency: Exercise your inner perv with us on Tumblr here, follow us on Twitter here or connect on Google + here.
Emergency: Activate firefly, deploy green (or brown) star cluster, get your wank sock out of your ruck and stand by 'til we come get you.
Swinging Dick Approved.