SureFire announces new reduced profile Scout lights
SureFire announces new reduced profile Scout lights…
…and that's a Good Thing.
Many of you know that we here at Breach-Bang-Clear are huge fans of SureFire, as many of the Mad Duo's minions have trusted their lives on SureFire products for decades now. Mad Duo Kim, COWAN! and Mad Duo Dave have used SureFire lights on the streets as LEOs, as instructors and while deployed; Breach Bang Brad and Mad Duo Chris have used them in their roles as US Army soldiers (Chris also while patrolling Atlanta), and Nate Murr and Hondo  (a couple of our resident Marines) have failed miserably at breaking them or getting them pregnant. (In all fairness our Jarheads are EXCELLENT at losing SureFire lights.) Even our Joe-Sixpack civilian writers carry and use SureFire lights. So why have we collectively spend thousands of dollars on SureFire lights? Because they are the best damn lights out there, period.  We all use a wide selection of handheld and weapon mounted lights, out of personal preference and while doing product reviews, and we've found many to be worth carrying – but after beating the living snot out of SureFire lights since the 90's we are all still drunk on their US made Kool-Aid.
Here's a picture of the Mad Duo putting together some stuff to take some dancing moms to the range – you'll note a couple of SureFires in there. (We're not done yet, but this will get us started.)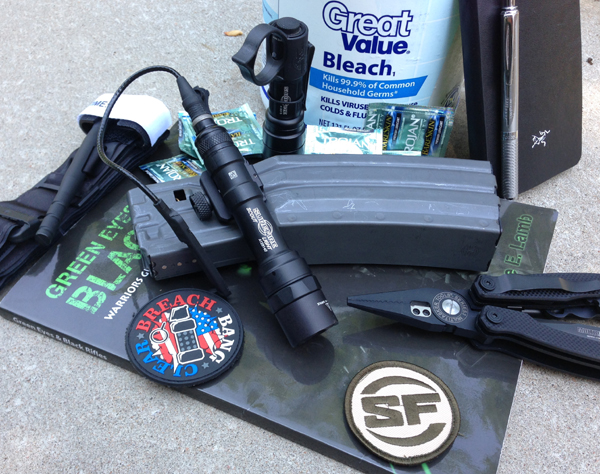 The new Reduced-Profile M600V & M620V Scout Light Models 
Murr is usually our go to guy when it comes to long-gun mounted accessories. You can read his op-ed on low light fighting setups Here, where he heavily promotes the Scout light set up with an IR head. Aside from Nate's opinion on the manner, it's beyond debate that the Scout light family is by far one of the most popular setups for Military, LE and locked on civilian use.  Now, Surefire has gone forward with this proven design, and made it even better. Let's take a look at how they have pulled this off.
SureFire has replaced the LED head on its white-light/infrared M600V and M620V Scout Lights with a new head that's nearly a quarter of an inch smaller in diameter than the previous one. In addition to being sleeker and reduced in profile, the new LED head also weighs less than the previous version, shaving 1.5 ounces off the total weight of both Weapon lights—a reduction of nearly 20 percent on the M620V and nearly 23 percent on the M600V.

The output and runtime of the new LED head remain the same—150 lumens of tactical-level white light and 120 mW of infrared output—as does the way the weatherproof sealed head, which contains both a white-light and IR LED. To switch from white light to infrared illumination, for use with night vision devices, an operator need only twist the self-locking selector ring on the bezel. No tip-off infrared filter (which can be lost or damaged) is required. Switching back to white light is accomplished the same way, by rotating the selector ring in the opposite direction.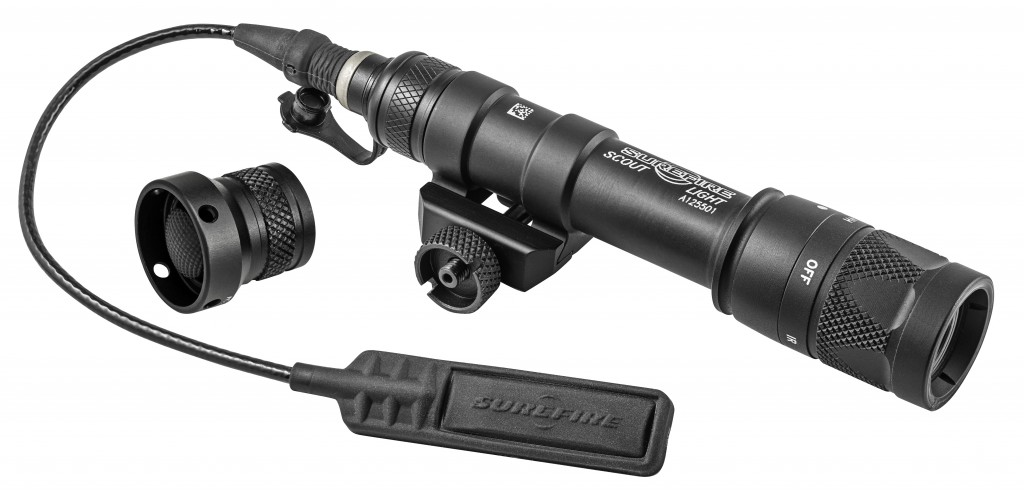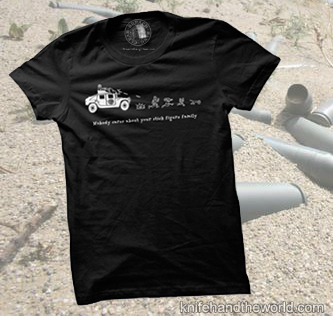 The beam pattern of the new LED head, shaped by a proprietary "Total Internal Reflection" (TIR) lens, is also similar to the beam created by the previous head, with significant reach and plenty of surround light for maintaining situational awareness. But with a smaller diameter and reduced profile, the new head is less likely to snag or bang into an object. And with less weight and bulk added to the WeaponLight, the new M600V and M620V Scout Lights help keep a weapon maneuverable.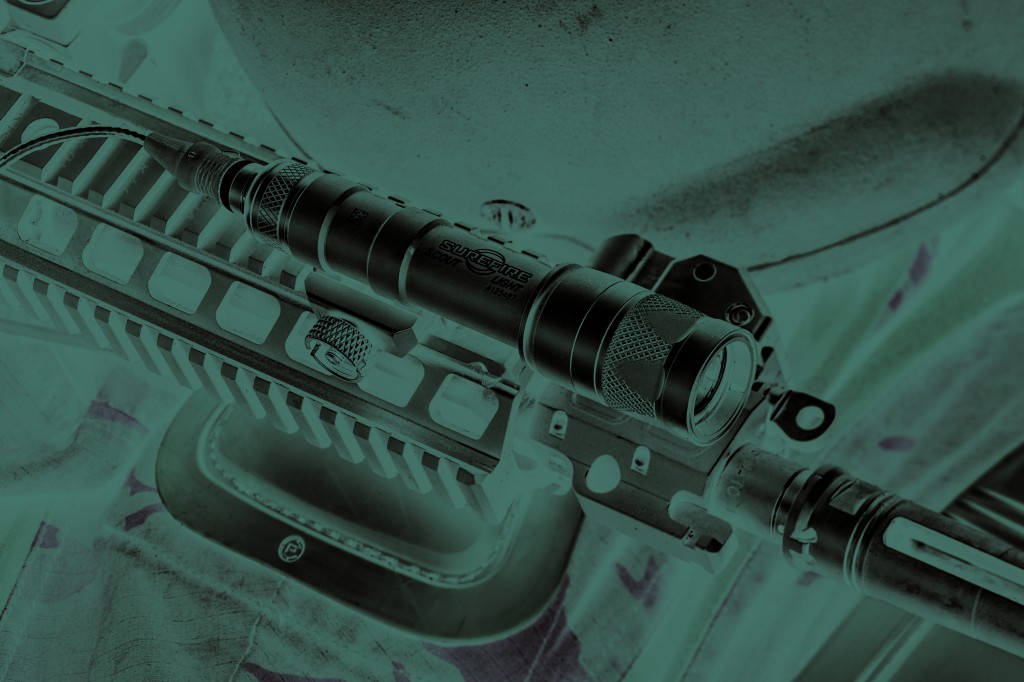 Aside from the new LED head, the overall design of the M600V and M620V remains the same.
They're still constructed from aerospace aluminum, coated with Mil-Spec hard anodizing, O-ring and gasket sealed for weatherproofing, and can be activated via either a tailcap click switch or an included remote pressure-pad switch. They both quickly and securely attach to MIL-STD-1913 rails, the M600V via a thumbscrew clamp and the M620V via SureFire's proprietary Swing-Lever clamp, which attaches to even  damaged or out-of-spec rails.    The M600V Scout Light has an MSRP of $485, while the M620V retails for $595. Both are available for purchase from authorized SureFire dealers or directly from SureFire at www.surefire.com.
Specs:
• Virtually indestructible white-light/IR LEDs are enclosed in one sealed unit and regulated to maximize light output and runtime
• On-the-fly switching between white-light and IR mode—no IR filter required
• TIR lens shapes versatile beam with enough reach and surround light for longer- and close-range tasks
• Hard-anodized aluminum body, tempered window & O-ring seals make light rugged and durable
• Ergonomic tailcap and pressure-pad tape switching included
• Thumbscrew mount attaches quickly & securely to in-spec MIL-STD-1913 rails
• Powered by two 123A lithium batteries with 10-year shelf life
• Backed by SureFire's No-Hassle Promise